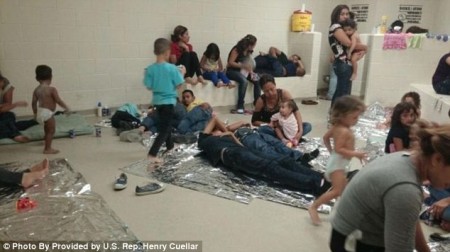 An agent stationed at the McAllen, Texas, Border Patrol station told a radio host Sunday that diseases carried by illegal aliens crossing the Rio Grande are "slipping through the cracks" and will soon begin affecting the entire nation, possibly even "coming to your town."
Thirteen-year Border Patrol veteran Chris Cabrera is also vice president of the Local 3307 chapter of the National Border Patrol Council, the exclusive representative of approximately 17,000 agents and support personnel assigned to the U.S. Border Patrol.
Cabrera was appearing "Aaron Klein Investigative Radio" on New York's AM 970 The Answer, when Klein asked the Border Patrol vet if the recent surge of illegal immigrants – both unaccompanied minors and adults – were being fully screened for disease by doctors before being released into the wider U.S. population.
"It's not always the ideal medical care," Cabrera confessed, "and a lot of it is slipping through the cracks. I read now one of the publications this morning that [reported] they had a bunch of people go in there in at a detention facility [that] had to be shut down due to chicken pox. It's kind of alarming, seeing as we toured that facility less than a month ago and they assured us that they had everything in order, that something like this wouldn't happen. And sure enough, it fell through the cracks.
(Read the rest of the story here…)