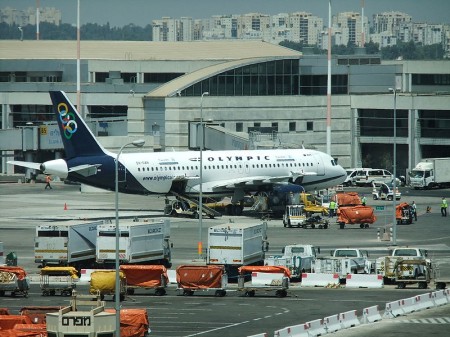 In a sign of increased caution about flying near combat zones, U.S. and European airlines halted flights to Israel Tuesday after a rocket landed near Tel Aviv's Ben Gurion Airport.
Delta Air Lines and United Airlines suspended service between the U.S. and Israel indefinitely. US Airways scrapped its one flight to Tel Aviv Tuesday. Several European airlines, including Germany's Lufthansa and Air France, also suspended flights. The actions come days after a Malaysia Airlines jet was shot down over eastern Ukraine with 298 people on board.
Following the action by the U.S. airlines, the Federal Aviation Administration issued a NOTAM, or Notice to Airman, prohibiting  U.S. airlines from flying to the Tel Aviv airport for 24 hours.
(Read the rest of the story here…)
Imagine if the United States had only one airport and that driving in and out of the country wasn't really an option. That should give you an idea of how important Ben Gurion Airport is to both Israel's economy and its sense of national well-being.
The airport is named for David Ben-Gurion, a Pole who emigrated to Ottoman Palestine in the early 20th Century and devoted his life to the Zionist ideal. In 1949 he proclaimed the country's independence and became its first prime minister.
And for the vast majority of Israelis Ben Gurion has been the national gateway for generations. About 30 percent of Jewish Israelis are immigrants from other countries and many others continue to have extended family abroad, particularly in the US and Europe.
Overseas travel is common for both business and pleasure, and the airport is seen as crucial link to the rest of the world. Last year, about 14 million passengers passed through the airport in a country with a population that's a hair under 8 million. Moreover, foreign tourists and businessmen rely on the airport as well, and extended closures or fears about Ben Gurion could easily see investment diverted elsewhere.
(Read the rest of the story here…)