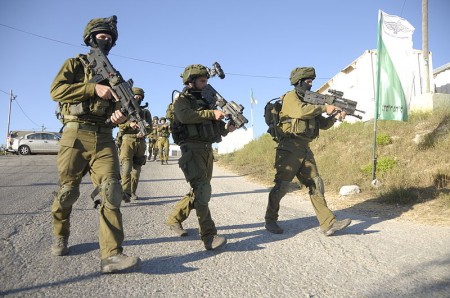 Israeli military units and Palestinian militants traded fresh attacks Sunday, even as each side offered truces to temporarily halt the bloodshed ahead of the upcoming Muslim holiday.
Each blamed the other for the prolonged fighting.
After initially rejecting an Israeli offer Saturday for a 24-hour truce, Hamas said Sunday it agreed to hold fire ahead of the Eid al-Fitr holiday marking the end of the Muslim fasting month of Ramadan.
But as Israel's Cabinet considered the offer, rockets fell on southern Israel and Israeli strikes could be heard in Gaza.
Hamas said that "due to the lack of commitment" by Israel, it resumed its fire. Israeli Prime Minister Benjamin Netanyahu said that Hamas showed it could not be trusted.
(Read the rest of the story here…)
Slipping into a tunnel under Israel's southern border and heading toward the Gaza Strip, the scorching summer heat suddenly turns cooler and the boom of artillery fire above fades away.
The passage, built by Gaza militants to infiltrate Israel, is just high enough for a person carrying a weapon to walk through upright. Its sides and arched ceiling are made of prefabricated cement slabs. Two metal rails run along a poured concrete floor, to accommodate carts that removed dug-out earth and transported weapons, the Israeli military says.
Israel, which has acted for years against smuggling tunnels Gazans built under their border with Egypt, is now on a campaign against what it says is an unexpectedly intricate network of underground passages militants dug into Israeli territory to carry out attacks. Its three-week-old offensive in Hamas-controlled Gaza has presented an opportunity to demolish these tunnels that didn't exist in quieter times, analysts say.
(Read the rest of the story here…)
The al-Aqsa Martyrs Brigade of Judea and Samaria, the military wing of Fatah (PLO), headed by Mahmoud Abbas, who also serves as the "President of Palestine" and head of the PLO, has declared "open war" against the "Zionist enemy."
In a ecorded message from July 23, three armed terrorists from the al-Aqsa brigade announced that they would not sit idly by during the Israeli operation in the Gaza Strip, and that they intend to bring the struggle deep into Israeli territory.
"The language of blood is the only way to answer Zionist aggression", they said, stating that international law permits them to conduct an armed struggle throughout all "Palestinian territories".
(Read the rest of the story here…)