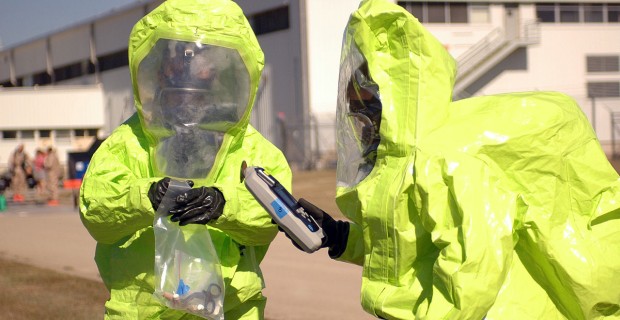 Government agencies across the world are rushing to snap up protective gear as concerns about the spread of the Ebola virus continue to dominate, with Lakeland Industries announcing that it has received 1 million orders for Hazmat suits alone.
Lakeland hit the headlines last month when it was revealed that the U.S. State Department had ordered 160,000 Hazmat suits from the Ronkonkoma, NY company.
The manufacturer saw its stock soar by 30% in after-hours trading on Wednesday after a press release on business activity related to Ebola revealed that the company was still being inundated with orders for Hazmat suits and other PPE items.
"Through its direct sales force and numerous distribution partners throughout the world, Lakeland has secured new orders relating to the fight against the spread of Ebola. Orders have been received from government agencies around the world as well as other public and private sector customers. Certain of these contracts require weekly delivery guarantees or shipments through the first calendar quarter of 2015. The aggregate of orders won by Lakeland that are believed to have resulted from the Ebola crisis amount to approximately 1 million suits with additional orders for other products, such as hoods, foot coverings and gloves," states the press release.
(Read the rest of the story here…)