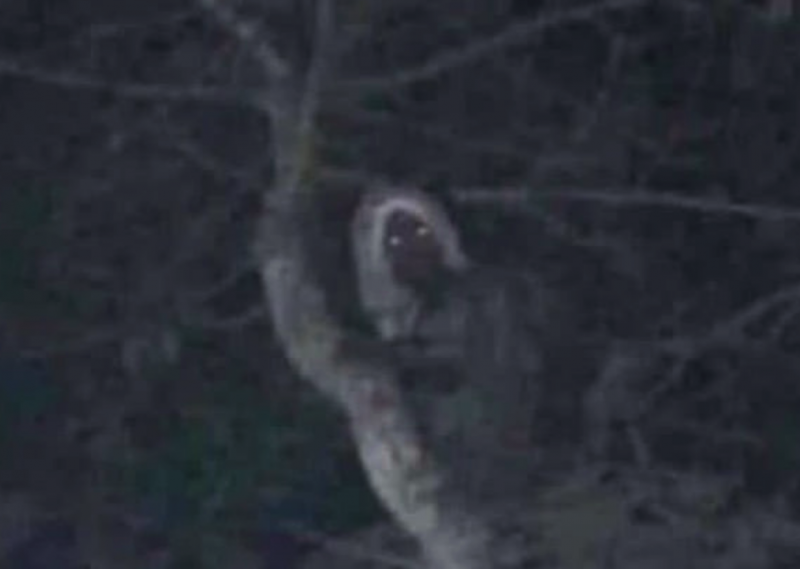 Doesn't it seem like our world is rapidly getting a lot stranger?  Because of what I do, I come across a lot of very weird stuff, and I am going to share some examples with you today.  To me, it really does appear that our world is slowly going mad.  From the very top of society to the very bottom, people are going totally nuts.  I don't know how else to say it.  It is almost as if some form of collective madness has gripped all of us and won't let go.  Unfortunately, I have a feeling that things are only going to get more insane in the months ahead.
In times like these, it is difficult to know what is real and what is not.  The president of Mexico just shared a photo of a "mystical elf sitting in a tree", and a lot of people down there in Mexico are entirely convinced that they have also seen such a creature themselves…
Mexican President Lights the Internet on Fire By Sharing Photo of a Creature He Says is a Mystical Elf Sitting in a Tree https://t.co/LnYop5l3xv

— The Gateway Pundit (@gatewaypundit) February 27, 2023
Over in Saudi Arabia, it is snowing for the very first time in nearly a century.  Needless to say, this is not normal…
Saudi Arabia: snow falls for the first time in almost 100 years! Haarp help for New World order‼️ pic.twitter.com/GBLLKU8VKu

— Lepa 🎨 (@lepanigeria) February 25, 2023
There have been more "mystery explosions" in Iran.  Does this mean that the war between Israel and Iran is getting close?…
👀 HAPPENING NOW: Initial reports of multiple explosions in Karaj, Iran.

Iranian air defense batteries have been activated and are firing at unknown targets in the air. pic.twitter.com/7pqvuEn1wd

— Upward News (@UpwardNewsHQ) February 23, 2023
Even animals are acting very oddly.  Just recently, there was a horrible tragedy involving an alligator and an 85-year-old woman in Florida…
WATCH – Horrifying video shows 10-foot alligator that dragged and killed an 85-year-old Florida woman who was on a walk with her dog. 🎥 Inside Edition pic.twitter.com/iwL6cRmDLX

— Insider Paper (@TheInsiderPaper) February 23, 2023
Meanwhile, people in East Palestine, Ohio just keep getting sicker and sicker.  One man now sounds "like Mickey Mouse" when he talks because the chemicals have messed him up so badly…
Woody Harrelson is in a tremendous amount of hot water for telling the truth about the pharmaceutical companies on Saturday Night Live.  He showed a lot of courage, because this will inevitably hurt his career…
Woody Harrelson on Big Pharma & the Covid response:

"The biggest drug cartels in the world get together and buy up the media and politicians & force the people to stay locked in their homes and people can only come if they take the cartel's drugs." pic.twitter.com/vQJSeLHGM5

— Citizen Free Press (@CitizenFreePres) February 26, 2023
In Los Angeles, crime has gotten so bad that sometimes the criminals will literally rob people right in the middle of the street in broad daylight…
A robbery in middle of the street in broad daylight. Welcome to Los Angeles pic.twitter.com/qjOtMbXMuc

— Libs of TikTok (@libsoftiktok) February 24, 2023
And sometimes a very large group of criminals is involved in a single heist…
Amazon Van gets robbed in broad daylight by a group of group of people in #California pic.twitter.com/Tnlc4cSKn2

— CULTURED MEDIA TV  (@Culturedmediatv) February 26, 2023
Sadly, police often do absolutely nothing even when the law is being broken right in front of them…
— NO CONTEXT HUMANS 👤 (@HumansNoContext) February 26, 2023
And those that do get arrested and sent to prison often find that life is better on the inside than it is on the outside…
— Clown World ™ 🤡 (@ClownWorld_) February 26, 2023
Janet Yellen made a "surprise visit" to Ukraine on Monday.  She was there to announce that we are sending Ukraine another big boatload of money…
MORE – Yellen meets Zelenskyy in Kyiv.pic.twitter.com/SkfzUMjJur

— Disclose.tv (@disclosetv) February 27, 2023
In case any of you have forgotten, the guy that we are entrusting all of this money to is a comedian…
Zelensky performs … well…whatever this is. 😂🤡 pic.twitter.com/ZvCQJJDNPa

— Kat Kanada (@KatrinaPanova) February 25, 2023
And the corruption is so bad in Ukraine at this point that theft and bribery are considered to be "endemic"…
I was talking to an international investor who says the corruption in Ukraine is beyond belief. Theft and bribery are endemic — much worse than in Latin America. The oligarchs must be feasting on our hundred billion.

— David Sacks (@DavidSacks) February 26, 2023
During a recent interview with Glenn Beck, Donald Trump was asked about the destruction of the Nord Stream pipelines.  His answer is definitely raising a lot of eyebrows…
President Trump was asked if the Biden administration blew up the Nord Stream pipeline:

"Well, it could have been us, and it could have been Ukraine, and it could have been some third-party country that wants to see trouble. The one group it wasn't is Russia.

This is a main… https://t.co/es2ApuVcwu pic.twitter.com/yajt2o9AUG

— kanekoa.substack.com (@KanekoaTheGreat) February 24, 2023
With each passing day, we are getting even closer to nuclear war.  At this stage things are so bad that one member of Congress is actually publicly warning that Joe Biden could potentially get all of us killed…
It's TERRIFYING for our country that Biden is our commander-in-chief. He doesn't know where he's at half the time, and every day he brings us closer to an all-out war with Russia & China. His cognitive decline is going to get people KILLED!!

— Ronny Jackson (@RonnyJacksonTX) February 25, 2023
Unfortunately, he is quite correct.
And when the nukes do start flying, there is a good chance that Joe Biden will be on vacation, because that is where he has been for about 40 percent of his entire time in the White House…
Biden retreats to Delaware for yet another long weekend vacation.

He has spent 303 days — 40% of his presidency — on vacation. pic.twitter.com/krm5gGpKfK

— RNC Research (@RNCResearch) February 25, 2023
***It is finally here! Michael's new book entitled "End Times" is now available in paperback and for the Kindle on Amazon.***
About the Author: My name is Michael and my brand new book entitled "End Times" is now available on Amazon.com.  In addition to my new book I have written six other books that are available on Amazon.com including "7 Year Apocalypse", "Lost Prophecies Of The Future Of America", "The Beginning Of The End", and "Living A Life That Really Matters". (#CommissionsEarned)  When you purchase any of these books you help to support the work that I am doing, and one way that you can really help is by sending copies as gifts to family and friends.  Time is short, and I need help getting these warnings into the hands of as many people as possible.  I have published thousands of articles on The Economic Collapse Blog, End Of The American Dream and The Most Important News, and the articles that I publish on those sites are republished on dozens of other prominent websites all over the globe.  I always freely and happily allow others to republish my articles on their own websites, but I also ask that they include this "About the Author" section with each article.  The material contained in this article is for general information purposes only, and readers should consult licensed professionals before making any legal, business, financial or health decisions.  I encourage you to follow me on social media on Facebook and Twitter, and any way that you can share these articles with others is definitely a great help.  These are such troubled times, and people need hope.  John 3:16 tells us about the hope that God has given us through Jesus Christ: "For God so loved the world, that he gave his only begotten Son, that whosoever believeth in him should not perish, but have everlasting life."  If you have not already done so, I strongly urge you to invite Jesus Christ to be your Lord and Savior today.