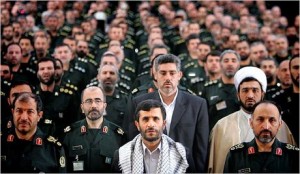 The most important news for Monday, November 30th, 2009…..
The Iranian government approved a plan on Sunday to build 10 industrial scale uranium enrichment facilities – a dramatic expansion of their nuclear program in defiance of U.N. demands that it halt enrichment.
Iran's parliament passed a shocking new law on Sunday earmarking $20 million to support terrorist groups opposing the West.  Doesn't that make them a state sponsor of terrorism?
Meanwhile, Russia and Iran have just agreed on new oil and gas deals.
Saudi Arabia has announced that five people have died from the H1N1 swine flu during the hajj.
South Korea has reported its first Tamiflu-resistant case of the swine flu.
A South Korean student has died of a cerebral hemorrhage after receiving the H1N1 vaccine.
The WHO is requesting that all Olympic athletes headed to Vancouver be vaccinated.
In the U.K., one mother is being taken to court by her ex-partner for refusing to allow their daughter to have the swine flu vaccine.
Growing numbers of U.S. citizens are heading to street corners and home improvement store parking lots to find day-labor work usually done by illegal immigrants.
Almost one out of four U.S. homeowners owe more on their mortgages than the properties are worth.
A senior finance official says that Dubai's government will not guarantee the debts of state-owned Dubai World.
Dubai has gone from being one of the richest cities in the world to one of the biggest financial disasters in history.
Scientists at the University of East Anglia have confessed to throwing away much of the raw temperature data on which the theory of global warming is based.
It turns out that there are quite a few "inconvenient truths" about the theory of "climate change" that Al Gore and his environmental extremist friends did not want us to know. 
Are Democrats starting to revolt over Barack Obama's troop surge in Afghanistan?
Today 93 percent of soybeans and 80 percent of corn in the U.S. grow from seeds genetically altered according to Monsanto company patents.
Government education inspectors in the U.K. are saying that the 40,000 parents who homeschool their own children must undergo criminal records checks.
Officials in the U.K. have spent two years and have spent massive amounts of money on a study they say proves that 10-pin bowling is a health and safety hazard and should be banned.
Parents at one school in the U.K. are being forced to undergo checks to prove that they are not pedophiles before they are allowed to accompany their children to school Christmas carol events.
To the FBI, radio host Hal Turner's code name was "Valhalla".  It turns out that official records show that he was an informant who spied on his own controversial followers.
The CIA has made an unusual public show of its recruiting effort in Dearborn, Michigan – a city of 100,000 with the densest Arab population in the United States.
A court in northern China has sentenced five leaders of an unauthorized Christian church to prison terms of up to seven years.
Saudi Arabia is stepping up its hunt for witches and black magicians.
One church in the Seattle area just held a meeting during which people got tatoos in front of the church during the service.
The Red Cross is reporting that as many as 10,000 albinos are in hiding in east Africa over fears that they will be dismembered and their body parts sold off to witchdoctors.
Lastly, a Southern Illinois woman faces charges after she intentionally rammed a burning pickup into the front porch of her ex's house.