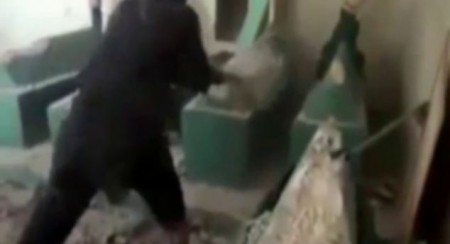 Mosul is the second-largest city in Iraq and the place where many Christians believe Jonah was buried. Since the Islamic State of Iraq and Syria (Isis) rode into town, their faith has been forced underground. Bells have been silenced, the hijab enforced with bullets. Tens of thousands fled after being offered an unattractive choice: convert, pay a religious tax, or be put to the sword. The levy was unaffordable. According to one local news agency, Isis troops entered the house of a poor Christian and, when they didn't get what they wanted, the soldiers raped the mother and daughter in front of their husband and father. He committed suicide out of grief.
Having driven away the worshippers, the Isis fanatics are now trying to extinguish the physical legacy they left behind. A centuries-old church has been burned to the ground; Jonah's tomb has been desecrated. Isis wants to create the Islamic equivalent of Year Zero, a brave new world with no evidence of Christianity, women's rights, democracy or even that most subversive of instincts, human pity.
It might seem like this revolution has nothing to do with us in the West, but that's more than a little naive. The genocide of local Christians did not begin with Isis but with the 2003 invasion of Iraq. Prior to the conflict, there were 1.5 million "Chaldeans, Syro-Catholics, Syro-Orthodox, Assyrians from the East, Catholic and Orthodox Armenians" in the country – living, of course, under the tyranny of Saddam Hussein, but living nonetheless. Today, their number has dropped to just 400,000.
(Read the rest of the story here…)