ISIS is marching through city after city in Iraq, and they are doing it with American weapons.  Thanks to a series of stunning victories in recent months, ISIS has captured a vast array of U.S. military equipment including trucks, Humvees, rockets, artillery pieces and Stinger missiles.  When the U.S. was pulling out of Iraq, we were extremely generous to the new Iraqi army.  We basically armed them to the teeth with equipment that U.S. taxpayers paid for.  But now that the new Iraqi army is folding like a 20 dollar suit in the face of ISIS jihadists, vast quantities of that military equipment are falling into the hands of some of the most radical jihadists the world has ever seen.  And considering the fact that ISIS also recently seized the equivalent of nearly $500 million in cash from a bank in Mosul, the leadership of ISIS won't be having much problem buying anything else that they might need either.  ISIS is getting stronger with each passing day, and they are not going to be satisfied until the Iraqi government has been toppled.  It is a geopolitical mess of epic proportions, and there don't seem to be any easy solutions on the horizon.
To say that the new Iraqi army has been incompetent would be a massive understatement.  Not only have they run away like scared kittens from these jihadists, they have also left behind staggering amounts of weaponry for them.  According to the Los Angeles Times, ISIS has captured "the weapons stores of the 2nd and 3rd [Iraqi army] divisions in Mosul, the 4th division in Salah al Din, the 12th division in the areas near Kirkuk, and another division in Diyala".  And we aren't just talking about rifles and ammunition.  We are talking about some pretty impressive hardware…
Government forces retreated en masse from the onslaught, leaving behind a military hardware bonanza, including the U.S.-made armored Humvees as well as trucks, rockets, artillery pieces, rifles, ammunition, even a helicopter. Some of the seized materiel was old or otherwise non-functioning; but a lot was promptly put to use on the battlefield.

Pictures of grinning Islamist warriors cruising in U.S. Humvees bedecked with white-on-black militant flags flooded the Internet and became the signature image of the ISIS rampage.

ISIS social-media enthusiasts even mocked the global #BringBackOurGirls Twitter campaign, referring to girls kidnapped by an Al Qaeda offshoot in Nigeria. ISIS sympathizers began tweeting #BringBackOurHumvee.
One of the most popular photos mocking the Obamas and the U.S. military under the #BringBackOurHumvee hashtag is posted below…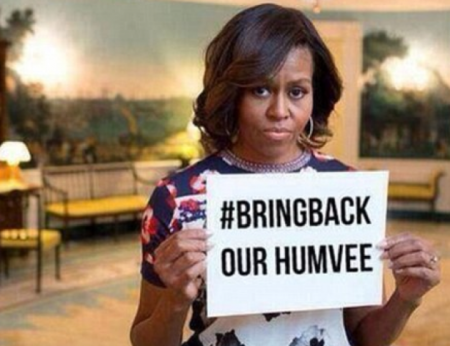 We have become a laughingstock to ISIS.  They know that we are not going to invade Iraq again.  So they are laughing at us as they use our own equipment to take over the country.
It is estimated that the military equipment that ISIS has captured so far could equip an army of 200,000 soldiers.  No wonder ISIS is recruiting more fighters so vigorously.
But wait, there's more…
(Read the rest of the story on The Economic Collapse Blog right here…)