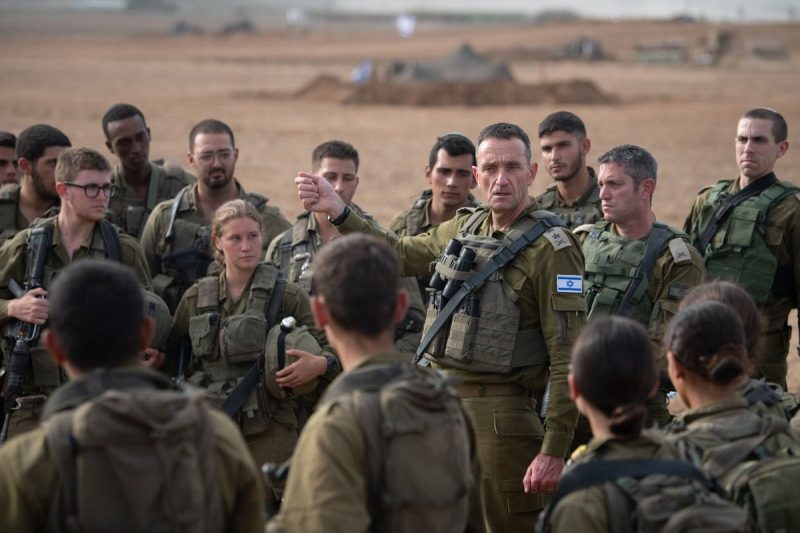 There isn't going to be peace in the Middle East any time soon.  As you will see below, Israeli Prime Minister Benjamin Netanyahu has unequivocally ruled out a ceasefire.  IDF forces will continue with their mission until victory is achieved.  So now we will keep a very close eye on all of the other interested parties to see what they will choose to do.  If all of the allies of Hamas stand aside and do nothing, the IDF will slowly but surely wipe Hamas out.  That is a best case scenario.  In a worst case scenario, multiple parties start to enter the conflict and an absolutely apocalyptic war engulfs the entire Middle East.
On Monday, Israeli tanks rolled even deeper into Gaza…
Israeli troops and tanks attacked Gaza's main northern city from both sides on Monday, three days after they began a major ground offensive in the Palestinian enclave that has stirred more international appeals for civilians to be protected.

Israel's military said it had struck more than 600 militant targets over the past few days as it expanded ground operations in the Gaza Strip, where Palestinian civilians are in dire need of fuel, food and clean water as the war enters its fourth week.
Hamas is not strong enough to stop what is happening.
Perhaps they should have considered that before committing nightmarish atrocities on October 7th.
Now they are completely and utterly doomed unless they get help.
At this point, the IDF has already taken control of one of the main roads that connects the northern part of Gaza with the southern part…
The Israel Defense Forces (IDF) says it has killed dozens of Hamas militants, among them commanders, as it pushes deeper into Gaza, with tanks being seen Monday on the outskirts of Gaza City, blocking a key road linking the northern and southern halves of the Strip.

Hamas has also announced it is engaged in "heavy fighting… with the invading occupation force", after the IDF confirmed more Israeli troops have been surged into the Strip. It appears the warring sides are in some locales engaged in building-to-building and door-to-door fighting in the dense urban zone.
Apparently the goal is to completely "encircle Gaza City", and if that happens it will be game over for Hamas…
Israel is signaling its intent to encircle Gaza City with tank and ground units – a significant challenge given its size of 18 square miles with a pre-conflict population of over 650,000 people. In total some 1.1 million people live in the northern half of the Strip.

Recent reports have estimated that hundreds of thousands of Palestinians have defied Israel's order to flee south. By Saturday the IDF had utilized open spaces like the beach to quickly allow tank units to plunge two miles deep into the Strip.
Once they are fully encircled, there will be no way out for Hamas fighters, and IDF troops will steadily tighten their grip.
Allies of Hamas all over the world are screaming for a ceasefire, but Israeli Prime Minister Benjamin Netanyahu is making it abundantly clear that there will not be one…
"I want to make clear Israel's position regarding the ceasefire. Just as the United States would not agree to a ceasefire after the bombing of Pearl Harbor, or after the terrorist attacks of 9/11. Israel will not agree to a cessation of hostilities with Hamas after the horrific attacks of October 7," he said.
Just imagine how Americans would feel if our babies were butchered, our women were raped and our grandmothers were taken as hostages.
We would not be willing to accept a ceasefire either.
During his remarks, Netanyahu ominously stated that this is "a time for war", and I don't see him changing his mind until Hamas is totally defeated…
"The Bible says that there is a time for peace and a time for war. This is a time for war."
If Hamas officials were smart, they would be trying to gain favor with the western powers.
But instead, it is being reported that they are actually blocking British and American citizens from leaving Gaza…
At least 200 British citizens are thought to be registered with the UK authorities inside the coastal enclave, and some 600 Americans, as well as many other nationalities.

Jake Sullivan, the White House's chief security adviser, said: "The Egyptians are prepared to let Americans and other foreign nationals out of Gaza. The Israelis have no issue with that. But Hamas is preventing their departure and making a series of demands."
Are they really that stupid?
Of course you have got to be quite stupid to become a terrorist in the first place.
And that is especially true for those that choose to join Hamas.
Since the very beginning of the organization, Hamas has been committing horrific atrocities, but now the atrocities of October 7th have made it impossible for the Israeli government to tolerate their existence any longer.
On Monday, we learned that the remains of Shani Louk have been located, and it is being reported that Hamas terrorists "chopped off her head"…
The young German-Israeli tattoo artist who was paraded through the streets of Gaza after being kidnapped by Hamas has been found dead after "sadistic" terrorists "chopped off her head," Israel's president revealed Monday.

"I am truly sorry to report that we have now received news that Shani Nicole Louk has been confirmed murdered and dead," President Isaac Herzog told the German newspaper Bild.

"Her skull was found," he said, with the 23-year-old victim's family also confirming that the death was confirmed by DNA on parts of her skull.
This is pure evil.
How can you negotiate with terrorists that are willing to do such a thing to an innocent young girl?
You can't.
Israeli President Isaac Herzog is calling the terrorists that did this "barbaric, sadistic animals"…
'I am truly sorry to report that we have now received news that Shani Nicole Louk has been confirmed murdered and dead. Her skull has been found,' Herzog told the German newspaper Bild.

'This means that these barbaric, sadistic animals simply chopped off her head as they attacked, tortured and killed Israelis. It is a great tragedy and I extend my deepest condolences to her family.'
You would think that the entire world would be united in denouncing such disgusting acts of terror.
But instead, there has been a massive outpouring of support for Hamas and their methods all over the globe.
Sadly, this is true even in the United States.
In fact, U.S. citizens are being threatened with similar attacks.  Here is just one example…
Anti-Semitic threats posted to a Cornell University fraternity and sorority forum over the weekend, including to kill Jews on campus, have prompted a police response and intervention by the governor of New York.

At least one of the posts threatened a shooting of "pig jews" (sic) at Cornell's Center for Jewish Living and kosher dining hall, according to the university's Hillel chapter.
These terrorists are not going to be satisfied until all of their enemies are completely eradicated worldwide.
I can't imagine that female Jewish college students at Cornell are a threat to anyone.
But that doesn't matter to these terrorists.
They hate Jewish people everywhere, and if given the opportunity these terrorists would do the exact same things that Hamas did on October 7th…
The threats were posted to Cornell's Greekrank forums on Saturday and Sunday, according to the school newspaper, the Cornell Sun, which said some of the posts eventually were taken down.

The Sun said one post threatened to rape female Jewish students and behead Jewish babies in front of their parents. Another called for students to follow Jewish students home from campus and slit their throats.
There is no reasoning with this kind of hatred.
Unfortunately, this kind of hatred has been rapidly growing all over the world, and that has enormous implications for our future.
Michael's new book entitled "End Times" is now available in paperback and for the Kindle on Amazon.com, and you can check out his new Substack newsletter right here.
About the Author: My name is Michael and my brand new book entitled "End Times" is now available on Amazon.com.  In addition to my new book I have written six other books that are available on Amazon.com including "7 Year Apocalypse", "Lost Prophecies Of The Future Of America", "The Beginning Of The End", and "Living A Life That Really Matters". (#CommissionsEarned)  When you purchase any of these books you help to support the work that I am doing, and one way that you can really help is by sending copies as gifts to family and friends.  Time is short, and I need help getting these warnings into the hands of as many people as possible.  I have also started a brand new Substack newsletter, and I encourage you to subscribe so that you won't miss any of the latest updates.  I have published thousands of articles on The Economic Collapse Blog, End Of The American Dream and The Most Important News, and the articles that I publish on those sites are republished on dozens of other prominent websites all over the globe.  I always freely and happily allow others to republish my articles on their own websites, but I also ask that they include this "About the Author" section with each article.  The material contained in this article is for general information purposes only, and readers should consult licensed professionals before making any legal, business, financial or health decisions.  I encourage you to follow me on social media on Facebook and Twitter, and any way that you can share these articles with others is definitely a great help.  These are such troubled times, and people need hope.  John 3:16 tells us about the hope that God has given us through Jesus Christ: "For God so loved the world, that he gave his only begotten Son, that whosoever believeth in him should not perish, but have everlasting life."  If you have not already done so, I strongly urge you to invite Jesus Christ to be your Lord and Savior today.