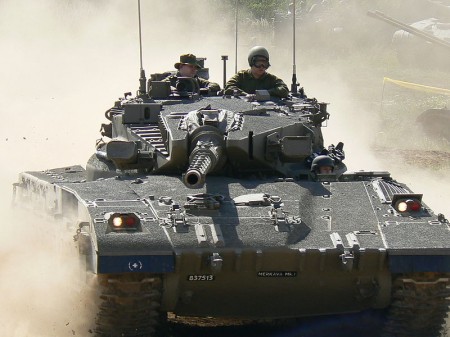 Firing tank shells and battling Palestinian fighters on the ground, Israeli troops pushed deeper into Gaza Friday, in efforts to destroy a network of tunnels into Israel and end the barrage of rocket attacks from Hamas militants.
217 terror targets had been hit and at least 20 tunnels used by Hamas to transport rockets and weapons had been uncovered by Friday evening, the Jerusalem Post reported, citing Israel's Channel 2 News. 33 Palestinians have been killed and some 65,000 displaced along the Gaza strip as a result of Friday's fighting, the report said.
Israel's ground offensive is the latest escalation after a 10-day campaign of more than 2,000 airstrikes against Gaza that failed to halt militants' rocket fire on Israeli cities. Prime Minister Benjamin Netanyahu said he told his military to prepare for a possible "significant" expansion of the operation to weaken Hamas' military.
(Read the rest of the story here…)
Gaza's night skies were illuminated Friday by clashes between Israeli forces and Hamas militants throughout the 27-mile-long Palestinian territory.
With fighting reported all along the coastal enclave, casualties poured into Gaza City's Shifaa Hospital, including children, after Israeli artillery shelled east of the city, physicians told the Hamas-run Al-Aqsa TV.
The conflict raged for a second night and came after Prime Minister Benjamin Netanyahu warned earlier in the day that ground troops are prepared to expand an offensive against Hamas militants.
(Read the rest of the story here…)