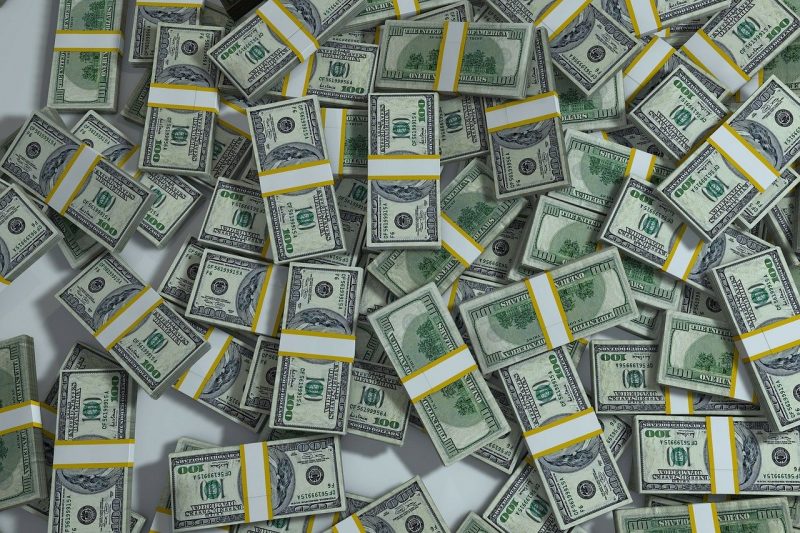 Is it ethical for companies to make billions of dollars in profits from the worst public health crisis that this generation has experienced so far?  I think that this is a question that more people should be asking.  Governments around the world are shelling out enormous mountains of money to fight this pandemic, and if much of that money ends up lining the pockets of people that are already exceedingly wealthy, that is something that a lot of people are going to have a big problem with.  On Tuesday, we learned that Pfizer brought in 3.5 billion dollars from selling COVID vaccines during the first quarter of this year, and it is estimated that about 900 million dollars in profits were made on that revenue…
The vaccine brought in $3.5 billion in revenue in the first three months of this year, nearly a quarter of its total revenue, Pfizer reported. The vaccine was, far and away, Pfizer's biggest source of revenue.

The company did not disclose the profits it derived from the vaccine, but it reiterated its previous prediction that its profit margins on the vaccine would be in the high 20 percent range. That would translate into roughly $900 million in pretax vaccine profits in the first quarter.
That is one huge pile of money, but that is just the tip of the iceberg.
For the year, Pfizer is projecting that it will bring in 26 billion dollars in revenue from selling COVID vaccines, and they are hoping to turn it into "a long-term business"…
Pfizer Inc. laid out a plan to turn its Covid-19 vaccine into a long-term business, clinching supply agreements that will yield $26 billion in sales this year while expanding the shot to children and developing new formulations that can combat variants and be stored more easily.
But the American people were always told that the plan was for the vaccines to end the pandemic.
Now they are telling us that selling COVID vaccines will be a "long-term business"?
What in the world?
According to Pfizer CEO Albert Bourla, his company is betting that COVID will become a permanent part of our lives and that this will require "people to get regular shots for years to come"…
The company will add $500 million to its research and development spending this year to invest in Covid-19 treatments and other vaccines using the cutting-edge messenger RNA technology. That investment comes as Chief Executive Officer Albert Bourla bets Covid-19 will become endemic, requiring people to get regular shots for years to come.
Wow.
Why isn't this headline news all over America?
So many people out there believe that once they get their two shots that they are good for the rest of their lives.  That was always a faulty assumption, and now Pfizer's chief scientific officer is telling us that Americans will need "a single booster shot each year as immunity wanes"…
Chief Scientific Officer Mikael Dolsten said those who have been fully immunized will likely only need a single booster shot each year as immunity wanes.
Just like the flu shot, this is something that people are going to be told to do year after year, and the pharmaceutical companies are going to be laughing all the way to the bank.
Meanwhile, the COVID pandemic continues to explode in nations such as India and Brazil.
In fact, we are being told that the number of confirmed cases globally over the past two weeks is greater than the total number of confirmed cases that we witnessed during the entire first six months of the pandemic…
As Americans continue to take steps toward normal life, India and several other countries are dealing with an explosion of new coronavirus infections likely to delay the world's recovery from the deadly crisis, health authorities warned Monday.

The number of COVID-19 cases reported around the world in the last two weeks was higher than the total of confirmed infections in the first six months of the pandemic, according to the World Health Organization. India and Brazil, which are going through their worst days since the pandemic began, account for more than half of last week's cases, the agency said.
Things are particularly bad in India, and now this new wave has spilled over into neighboring countries…
Just as the WHO feared, India's brutal second wave has spilled over its borders, sending COVID-19 cases rising across the region, as cases climb in neighboring Bhutan and Nepal and as far away as Laos and Thailand.

According to Bloomberg, the acceleration in the region is mainly due to more contagious mutant strains, like the B.1617 variant first identified in India, which has been now been traced beyond its borders. The WHO has released a list of 10 mutant strains that it is keeping a close eye on.
A lot of people are assuming that the numbers will start to go down in those countries once enough people have been vaccinated.
And a lot of those same people are assuming that the pandemic will finally end if enough people all over the world are willing to get injected.
But as I noted above, the CEO of Pfizer is publicly admitting that his company is betting that the COVID pandemic will be with us for many years to come.
That means that he does not believe that the vaccines will end the pandemic.
Let that sink in for a moment.
Bloomberg is reporting that Pfizer CEO Albert Bourla is betting that selling COVID vaccines will become a long-term business, and if his bet pays off that will mean colossal mountains of money for him, his fellow executives and Pfizer investors.
He does not believe that COVID is going away, and that is extremely revealing.
Pharmaceutical companies make the most money when people need to keep using their products over and over again.
Just look at cancer.  Each year, more than 100 billion dollars is spent on cancer drugs.
Do you think that the companies that are making all that money really want to find a cure for cancer?
The pharmaceutical companies exist to make money, and you should never forget that.
Our world is a very evil place, and it is becoming more evil all the time.
We often like to point out the evil that is going on in our streets, but often even greater evil is happening behind closed doors in our boardrooms.
Just because you make a lot of money does not mean that you are a good person.  In fact, sometimes the most evil people are the ones that are swimming in giant piles of cash.
***Michael's new book entitled "Lost Prophecies Of The Future Of America" is now available in paperback and for the Kindle on Amazon.***
About the Author: My name is Michael Snyder and my brand new book entitled "Lost Prophecies Of The Future Of America" is now available on Amazon.com.  In addition to my new book, I have written four others that are available on Amazon.com including The Beginning Of The End, Get Prepared Now, and Living A Life That Really Matters. (#CommissionsEarned)  By purchasing the books you help to support the work that my wife and I are doing, and by giving it to others you help to multiply the impact that we are having on people all over the globe.  I have published thousands of articles on The Economic Collapse Blog, End Of The American Dream and The Most Important News, and the articles that I publish on those sites are republished on dozens of other prominent websites all over the globe.  I always freely and happily allow others to republish my articles on their own websites, but I also ask that they include this "About the Author" section with each article.  The material contained in this article is for general information purposes only, and readers should consult licensed professionals before making any legal, business, financial or health decisions.  I encourage you to follow me on social media on Facebook, Twitter and Parler, and any way that you can share these articles with others is a great help.  During these very challenging times, people will need hope more than ever before, and it is our goal to share the gospel of Jesus Christ with as many people as we possibly can.