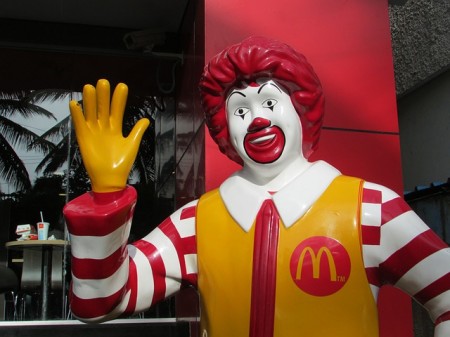 Marc Faber has long predicted that a collapse in U.S. stocks is coming. On Thursday he reiterated that call, saying there is fresh evidence that a bear market is ahead—courtesy of the Golden Arches.
On Tuesday, McDonald's reported that global same-store sales in August fell 3.7 percent in August, well short of expectations. The worst drop occurred in the Asia-Pacific region on the back of a Chinese meat safety scandal, but even U.S. sales slid 2.8 percent.
For Faber, those results are a perfect example of the damage being done by central banks—and the harbinger of more bad news to come.
"Nobody knows for sure" what will cause stocks to collapse, but "the earnings may disappoint. We had, essentially, very poor sales from McDonald's. Now, McDonald's is a very good indicator of the global economy. If McDonald's doesn't increase its sales, it tells you that the monetary policies have largely failed in the sense that prices are going up more than disposable income, and so people have less purchasing power."
(Read the rest of the story here…)