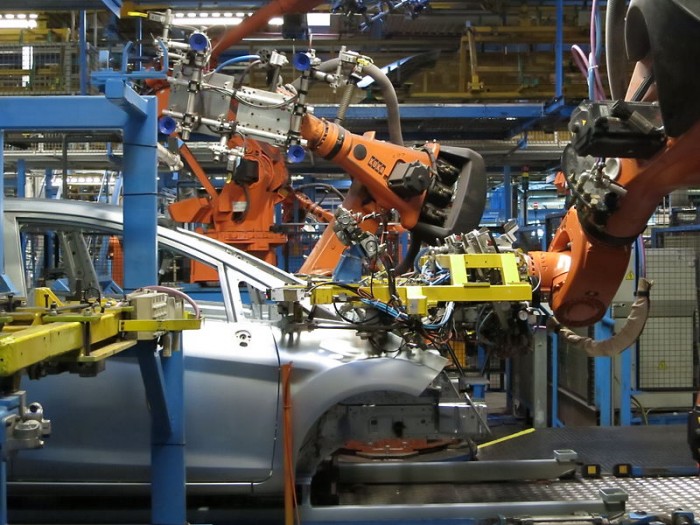 What is going to happen when America finally doesn't have any manufacturing jobs left at all? On Wednesday, we learned that Ford Motor Company is shifting all small car production to Mexico. Of course the primary goal for this move is to save a little bit of money. This hits me personally, because my grandfather once worked for Ford. He was loyal to Ford all his life, and he always criticized other members of the family when they bought a vehicle that was not American-made. When I was young I didn't understand why making vehicles in America is so important, but I sure do now. By shipping jobs overseas, we are destroying jobs, we are destroying small businesses and we are destroying our tax base. If we want to be a wealthy nation, we have got to make things here, and hopefully we can get the American people to start to understand this.
In 1914, Henry Ford decided to start paying his workers $5.00 a day, which was more than double the average wage for auto workers at the time.
One of the reasons why he did this was because he felt that his workers should be able to afford to buy the vehicles that they were making. This is what he wrote in 1926…
"The owner, the employees, and the buying public are all one and the same, and unless an industry can so manage itself as to keep wages high and prices low it destroys itself, for otherwise it limits the number of its customers. One's own employees ought to be one's own best customers."
These days Ford is going in the complete opposite direction. Pretty soon, Ford won't be making any more small vehicles in the United States at all…
Ford is shifting all North American small-car production from the U.S. to Mexico, CEO Mark Fields told investors today in Dearborn, even though its plans to invest in Mexico have become a lightning rod for controversy in this year's presidential election.

"Over the next two to three years, we will have migrated all of our small-car production to Mexico and out of the United States," Fields said.
Could Ford keep jobs in America?
Of course they could. During the second quarter of 2016, Ford reported a net income of 2,000,000,000 dollars.
But if they move production to Mexico they can boost that profit just a little bit higher.
Shame on them.
Needless to say, Donald Trump is quite upset about this move by Ford. This was his response…
"We shouldn't allow it to happen. They'll make their cars, they'll employ thousands of people, not from this country and they'll sell their car across the border," Trump said. "When we send our jobs out of Michigan, we're also sending our tax base."
And he is exactly right about all of this. We can't afford to lose more good paying jobs, we can't afford for the middle class to shrink any more than it already has, and we certainly can't afford our tax base to continue to deteriorate.
We may think that we can live on borrowed money indefinitely, but that is going to catch up with us in a major way at some point.
Sadly, Ford is not the only auto company doing this. Just like Ross Perot once predicted, there is a giant sucking sound as good paying auto jobs leave the United States and head to Mexico…
Ford isn't alone. Fiat Chrysler Automobiles said earlier this year it will end production of all cars in the U.S. by the end of this year as it discontinues production of the Dodge Dart in Belvidere, Ill. and the Chrysler 200 in Sterling Heights, Michigan.

In recent years, automakers that include General Motors, Honda, Hyundai, Nissan, Mazda, Toyota and Volkswagen have all announced plans to either expand existing plants or build new ones in Mexico.
The bad news for American workers won't end once all of our manufacturing jobs are gone.
Today there are millions of Americans that make their living by driving, but the revolution in self-driving vehicles threatens to make large numbers of those jobs obsolete.
Ford, General Motors, Tesla, Google, Apple and a whole host of other big corporations have been feverishly working on this technology, and many of the tests have gone very well so far.
Once this technology starts being rolled out on a widespread basis, the job losses could be absolutely staggering. Just consider the following numbers which come from Wolf Richter…
In order to have a thriving middle class, we have got to have middle class jobs.
Unfortunately, big corporations have become absolutely obsessed with finding ways to eliminate expensive American workers by sending jobs overseas or by replacing them with technology altogether.
The elite will always need people to cut their hair and wait on them at restaurants, but those aren't the kinds of jobs that can support middle class families.
As I noted yesterday, for the first time ever the middle class in America has become a minority and poverty is on the rise all over the nation. The long-term trends that are eviscerating the middle class are accelerating, and there doesn't appear to be any quick fix which will turn things around dramatically any time soon.
So the middle class is going to get smaller and smaller and smaller, and that has dramatic implications for the future of this country.
*About the author: Michael Snyder is the founder and publisher of The Economic Collapse Blog and End Of The American Dream. Michael's controversial new book about Bible prophecy entitled "The Rapture Verdict" is available in paperback and for the Kindle on Amazon.com.*