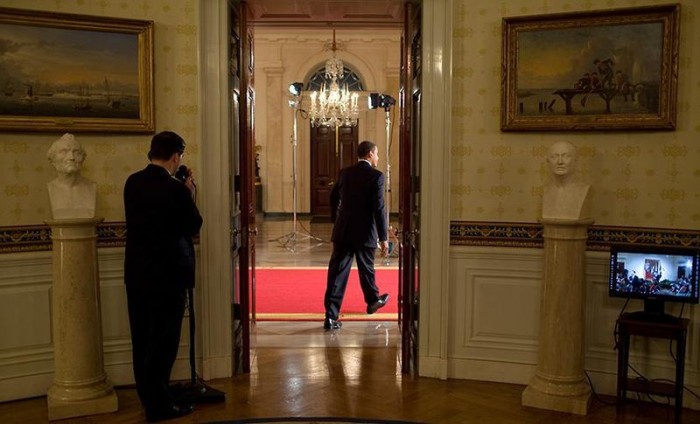 A little more than four months from now Barack Obama's time in the White House is scheduled to end, and the Palestinians know that their best chance of getting a UN Security Council resolution addressing their conflict with Israel is rapidly slipping away.  Donald Trump and Hillary Clinton are both greatly wooing the Jewish vote, and they both are making very strong pro-Israel statements these days.  To many of you it probably isn't a surprise that the Palestinians are not exactly thrilled with the prospect of a Trump presidency, but the truth is that they are very leery of Clinton as well.  If you doubt this, just check out this Al-Jazeera article.  At this point the Palestinians are pretty much convinced that any action at the UN Security Council must happen while Barack Obama still holds the reigns of power, and so they are in a race against time.
At a minimum, the Palestinians would like a UN Security Council resolution condemning any new Jewish settlement activity in the West Bank.  And that is precisely what they are pushing very hard for right now…
The Palestinian Authority intends to accelerate its attempt to pass a United Nations Security Council resolution against Israeli settlement activity in the West Bank, according to WAFA, the Palestinian News and Information Agency.

"The Palestinian leadership and in cooperation with the Arab League and the Arab ministerial group will hold contacts at the international level to speed up convening a Security Council session that should pass a resolution to stop settlements, which pose unprecedented and serious threat and creates a situation that would result in grave consequences," said Nabil Abu Rude, who is a spokesman for PA President Mahmoud Abbas.
Needless to say, Israeli Prime Minister Benjamin Netanyahu is steadfastly against such a resolution, and he is alarmed by statements made by Palestinian leaders that seem to indicate that they want to remove every single Jewish person from territories under their control…
The Israeli leader also addressed the longstanding Palestinian Authority demand for a Jew-free Palestinian state; a requirement famously expressed by PA President Mahmoud Abbas when he exclaimed, "In a final resolution, we would not see the presence of a single Israeli — civilian or soldier — on our lands."

"I think what makes peace impossible is intolerance of others. Societies that respect all people are the ones that pursue peace. Societies that demand ethnic cleansing don't pursue peace," Netanyahu stated in the video.
If we see a UN Security Council resolution on Israeli settlement in the West Bank that would be significant, but there is another possibility that would be absolutely earth-shattering if Barack Obama chose to go that direction.  Up until now, the U.S. government has always used their UN Security Council veto power to block any resolution that would formally establish the parameters for a Palestinian state and grant them East Jerusalem as the capital of that state.  But earlier this year the Obama administration signaled that such a resolution was now on the table, and at this point Obama has just four months left to make a decision one way or the other.
If Obama decides to pull the trigger, such a resolution would be legally binding on the Israelis and the Palestinians, and neither Trump nor Clinton would be able to go back and change it once it is done…
This leaves only one option that isn't seen as unrealistic, unpalatable, or insignificant: to set down the guidelines or "parameters" of a peace agreement—on the four core issues of borders, security, refugees, and Jerusalem—in a US-supported UN Security Council resolution. Once passed, with US support, these Security Council-endorsed parameters would become international law, binding, in theory, on all future presidents and peace brokers.

Top US officials see a parameters resolution as Obama's only chance at a lasting, positive legacy, one that history might even one day show to have been more important to peace than the achievements of his predecessors.
Back in March, 388 members of Congress from both parties (including Nancy Pelosi) sent Barack Obama a letter urging him not to support such a resolution.  So there is a considerable amount of political pressure on him not to do this.
But at this point he is a lame duck with nothing to lose.  He always said that a Palestinian state was high on his list of priorities, and this is his final chance to do something about it.
If we do see a UN Security Council resolution, it is likely that it will upset both the Israelis and the Palestinians…
Any resolution the US supports will contain clauses that are difficult for each side to accept. The most troublesome issues for Israel are that the borders will be based on the pre-1967 lines and that the Palestinian capital will be in Jerusalem. The most onerous clauses for the Palestinians relate to recognition of Israel as a Jewish state, the absence of a timeline for Israel's withdrawal from the West Bank, and a resolution of the refugee problem that would rule out anything but symbolic return to Israel.
And instead of promoting peace, it would actually just set the stage for a major war, but Obama doesn't really understand the dynamics of the Middle East.  He just wants to "leave a legacy", and at this point negotiations between Israel and the Palestinians are completely dead.
The only way that Obama is going to get something done before the end of his second term is at the United Nations.
There are five countries that have veto power on the UN Security Council, and the United States is the only one that has been standing in the way of a Palestinian state.
Obama has hinted that next time the U.S. may not use the veto power, and nobody is quite sure precisely what would happen if a resolution was put for a vote during the coming months.
Of course supporting a UN Security Council resolution formally dividing the land of Israel would be the worst move that Obama would make in his entire presidency, and this is something that I detailed on international television last month…
We are going to find out what happens one way or the other very soon, because January 20th, 2017 is just a little bit more than four months away.
Let's pray that Barack Obama makes the correct decision.
*About the author: Michael Snyder is the founder and publisher of The Economic Collapse Blog and End Of The American Dream. Michael's controversial new book about Bible prophecy entitled "The Rapture Verdict" is available in paperback and for the Kindle on Amazon.com.*