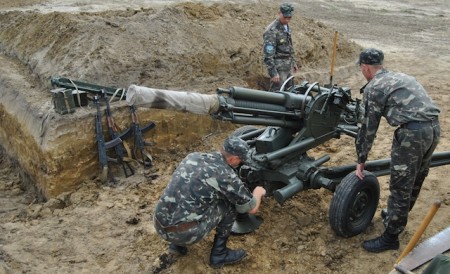 The humanitarian crisis in the eastern Ukrainian city of Slavyansk is worsening by day by day, amid disruption of water supplies and electricity, while emergency medical aid is unavailable due to gas shortages as fighting continues in some areas.
Early on Thursday morning, pro-Kiev troops targeted a church in the Donetsk Region city, killing one man and partly destroying the building.
"Artillery fire at the city started at about 6 am from Karachun Mountain [where the Ukrainian army's artillery is deployed] and lasted for about a half-hour," a local priest was cited a saying by RIA Novosti.
"The shells fell right next to it: one flew half a meter from the dome, the second exploded near the church, on the road; the third hit the central gas pipeline near the lake. The main gas pipeline has been blocked. The shells damaged the southern facade of the church, but in general it is intact."
A man who served as a security guard at the church sustained severe head injuries and died of his wounds shortly afterward.
(Read the rest of the story here…)