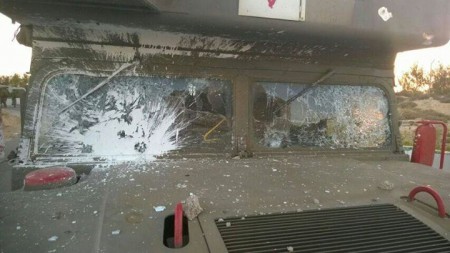 (Truth Revolt) According to multiple reports, Arabs stoned the IDF ambulance that was carrying the bodies of the murdered Israeli teenagers. The ambulance was forced to stop, its windshield shattered. According to The Algemeiner:
Palestinian Arabs attacked an Israeli Defense Forces (IDF) ambulance humvee on Monday that was transporting the recently discovered bodies of three murdered Israeli boys who were kidnapped on June 12, an Israel source told The Algemeiner.

The Muqata blog posted an image of the damaged vehicle on Facebook writing, "8:44pm IDF Ambulance humvee transporting the bodies of the boys attacked by arabs….windows smashed."

In the picture, the ambulance's windshield is smashed and splattered with paint.