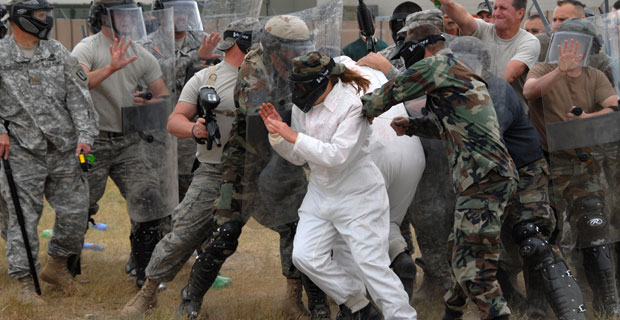 Shocking video provided exclusively to Infowars shows a Washington state sheriff's deputy proclaiming that law enforcement officers need armored military vehicles because of "constitutionalists" with firearms.
The footage, recently captured in Spokane Valley, begins with a local resident asking two deputies why police would need vehicles specifically designed for warfare abroad.
"I mean, we've got a lot of constitutionalists and a lot of people that stockpile weapons, lots of ammunition," one deputy says. "They have weapons here locally."
The startling admission not only points to active surveillance of legal gun owners, but of those who support the country's founding document, further solidifying concerns among law-abiding citizens that police are receiving military equipment and training in order to target conservative Americans.
The deputy's specific mention of "constitutionalists," a broad term covering millions of Americans, as opposed to criminals in general, also indicates a clear training mindset linked to the FBI and Homeland Security, two groups which have absurdly labeled "liberty-lovers" as terror threats.
(Read the rest of the story here…)