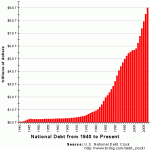 The most important news for Monday, July 20th, 2009…..
According to a new report, the U.S. government's maximum financial exposure for the Wall Street bailout could total nearly 24 trillion dollars.
It has been announced that President Obama will attend the North American Leaders summit with Mexican President Felipe Calderon and Canadian Prime Minister Stephen Harper next month.
Another new poll has come out which shows that Obama's approval ratings are continuing to fall.
Due to swine flu concerns, no one arriving in China aboard an international flight is allowed to disembark before they have had their temperature taken.
U.S. Treasury Secretary Timothy Geithner is traveling the globe trying to convince other countries to buy even more U.S. debt.
The recent revelations about Goldman Sachs have some financial observers absolutely buzzing.
Federal regulators have shut two banks in California and two smaller banks in Georgia and South Dakota, bringing the total of federally insured banks to fail this year to 57.
Commercial mortgages at U.S. banks are failing at the fastest rate in nearly 20 years.
An extensive investigation has concluded that the Department of Defense may have paid more than $15 million into invalid civilian employee accounts over a six-year period.
The U.K. plans to spend up to £100m on genetically modified crops for the world's poor despite not having allowed any of the controversial foods to be grown commercially at home.
According to a study conducted at Georgia State University, a diet with substantial high fructose corn syrup intake is likely to impair your memory.
Mysterious, glowing clouds previously seen almost exclusively in Earth's polar regions have suddenly appeared in the skies over the United States and Europe over the past few days.