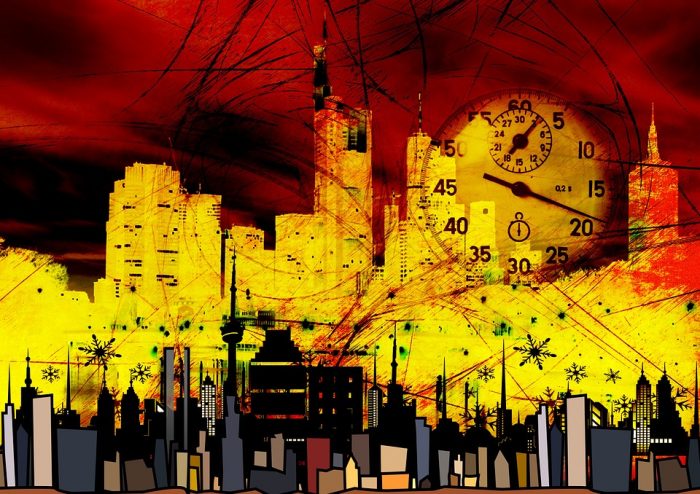 Things will never be the same in America from this moment forward.  When 66-year-old James Hodgkinson attempted to gun down as many Republican members of Congress as possible at a baseball field in Virginia, he permanently shattered the notion that we could go back to the way that things used to be in this country.  At one time, Republicans and Democrats may have strongly disagreed with one another over the issues, but there was always a certain code of civility that everyone understood and respected.  But now that is long gone, and if our politicians and the big media outlets continue to fuel the rising hatred in this country, it won't be too long before we are dealing with widespread chaos and civil unrest from coast to coast.
Most of the anger and frustration that we are currently witnessing is being fueled by the left.  On his radio show yesterday, Rush Limbaugh accused the left of openly promoting violence…
"I have been worried for quite a while about the cumulative effect or impact of this constant anti-Trump hysteria everywhere in mainstream media: New York Times, Washington Post, LA Times, CNN, MSNBC, ABC, CBS, NBC," Limbaugh told listeners.

"It's hysteria. It's lies. It's things that are completely manufactured about Trump personally, about Trump and Russia, about climate change, about any number of things.

"I have been very concerned about what all of this is doing to the average, base Democrat voter. I have sensed them getting more and more fringe and imbalanced, and the evidence for it is everywhere in the things that they tweet. They openly promote violence, and advocate some of the most despicable things happening to their political enemies."
Someone like James Hodgkinson is not produced in a vacuum.  There has been a steady pattern of threats and violence against Republicans since the election, and all that Hodgkinson did was take things to the next level.  Breitbart has put out an article entitled "15 Times Celebrities Envisioned Violence Against Trump and the GOP", and WND published an even longer list entitled "20 times violence threatened, used, in wake of Dems' political collapse".  When celebrities, politicians and media personalities constantly use language that is seething with hatred, it shouldn't surprise us when their followers engage in violent acts.
I have warned many times in the past about the civil unrest that is coming, and now many of my fellow conservative commentators are sounding the alarm as well.  For example, in the aftermath of the attack in Virginia radio host Michael Savage made the following chilling statement to his audience: "We are at a boiling point. There's going to be a civil war."
No American should ever want to see such a thing happen, but the left just keeps getting more and more radical.  And even Hillary Clinton recently stated that she has joined "the Resistance".  The following comes from Ann Coulter…
Recently, Hillary announced her steadfast opposition to the winning candidate using a military term, saying she'd joined the "Resistance."

Imagine if Trump lost and then announced that he'd joined the "RESISTANCE." He'd be accused of trying to activate right-wing militias. Every dyspeptic glance at an immigrant would be reported as fascistic violence.

But the media seem blithely unaware that the anti-Trump "Resistance" has been accompanied by nonstop militaristic violence from liberals.
In recent weeks, I have heard from so many people all over the nation that are extremely excited about the possibility of me running for Congress.  But anyone that is considering running for public office these days has to consider the fact that they will become potential targets for violence.  For example, just recently one very sick individual actually threatened to hang Utah Representative Jason Chaffetz…
"I feel very safe and secure at the Capitol," Chaffetz said Wednesday. "We work in a fortress with literally thousands of people to protect us, but once we leave the Capitol, it's a whole different equation."

Chaffetz wants U.S. marshals to be charged with assessing threats against members of Congress and securing them in more high-profile and widely attended events.

Chaffetz was the focus of a March death threat in which a Florida man vowed in a voicemail to "hunt your a– down, wrap a rope around your neck and hang you from a lamppost," according to court records.
Could you imagine if your wife found that voicemail before you did?
But this is what the left is becoming.  Because they don't have any sort of a positive message to offer, they have to resort to threats, intimidation and violence.  I have been writing about this quite a bit lately, and it turns out that Rush Limbaugh very much feels the same way…
They don't have an agenda that's optimistic and upbeat that they can run on, and they don't dare be honest about their real agenda. So all they can do is to continue to do what they've been doing, and it's not healthy, it's not uplifting, it's not inspiring. It isn't representative or reflective of any of the traditional American values that for so long have united us. A sense of optimism, a sense of can-do, a sense of unity, a sense of nationhood. All of these things are under assault.
If the left continues to go down this path, the anger and the frustration are going to continue to grow, and eventually cities all over America are going to burn.  This is the kind of a scenario that I laid out in The Beginning Of The End, and now it is actually starting to play out right in front of us.
Today, this nation is more divided than it has ever been in my entire lifetime, and I don't see that changing any time soon.  In fact, I expect even more anger and even more hatred as the divisions deepen.
Without each passing year, the left moves even farther to the left.  It has gotten to the point where many on the far left actually refer to Hillary Clinton as a "moderate", which is funny because at one time she was a cutting edge liberal.
On the right, there is an emerging movement to return to the values and the principles that this country was founded upon.  So if the left doesn't like current Republican leadership, then they really aren't going to like the hardcore constitutional conservatives that are going to start replacing them.
We are in a battle for the soul of our nation, and the future of America is literally at stake.
It is a battle that we cannot afford to lose, because if the left wins there literally will be no viable future for our country at all.