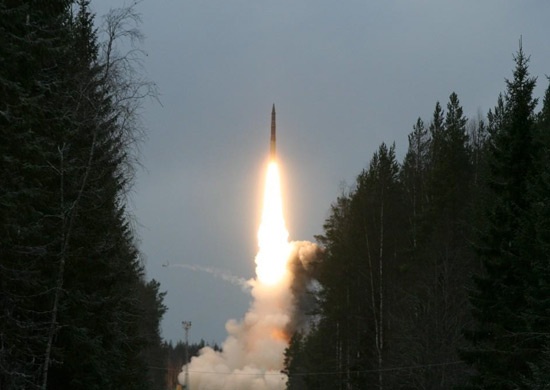 While east Ukraine, aka the Donetsk Republic, was voting over the weekend in what the west pre-emptively classified as another sham vote as its outcome would merely push east Ukraine even closer to the Kremlin, Russia was busy conducting its most comprehensive Nuclear preparedness drill in recent history, one involving the entire "nuclear triad" consisting of strategic bombers; submarines and an the ICBM shown below on Saturday morning.
As reported earlier by the Barents Observer, the silo-based Topol-M intercontinental ballistic missile was launched from Plesetsk in Arkhangelsk Oblast. A few minutes later, the dummy nuclear warhead hits its target on the Kamchatka Peninsula in Russia's far eastern corner, the Ministry of Defense reports.
The Ministry, conveniently, adds that the Topol-M missile has an "extremely high accuracy of target destruction."
This took place after a close encounter on Friday, when Norwegian F-16s were scrambled from Bodø airbase for the second time this week as a group of four Tu-95 strategic bombers were approaching from the northeast, Norway's TV2 reports. The bombers, flying out over the Barents Sea from Russia's Kola Peninsula, were accompanied by four Il-78 tankers.
(Read the rest of the story here…)