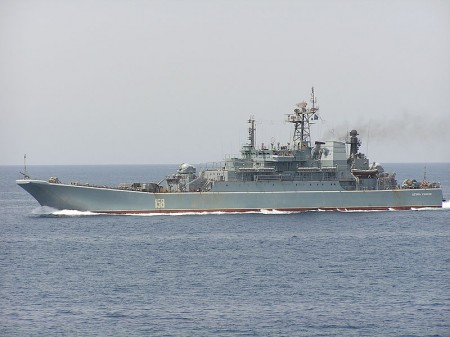 Russia will construct a second naval base on the Black Sea and reinforce its fleet with 80 warships to ward off what it sees as an increasing NATO presence in the waters around the recently annexed Crimean Peninsula, the head of the Russia's Black Sea fleet said Tuesday.
A new base in the city of Novorossiisk will be built be 2016, and by the end of the decade Russia's Black Sea force will tally 206 ships, Admiral Alexander Vitko was quoted as saying by state news agency TASS.
"With Crimea's return to Russia, the relevance of this base has increased due to the fact that NATO ships are consistently present in the Black Sea," Vitko told President Vladimir Putin, who visited the construction site of the new base in Novorossiisk on Tuesday.
Moscow views the Black Sea as strategically significant because of its proximity to several areas of potential conflict, such as Ukraine and Georgia, and the Kremlin fears Western intervention in the region.
(Read the rest of the story here…)