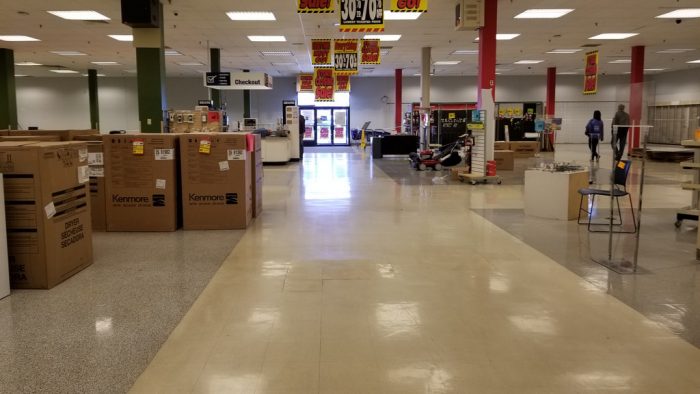 When sales have declined for 26 quarters in a row, you have got to know that your days are numbered. Once upon a time, Sears was an unbeatable retail powerhouse. It survived two world wars and the Great Depression, but thanks to competition from Amazon and other online retailers it may not even survive 2018. On Thursday, shares of Sears fell to a depressingly low level of just $2.91 once news broke that the company was going to close dozens of more stores. But to be fair, Sears doesn't have a choice. If you can believe it, Sears lost an astounding 424 million dollars during the first three months of 2018. Frankly, I don't even know how that is possible. If all their employees did all day was flush one dollar bills down the toilet, I still don't think that they could lose that kind of money. This is a company that is being horrendously mismanaged, and as I have said so many times before, Sears is ultimately heading to zero.
Company revenue was down 30 percent during the first quarter of 2018 compared to a year ago, and store closings accounted for about two-thirds of that decline.
But same-store sales were way down too – 11.9 percent – and that means that more stores have to close.
Sears has announced that they have "identified 100 unprofitable stores" and that 72 of them will be shut down "in the near future"…
The retailer has identified 100 unprofitable stores in total, and it will begin closing sales at 72 of these stores "in the near future."

"We continue to evaluate our network of stores, which are a critical component in our transformation, and will make further adjustments as needed and as warranted," Sears said in a statement announcing its fiscal first-quarter results.
On Thursday, we got a list of 63 of the stores that will be closed, and you can see that list right here. Additional store closings will be announced at a future date.
Of course this batch is just the latest in a long string of store closings. The following comes from CNBC…
Sears and Kmart operated 894 stores at the end of the first quarter, 381 fewer than it did a year ago. Most recently in January, the embattled company announced the shuttering of 64 Kmart stores and 39 Sears stores, adding to the hundreds of closures that have taken place over the past few years. Some locations are currently being auctioned off online.
Sears CEO Eddie Lampert always tries to put a happy spin on things, but the truth is that he is just delaying the inevitable.
All over the nation, you can find empty former Sears stores in hundreds of rotting, decaying shopping malls. When you add up all of the store closing announcements in the United States so far in 2018, it comes to a grand total of 77 million square feet of retail space. This is a retail apocalypse of unprecedented size and scope, and if the U.S. economy really was in "good shape" this wouldn't be happening.
You probably remember the old advertising campaign that urged us to "come and see the softer side of Sears". Well, now we are seeing the dying side of Sears as it prepares to roll over and go belly up.
If the company had gone really hard into online retailing 20 years ago, perhaps the outcome could have been different. But then again, maybe not. A very long list of other major retailers is closing stores as well, and if we soon enter another recession that is just going to accelerate the retail apocalypse that is currently unfolding right in front of our eyes.
Michael Snyder is a nationally syndicated writer, media personality and political activist. He is the author of four books including The Beginning Of The End and Living A Life That Really Matters.