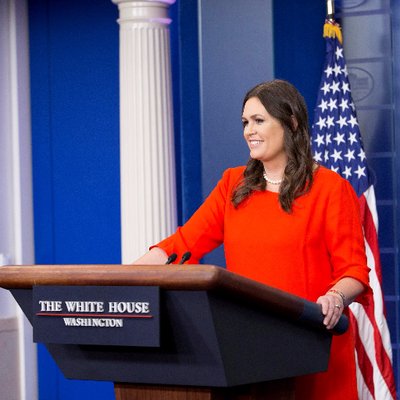 We are starting to see things in America that we have never seen before.
On Friday night, White House press secretary was kicked out of a Red Hen Restaurant in Lexington, Virginia just because she works for Donald Trump…
White House press secretary Sarah Sanders was told to leave a Lexington, Virginia, restaurant Friday night, she said on Twitter Saturday morning. Sanders said the owner of the Red Hen in the Shenandoah Valley asked her to leave because she works for President Trump.

"Last night I was told by the owner of Red Hen in Lexington, VA to leave because I work for @POTUS and I politely left. Her actions say far more about her than about me. I always do my best to treat people, including those I disagree with, respectfully and will continue to do so," Sanders tweeted Saturday morning.
Apparently Sanders got the boot because there were gay staff members that got "triggered" when Sanders entered the restaurant.  The following comes form our friends at Zero Hedge…
Sarah Huckabee Sanders had just walked in and sat down, the chef informed her.

"He said the staff is a little concerned. What should we do?" Wilkinson told The Washington Post. "I said I'd be down to see if it's true."

…

"Tell me what you want me to do. I can ask her to leave," Wilkinson told her staff, she said. "They said yes."

…

Several Red Hen employees were gay, she said. They knew Sanders had defended Trump's desire to bar transgender people from the military. This month, they had all watched her evade questions and defend a Trump policy that caused migrant children to be separated from their parents.
Needless to say, people on all sides of the political spectrum had very strong opinions about this incident.
The following are just a few of the comments that were posted on Yelp…
"WOW. Just WOW. This restaurant discriminates if it doesn't agree with your political views," one Yelp reviewer wrote Saturday.

"You have joined a long list of people that open its rude mouth and loose. Shame on you to insult that women nationally. Now its your turn. By the way your food stinks," another reviewer wrote Saturday.

The restaurant also had its defenders. One wrote, "A restaurant that gave Sarah Huckabee Sanders a little taste of her own medicine…priceless! I must stop in soon so I can give a real review."
This is just another sign of how tense things are becoming in our nation.
Anger and frustration are rising everywhere, and it is only a matter of time before things get out of control…