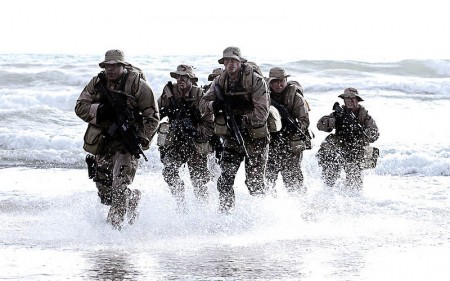 The parents of a Navy SEAL Team 6 member, who died in a helicopter crash in Afghanistan in 2011 along with several others, have issued a scathing letter to President Obama, labeling the Commander-in-Chief's presidency an "out-of-control thug-fest" that needs to be reined in, and demanding his resignation.
"As Commander-in-Chief, your actions — or lack thereof — Mr. President, cost lives," write the parents of Seal Team Six member Aaron Carson Vaughn, Billy and Karen Vaughn. "As you bumble about in your golf cart, slapping on a happy face and fist-pounding your buddies, your cowardly lack of leadership has left a gaping hole — not only in America's security — but the security of the entire globe. Your message has come across loud and clear, sir: You are not up to this job. You know it. We know it. The world knows it."
The letter, first published at WorldTribune.com, claims Obama has "made a mockery of the title 'President,'" and implores Obama to relinquish control of the "people's house" to "a man or woman of courage and substance…"
"Thanks to your 'leadership' from whatever multi-million dollar vacation you happen to be on at any given moment, the world is in chaos. What's been gained, you've lost. What's been lost, you've decimated," the Vaughns assert.
A few months after the fabled May 2011 raid on CIA asset Osama bin Laden's compound in Abbottabad, Pakistan, media sources reported that a Chinook helicopter was shot down in Kabul, Afghanistan, carrying NATO forces, several of whom were Americans, and at least two of which were reportedly Navy SEAL Team 6 members involved in the purported bin Laden operation just three months earlier.
(Read the rest of the story here…)