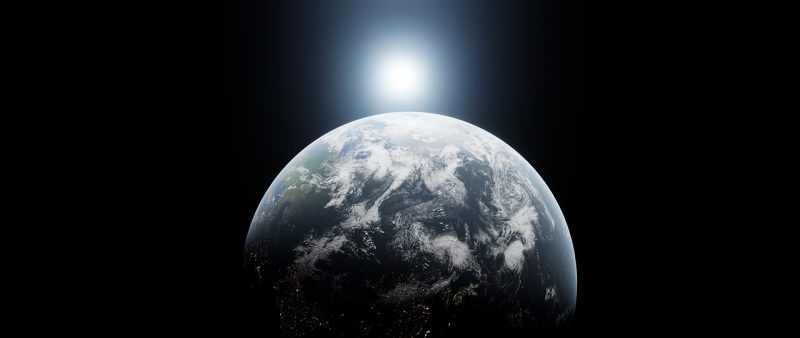 If things are so wonderful, then why do so many people feel a deep sense of unease about what is ahead?  I think that the reason why our society is so obsessed with apocalyptic movies and television shows is because most of us realize on some level that we are living in an apocalyptic generation.  As I have been documenting in my articles over the last several months, the clock is ticking for humanity.  If we continue to do things the way we have been doing them, our society will inevitably collapse.  Even now, virtually all of our systems are exhibiting signs of failure, and yet most of us continue to live our lives as if they party will never end.
But it will end, and deep inside most of us know this.
So how close are we to that point?  Nearly 2000 years ago, Jesus detailed some of the things that we should expect to see as conditions turn apocalyptic…
And ye shall hear of wars and rumours of wars: see that ye be not troubled: for all these things must come to pass, but the end is not yet.

For nation shall rise against nation, and kingdom against kingdom: and there shall be famines, and pestilences, and earthquakes, in divers places.

All these are the beginning of sorrows.

Then shall they deliver you up to be afflicted, and shall kill you: and ye shall be hated of all nations for my name's sake.
Could it be possible that "the beginning of sorrows" is nearly upon us?
Without a doubt, we are living in a time when there are lots of rumors of wars.  Russia and Ukraine nearly went to war this month, and if that would have happened the U.S. would have definitely gotten involved, and that could have led us directly into World War 3.
Meanwhile, the U.S. and China are now closer to military conflict than they have been at any point since the end of the Korean War.  Taiwan is the main source of tension at the moment, but there are other flashpoints that could cause war between our two nations to erupt as well.
In the last 48 hours, however, developments in Israel have taken center stage globally.  Dozens of rockets were fired into Israel on Saturday night, and terror groups are warning that "worse was still to come"…
Two terror groups in Gaza took responsibility on Saturday for the salvos of rockets fired at Israel overnight, saying the attack was in response to violent clashes in Jerusalem in recent days and that worse was still to come.

Fatah's Al-Aqsa Martyrs' Brigade and the Popular Front for the Liberation of Palestine's Abu Ali Mustapha Brigades said that they were behind the 36 rockets fired at Israel, linking the attack to the unrest in and around the Old City.
Everyone knows that a major war is going to erupt in the Middle East at some point.
It is just a matter of time.
Switching gears, we continue to see large earthquakes shake our planet at a very alarming rate, and more volcanoes that were once very quiet continue to roar to life.
On Sunday morning, it was Japan's turn to experience a major eruption…
The Sakurajima volcano in southwestern Japan erupted on early Sunday, sending a column of smoke over 2.3 kilometers above the crater, the weather agency said.

Following the eruption at 1:09 a.m., the Japan Meteorological Agency issued an eruption alert, urging people in the cities of Kagoshima and Tarumizu in Kagoshima Prefecture to protect themselves from potential impact of the volcanic activity.
Of course those that follow my work on a regular basis know that the volcano in Japan that I really have my eye on is Mt. Fuji.  When it finally blows, the death toll will be off the charts.
Needless to say, "pestilence" has been a major theme over the past year as well.  We are being told that the number of new coronavirus cases just hit a brand new record high globally, and it appears that this pandemic will be with us for the foreseeable future.
But if we really are moving into "the beginning of sorrows", we should expect even more "pestilences" to strike the globe, and they will be even worse than what we have experienced so far.
As for "famines", the good news is that nobody in the United States is starving at the moment.
But I did just publish an article in which I talked about how global food prices are now soaring, and this is causing hunger to rise very rapidly in impoverished areas of the planet.
Coming into this year, the head of the UN's World Food Program did warn that we would soon see "famines of biblical proportions", and unfortunately we are well on the way to that actually happening.
On top of everything else, the global persecution of Christians continues to rise.
The U.S. Commission on International Religious Freedom just released a report that documented many of the specifics of this rising trend, and one expert that worked on the report stated that "Christians are being persecuted around the world at a pace not seen since the first century".
Is it just a coincidence that all of these things are happening at the same time?
At this point, even some of the top faith leaders in the entire nation are acknowledging that we have entered a very ominous time.  For example, just consider a statement that James Dobson just made…
"Though I am not a prophet, it appears to me that divine judgment has befallen our nation. The evil one, Satan (who always has only been able to operate within parameters permitted by the Lord, e.g., Job 1:7, 12), appears to be unleashing his assault on our culture with even greater ferocity. He is creating chaos in our cities and schools, and is stalking the halls of government. It is as though, because we have replaced the truth with a lie, God has given us over to a reprobate mind. (Romans 1:25, 28)," Dobson explained.

"Why do I draw such a conclusion? It is because our nation is divided into warring camps, with violence and pestilence plaguing the land. Sixty-two million babies have been murdered in cold blood, and hundreds of millions of additional federal dollars have been allocated to expand the unborn holocaust. And the institutions of marriage and the family are under siege. Our birthrate is falling, and our children are being taught hate and sexual perversion in our government schools. How can a holy God look upon such debauchery and stay His righteous hand? He cannot."
And during a recent interview with Todd Starnes, Franklin Graham came to a very similar conclusion…
"Christians need to get on their knees and pray that God would intervene and somehow save this nation or give us more time because I believe judgment is coming," said Graham. "I really do, Todd, I think God's judgment is coming."
Are they right?
Have we really reached the point of no return?
People have been sounding the alarm for decades, but up to now we have always been given more time to turn things around.
Unfortunately, at some point we will completely run out of time, and many believe that day is fast approaching.
***Michael's new book entitled "Lost Prophecies Of The Future Of America" is now available in paperback and for the Kindle on Amazon.***
About the Author: My name is Michael Snyder and my brand new book entitled "Lost Prophecies Of The Future Of America" is now available on Amazon.com.  In addition to my new book, I have written four others that are available on Amazon.com including The Beginning Of The End, Get Prepared Now, and Living A Life That Really Matters. (#CommissionsEarned)  By purchasing the books you help to support the work that my wife and I are doing, and by giving it to others you help to multiply the impact that we are having on people all over the globe.  I have published thousands of articles on The Economic Collapse Blog, End Of The American Dream and The Most Important News, and the articles that I publish on those sites are republished on dozens of other prominent websites all over the globe.  I always freely and happily allow others to republish my articles on their own websites, but I also ask that they include this "About the Author" section with each article.  The material contained in this article is for general information purposes only, and readers should consult licensed professionals before making any legal, business, financial or health decisions.  I encourage you to follow me on social media on Facebook, Twitter and Parler, and any way that you can share these articles with others is a great help.  During these very challenging times, people will need hope more than ever before, and it is our goal to share the gospel of Jesus Christ with as many people as we possibly can.