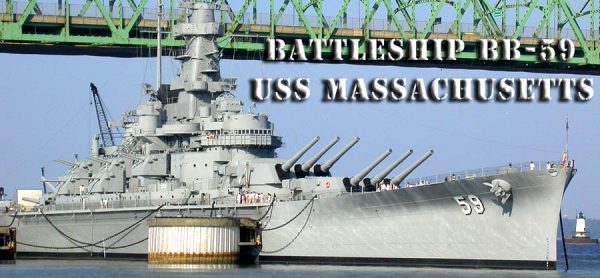 Today I have a very encouraging dream for you all.  It is from Dwayne Desmarais, and he believes that God wants to do a new thing with this generation, but if we aren't responsive to the Lord that could hold us back from fulfilling our mission.  Here is the dream that Dwayne sent to me…
---
DREAM: I am standing on a bridge overlooking a bay of water. There is a massive warship to my left. Adam Levine (from musical group "Maroon Five") appears, and is astounded by the size of the ship. He has his arms wide open in amazement. he then says: "WOW! This is the USS Hawaii, and it is much bigger than the USS Massachusetts." He then puts his feet at the end of the pier, with his arms still wide open, falls backwards into the water. He swims to a stairwell, and someone helps him out of the water. Wake up!!
When I reviewed the dream, I was a bit baffled, as it did not seem to have much significance, and why Adam Levine and those two ships? But God!! As you know: "It is the glory of God to conceal a matter, to search a out a matter is the glory of kings." ( Pv. 25:2) So off I went! Adam means: (Spiritual connotation) "In the image of God" (inherent meaning) "formed of the earth"  The last name Levine is derived from the the Hebrew male given name Levi "Joining" "Beloved" Wine" or "the vine" (depends on who you ask) LOL…I was taken to (Jn. 15:5) "I am the vine, you are the branches. if you remain in me and I in you, you will bear much fruit. Apart from me you can od nothing." I researched the battleship Massachussetts and Hawaii. The MA seen action in WWII, but the HI did not. This is interesting…the HI was 808.6 ft. long, the MA was 680.8 ft. long. Before I even researched this, I don't know why, but I thought it would be uncanny if their lengths were backwards!! Guess what! If you notice, the length of each ship is exactly backwards!!
This was for the USS Hawaii (Ps. 80:6) "You have made us a source of contention to our neighbors, and our enemies mock us." (Ps. 80:8) "You brought a vine out of Egypt; you drove out the nations and planted it. (emphasis mine) In verse 14-15 "Return to us O God Almighty! Look down from heaven and see! Watch over the vine, the root your right hand has planted, the son you have raised up for yourself." This Scripture is a pleading with God to awaken His might and save us, restore us. This can only happen if the Church as a whole does what we have been commissioned to do. "See today, I appoint you over nations and kingdoms to uproot and tear down, to destroy and overthrow, to build and to plant." (Jer. 1:10) The key here is we need to uproot and destroy, before we can build and plant. Including the foundation! The Church as a whole has been built on mostly man's understanding, and it will not stand when the Lord shakes all that can be shaken.
The USS MA represents the Church that was called to war in previous years. It has now (or is about to be) de-commissioned and be in dry dock. The coming Church (USS HI) is a much larger battleship and better equipped, but is in danger of never being commissioned to do battle! (**This is historical truth**During WWII, the USS HI, because of lack of leadership and all the red tape, and financial woes was never commissioned and in 1959 was cut up and sold for scrap!!) As it stands, as it says in the word above, "our enemies mock us" We have little if any influence in world affairs today, when we should be the fountain of living water! Many of today's aging leaders (and many younger ones) do not realize that God is doing a new thing. (Isa. 43:18-19) There is coming a deeper divide between between true believers and those who are "religious" yet God will have His way! The "church as usual" format will soon be replaced by what God had always intended for His bride.