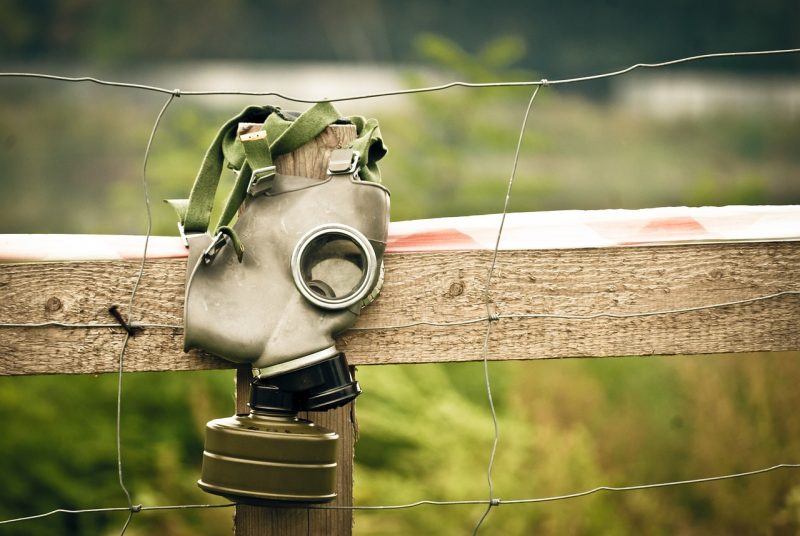 Is a new outbreak of the Ebola virus about to cause widespread panic all over the globe?  The Zaire strain of the disease is fairly common, and in recent years scientists have developed effective treatments for it.  Unfortunately, the new outbreak that has just erupted in Uganda is of the Sudan strain.  There had not been a case of that strain in a decade, but now it is spreading rapidly.  So far, there have been 63 confirmed cases, and 29 of those individuals have died.  There is no treatment and no cure for the Sudan strain.  So if this virus were to start spreading widely around the world, the death toll could potentially be catastrophic.
So everyone is hoping that this new outbreak can be contained.
With that goal in mind, the president of Uganda has just declared a "three-week lockdown" for the two districts where cases of Ebola have been confirmed…
Ugandan President Yoweri Museveni has declared an immediate three-week lockdown in two high risk districts as the country battles a rise in Ebola infections.

All movement in and out of the Mubende and Kassanda districts will be halted, Museveni said in a televised address on Saturday – although cargo trucks will be allowed to enter and leave the areas.

Curfews will also be imposed. Places of worship, bars, gyms, saunas and other entertainment venues will close but schools will remain open, he added.
If this lockdown does not work and Ebola spreads to other areas, we will inevitably see more lockdowns.
Can you imagine the panic that would be caused if cases started to pop up in North America?
Already, those flying into the United States from Uganda are being routed to just five large airports where they will receive enhanced health screening…
So far, cases from this outbreak have only been detected in Uganda.

Passengers from that country will be routed to one of five airports: New York's John F. Kennedy International, Newark Liberty International, Hartsfield-Jackson Atlanta International, Chicago O'Hare International or Washington D.C.'s Dulles International. The Centers for Disease Control and Prevention, the Department of Homeland Security and Customs and Border Protection are adding new screening measures at the airports.
Hopefully there will never be a case of the Sudan strain in the United States.
And hopefully this new outbreak in Uganda will quickly fizzle out.
Because as I noted earlier, we currently have absolutely no way to effectively fight this virus…
There are no licensed vaccines or therapies for the treatment or prevention of Sudan ebolavirus disease. According to the WHO, the ERVEBO vaccine, which has been used in recent responses to outbreaks of other Ebola strains, will not provide cross-protection for the Sudan virus.

There are six candidate vaccines against Sudan ebolavirus in different stages of development, but none are near the final phases of broad clinical trials. The WHO has said its research teams are in contact with all of the vaccine developers, in what the organization calls a "collaborative effort" to see if any are suitable for further evaluation during the current outbreak.
The good news is that the Ebola virus normally does not spread easily from person to person.
Of course we thought the same thing about the monkeypox virus, and look what happened.
Mad scientists are monkeying around with some of the deadliest diseases ever known to humanity in secret labs all over the planet.
In many of those cases, they are purposely trying to make those diseases even deadlier.  For example, I was absolutely horrified to learn what has been going on at Boston University.  The following comes from Zero Hedge…
Researchers at Boston University have created a new strain of Covid-19 that has an 80% kill rate in humanized mice.

In an effort to research what makes Omicron so transmissible – and funded in part by grants from the NIH and Anthony Fauci's NIAID, the researchers cobbled the Omicron spike protein to the original strain of Covid-19. The resulting virus was five times more infectious than Omicron.
Why would you do something like that?
You would literally have to be insane to create such a thing.
They are calling it "Omicron S", and it has a death rate that is absolutely frightening…
The new research, which has not been peer-reviewed, was conducted by a team from Boston and Florida.

"In…mice, while Omicron causes mild, non-fatal infection, the Omicron S-carrying virus inflicts severe disease with a mortality rate of 80 percent," the researchers wrote, adding that while the spike protein is responsible for infectivity, changes to other parts of its structure are responsible for its deadliness.
As we have seen in the past, it is way too easy for a mistake to happen.
And once a bug gets loose, it can circulate around the globe in the blink of an eye.
In fact, a brand new subvariant that has been dubbed XBB is starting to spread quite widely in Asia…
A new subvariant of the novel-coronavirus called XBB dramatically announced itself earlier this week, in Singapore. New COVID-19 cases more than doubled in a day, from 4,700 on Monday to 11,700 on Tuesday—and XBB is almost certainly why. The same subvariant just appeared in Hong Kong, too.

A highly mutated descendant of the Omicron variant of the SARS-CoV-2 virus that drove a record wave of infections starting around a year ago, XBB is in many ways the worst form of the virus so far. It's more contagious than any previous variant or subvariant. It also evades the antibodies from monoclonal therapies, potentially rendering a whole category of drugs ineffective as COVID treatments.
As I have been warning my readers, we have now entered an era of great pestilences, and it isn't just naturally-created ones that we need to be concerned about.
As for this new outbreak of the Ebola virus in Uganda, hopefully it is not something that was cooked up in a lab somewhere.
But it is definitely quite odd that this strain has suddenly reappeared after being totally gone for a decade.
Let us hope that it can be quickly contained, because if that does not happen it will cause extreme fear wherever it spreads.
***It is finally here! Michael's new book entitled "7 Year Apocalypse" is now available in paperback and for the Kindle on Amazon.***
About the Author: My name is Michael and my brand new book entitled "7 Year Apocalypse" is now available on Amazon.com.  In addition to my new book I have written five other books that are available on Amazon.com including  "Lost Prophecies Of The Future Of America", "The Beginning Of The End", "Get Prepared Now", and "Living A Life That Really Matters". (#CommissionsEarned)  When you purchase any of these books you help to support the work that I am doing, and one way that you can really help is by sending digital copies as gifts through Amazon to family and friends.  Time is short, and I need help getting these warnings into the hands of as many people as possible.  I have published thousands of articles on The Economic Collapse Blog, End Of The American Dream and The Most Important News, and the articles that I publish on those sites are republished on dozens of other prominent websites all over the globe.  I always freely and happily allow others to republish my articles on their own websites, but I also ask that they include this "About the Author" section with each article.  The material contained in this article is for general information purposes only, and readers should consult licensed professionals before making any legal, business, financial or health decisions.  I encourage you to follow me on social media on Facebook and Twitter, and any way that you can share these articles with others is a great help.  These are such troubled times, and people need hope.  John 3:16 tells us about the hope that God has given us through Jesus Christ: "For God so loved the world, that he gave his only begotten Son, that whosoever believeth in him should not perish, but have everlasting life."  If you have not already done so, I strongly urge you to ask Jesus to be your Lord and Savior today.