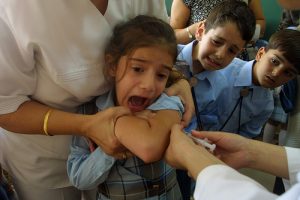 The most important news for Monday, October 5th, 2009…..
The H1N1 swine flu vaccine campaign, the largest mass vaccination program in U.S. history, has begun.
About half of all Americans in various polls say that they do not plan to get the H1N1 swine flu vaccine.
A new government study estimates that about 1 in every 91 U.S. children will be diagnosed at some point in their lives with autism.  But that sure doesn't seem to be stopping the government from recommending more vaccines than ever.
A teenage girl in the U.K. has been left brain-damaged after suffering epileptic seizures just days after being given a controversial cervical cancer vaccine.
On a popular Hamas children's program that usually gives advice to youngsters, a stuffed bear named Nassur recently said the following about Jews to the children: "There won't be any Jews or Zionists, if Allah wills. They'll be erased."
Does the health care reform bill contain $485 billion in subsidies for the health insurance industry?
A New York man has been arrested by the FBI and charged with hindering prosecution after he allegedly used Twitter to help protesters at the G20 summit in Pittsburgh evade brutal police attacks.
A new Internet game is about to be launched in the U.K. which allows "super snooper" players to plug into CCTV cameras throughout the U.K. and report on members of the public who are committing crimes.
There has been a sharp rise in Chinese arrests at the U.S. border.
North America now ranks second in the world in premature births.
The number of banks that have closed in the U.S. in 2009 has now reached 98.
An internationally agreed tax on the world's banks is now being seriously considered by the IMF.
The massive number of guns purchased legally in the United States in 2009 could outfit the entire armies of both China and India.
It has now been revealed that the recent Indonesian earthquake was so powerful that it sucked whole crowds of people 30 meters into the ground.
A male Democrat judge in Alabama is being accused of having sex with male inmates in exchange for leniency.
Lastly, half of American high school seniors surveyed recently thought that Sodom and Gomorrah were a married couple.