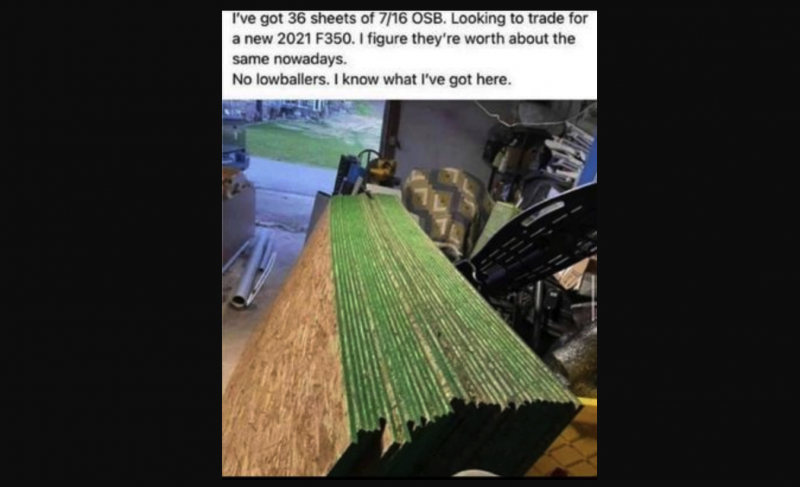 Would you pay $100 for a sheet of plywood?  I know that sounds absolutely crazy, but we are almost there.  The price of plywood has been soaring into the stratosphere in recent weeks, and analysts are telling us that it will remain high for the foreseeable future.  Memes about plywood have started to pop up all over social media, but this is no joking matter.  These extraordinarily high prices are causing a lot of pain in the homebuilding industry, and many Americans have had to postpone construction plans indefinitely.  Unfortunately, our national leaders continue to flood the system with even more new money, and that is going to cause even more extreme inflation in the months and years to come.
Prior to the pandemic, any discussions about plywood on social media were likely to be painfully boring, but now everything has changed.  Thanks to skyrocketing prices, plywood has suddenly become a very hot topic, and one post on Facebook that circulated quite widely ended up getting national attention…
"Food for thought — 3/4″ Plywood Standard:

March 2020 – $37.98 /sheet

February 2021 – $72.49 /sheet

March 2021 – $83.49 /sheet

April 2021 – $95.98 /sheet

That is 252% price increase on one of the most used piece of common lumber for construction."
Not surprisingly, this post got flagged on Facebook for being "misinformation".
But then PolitiFact looked into this, and they confirmed that the price of plywood really has risen to such levels…
Shawn Church, editor of Random Lengths, which publishes price data on the wood products industry, gave us figures for 23/32-inch plywood produced in the Pacific Northwest and the South.

The price in the Northwest for Fir 23/32-inch sheathing for the first week of April was $1,610 per thousand square feet, up 287% from $560 a year earlier.

In the South, the price of that panel was $1,500 per thousand square feet, up 230% from $455 one year ago.
Personally, I could never see myself shelling out $100 for one piece of plywood, because that just seems nuts.
But our world has become a much different place over the past year.  The system has been absolutely flooded with new money, and there is no going back to the way that things once were.
Let me give you another example of the sort of extreme inflation that we have been witnessing.  According to the Guardian, an old pair of Kanye West's Air Yeezy sneakers that are being auctioned off have been valued at one million dollars…
Kanye West's Air Yeezy sneakers are being auctioned for $1m, making them Sotheby's most expensive shoe listing ever. They are expected to break the record set by a pair of Nike Air Jordan 1s worn by Michael Jordan, which sold for $615,000 last year.

The black, size 12 Nike Air Yeezy 1 prototypes, designed by West and Nike's Mark Smith in 2007, were groundbreaking. Aesthetically they altered the shape and form of sneakers in the decade that followed.
Who in the world would be dumb enough to pay a million dollars for a pair of old sneakers?
That is literally insane.
Speaking of insane, Dogecoin now has a total market value of approximately 50 billion dollars…
Dogecoin, which is pronounced dohj-coin, has already leaped to roughly 39 cents, up more than 8,000% for 2021 so far. That towers over the roughly 11% return for the U.S. stock market, which itself is getting criticism for rising too high. Collectively, dogecoins have a total market value of roughly $50 billion, according to CoinDesk. That puts it on par with Dow Inc. or Kimberly-Clark, which makes Kleenex and Huggies.
Are you kidding me?
Dogecoin doesn't even pretend to be a serious cryptocurrency.  It was started as a total joke, and nobody ever thought that it would have any real value.
But thanks to Elon Musk and other proponents, Dogecoin really has gone to the moon.
In the end, I believe that Dogecoin will be the "Pets.com" of this financial bubble, but for the moment Dogecoin investors are loving life.
Of course it won't last, and those that are comparing it to "tulip mania" are right on target…
"This is like a cross between a pyramid scheme and tulip mania," one user on Reddit, named hazardousmeme, said in a discussion about Dogecoin after another user asked if it's a safe investment. "Safe is the absolute last thing that this is."

"Let's hope this goes up!" another Reddit user, Enough-Construction5, wrote after saying they bought $500 worth of Dogecoin. "Better than putting it into a slot machine!"
No, it is exactly like putting it into a slot machine.
Maybe social media hype can drive Dogecoin even higher, but eventually it is going to zero.
So I hope that the guy that is currently holding close to 15 billion dollars worth of Dogecoin is able to sell while he still can…
There is little we can add here that David Einhorn didn't already say yesterday, but it's probably worth noting for those keeping track of where in the bubble we are now, that in the magical world of dogecoin – a cryptocurrency that was specifically created as a joke spoof on the crypto concept and which has been promoted aggressive by such luminaries as Elon Musk – there is now a holder residing at address "DH5yaieqoZN36fDVciNyRueRGvGLR3mr7L" who owns 36,711,935,369.11 dogecoins or whatever the plural is, and whose holdings – which started accumulating back in Febriary 2019 – after the latest surge in dogegoin which has sent the joke crypto up 150% in the past 24 hours and 5x in the past week…

… are worth just under $15 billion.
In the old days, investing was all about fundamentals, and rational investors were often greatly rewarded.
But now the "markets" are all about meme stocks, crypto speculation and following whatever moves the Federal Reserve is making.
We are in the financial bubble to end all financial bubbles, and the eventual implosion of this epic bubble is going to be spectacular.
But in the current environment, Dogecoin investors are laughing all the way to the bank, and a single deli in rural New Jersey can have a value of close to 100 million dollars.
The markets are completely broken, and the current insanity on Wall Street will not last for much longer.
On the other hand, the rampant inflation that we are witnessing is here to stay, and it is going to be a major issue in our society from this point forward.
***Michael's new book entitled "Lost Prophecies Of The Future Of America" is now available in paperback and for the Kindle on Amazon.***
About the Author: My name is Michael Snyder and my brand new book entitled "Lost Prophecies Of The Future Of America" is now available on Amazon.com.  In addition to my new book, I have written four others that are available on Amazon.com including The Beginning Of The End, Get Prepared Now, and Living A Life That Really Matters. (#CommissionsEarned)  By purchasing the books you help to support the work that my wife and I are doing, and by giving it to others you help to multiply the impact that we are having on people all over the globe.  I have published thousands of articles on The Economic Collapse Blog, End Of The American Dream and The Most Important News, and the articles that I publish on those sites are republished on dozens of other prominent websites all over the globe.  I always freely and happily allow others to republish my articles on their own websites, but I also ask that they include this "About the Author" section with each article.  The material contained in this article is for general information purposes only, and readers should consult licensed professionals before making any legal, business, financial or health decisions.  I encourage you to follow me on social media on Facebook, Twitter and Parler, and any way that you can share these articles with others is a great help.  During these very challenging times, people will need hope more than ever before, and it is our goal to share the gospel of Jesus Christ with as many people as we possibly can.