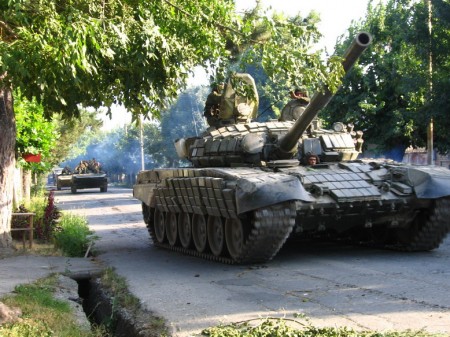 Russian soldiers and Ukrainian soldiers are now shooting at each other in eastern Ukraine. Could this conflict ultimately lead us down the road to World War 3? This week, a very robust force of "tanks, artillery and infantry" has opened up a "third front" in the Ukrainian civil war in a part of southeastern Ukraine that had not seen much fighting yet. Exhausted Ukrainian forces are suddenly being pushed back rapidly and many outsiders are wondering how the nearly defeated rebels were able to muster such impressive military strength all of a sudden. But it really isn't much of a mystery. The tanks, artillery and infantry came from inside Russia. In recent days, Ukrainian units have captured ten Russian paratroopers and there have even been funerals for Russian paratroopers that have been killed in action back home in Russia. Even though it has become exceedingly obvious that Russia is now conducting a stealth invasion of Ukraine, Vladimir Putin is still choosing to deny it. But if he did publicly admit it, that would be even more dangerous. Barack Obama would be forced into a position of either having to do something about the Russian invasion or look weak in the eyes of the public. And as the Russians have already shown, they are more than willing to match any move that the Obama administration makes.
There has already been much written about who is to blame for all of this, and I am sure that much more will be written about who is to blame in the future. The western world is blaming "Russian aggression" for the mess in Ukraine. In return, the Russians point out that it was westerners that funded and organized the groups that violently overthrew the democratically-elected government of Ukraine. To the Russians, the current government of Ukraine is made up of neo-Nazi terrorist usurpers that are attempting to brutally oppress millions of ethnic Russians in eastern Ukraine.
So the Russians seem themselves as "the good guys" in this conflict and so does the western world. But that is how most wars start. Both sides usually feel morally justified at the start of a conflict.
In the final analysis, however, is it really going to matter very much who was "right" and who was "wrong" if the end result is World War 3?
If the rebels in eastern Ukraine had been able to defeat the Kiev government forces on their own, Putin probably would have been content to let them do that. But instead, they had been pushed back to two major cities and seemed on the verge of defeat.
But now it is the Ukrainian forces that are experiencing "panic and wholesale retreat"…
Tanks, artillery and infantry have crossed from Russia into an unbreached part of eastern Ukraine in recent days, attacking Ukrainian forces and causing panic and wholesale retreat not only in this small border town but a wide swath of territory, in what Ukrainian and Western military officials are calling a stealth invasion.

The attacks outside this city and in an area to the north essentially have opened a new, third front in the war in eastern Ukraine between Ukrainian forces and pro-Russian separatists, along with the fighting outside the cities of Donetsk and Luhansk.
How is this happening?
It is the Russians of course.
In fact, if you talk to Ukrainian soldiers, they are very clear on who they are fighting now…
"I tell you they are Russians, but this is what proof I have," said Sgt. Aleksei Panko, holding up his thumb and index finger to form a zero. Sergeant Panko estimated about 60 armored vehicles crossed near Novoazovsk. "This is what happened: they crossed the border, took up positions and started shooting."

The Ukrainian Vinnytsia brigade met the cross-border advance over the six miles of countryside separating Novoazovsk from the Russian border, but later retreated to the western edge of town along the Rostov-Mariupol highway, where soldiers were collapsed in exhaustion on the roadside. "This is now a war with Russia," Sergeant Panko said.
And as I mentioned above, Ukrainian forces have even captured ten Russian paratroopers. Rather than denying who they are, the Russian government is claiming that they wandered into Ukraine by mistake…
Ten Russian soldiers were detained in the Donetsk region of eastern Ukraine, that country's Security Service said Tuesday, as tensions simmered over the conflict between Ukrainian forces and pro-Russian rebels.

The Russian soldiers were captured with documents and weapons on them, the Security Service said.

Moscow has repeatedly denied claims by Kiev that it has sent troops and weapons over the border into Ukraine, where the Ukrainian military is fighting pro-Russian rebels.

Russia's state-run RIA Novosti news agency cited a source in the Russian Defense Ministry as saying the soldiers had been patrolling the border and "most likely crossed by accident" at an unmarked point.
The denials that Russian forces are actively operating inside eastern Ukraine have become so absurd that even some in the Russian press are openly questioning them. For example, just check out this excerpt from a USA Today article that was posted on Wednesday…
Vedomosti, a liberal business daily, published an editorial Wednesday on events in Ukraine under the headline, "Are We Fighting?"

It noted the recent capture of the Russian soldiers on Ukrainian territory and reports of "mysterious funerals" of Russian soldiers, some of whom are officially counted dying during training exercises.

"The number of questions that hang in the air of the dead and detained Russian troops on the territory of Ukraine has reached a critical number. Does Russia fight in Ukraine and, if so, on what grounds? If not, then who is in those freshly dug graves or giving testimony at SBU (Russian Security service) interrogations?"
A Bloomberg editorial contained some more details about the "mystery funerals" that have been taking place inside Russia…
One such burial, of two soldiers, took place in the village of Vybuty near Pskov in northwestern Russia, where an airborne division is based. Efforts to conceal the deaths produced a fiasco. Though the wife of one paratrooper had reported his death on the Vkontakte social network, when a reporter, Ilya Vasyunin of the Russian Planet website, called the wife's phone number, a woman who answered stated that the paratrooper was alive and well. Two reporters, from Russian Planet and TV Dozhd, who visited the cemetery where the two fresh graves had been seen were immediately attacked by men in black tracksuits. Local journalists, however, succeeded in photographing the graves. According to the independent TV Dozhd, the soldiers' names and wreaths have been removed from the graves.

There are other reports of paratrooper funerals, which are hard to conceal. Soldiers have grieving families who do not necessarily share the authorities' desire for deception. In any case, Ukrainian troops have captured some Russian paratroopers. For the first time since the conflict began in March, they were able to record interviews with them.
Sadly, most Americans are not paying much attention to this conflict.
Most Americans are not really going to care much about a war on the other side of the planet that does not directly involve us.
But they should care.
Because things are about to escalate to a level that we rarely saw even during the darkest moments of the Cold War. Relations between the United States and Russia are spiraling downhill, and that could end up having a huge impact on all of our lives.
For example, in my previous article entitled "Russia Is Doing It – Russia Is Actually Abandoning The Dollar", I discussed how this tug of war over Ukraine was causing Russia to think about moving away from the petrodollar. Well, it turns out that now the Russians are actually taking concrete steps toward abandoning the petrodollar for good…
The Russian oil company Gazprom Neft has agreed to export 80,000 tons of oil from Novoportovskoye field in the Arctic; it will accept payment in rubles, and will also deliver oil via the Eastern Siberia-Pacific Ocean pipeline (ESPO), accepting payment in Chinese yuan for the transfers, the Russian business daily Kommersant reported Wednesday.

The Russian government and several of the country's largest exporters have widely discussed the possibility of accepting payments in rubles for oil exports.

Last week, Russia began to ship oil from the Novoportovskoye field to Europe by sea. Two oil tankers are expected to arrive in Europe in September. According to Kommersant, the payment for these shipments will be received in rubles.
That is huge news, but you probably haven't heard a thing about it on the big mainstream news networks.
Meanwhile, one thing that you probably have heard about is how "Russian hackers" attacked JPMorgan Chase earlier this month…
Russian hackers attacked the U.S. financial system in mid-August, infiltrating and stealing data from JPMorgan Chase & Co. and at least one other bank, an incident the FBI is investigating as a possible retaliation for government-sponsored sanctions, according to two people familiar with the probe.

The attack resulted in the loss of gigabytes of sensitive data, said the people, who asked not to be identified because the probe is still preliminary. Authorities are investigating whether recent infiltrations of major European banks using a similar vulnerability are also linked to the attack, one of the people said.
As relations between the United States and Russia continue to decline precipitously, both sides will be looking for ways to hurt one another.
And that won't be good for any of us.
So let us hope that cooler heads prevail.
But ultimately, this current conflict could end up taking us to a destination that the Cold War never did.
World War 3 will probably not happen next week, next month or even next year, but right now we are on a road which could eventually lead to the unthinkable.
Let us pray that our politicians are able to find the exit ramp at some point.
(Originally posted at The Economic Collapse Blog)