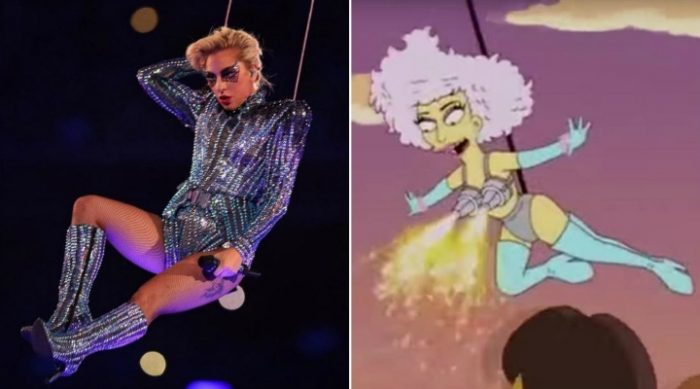 (By Amanda Froelich of TrueActivist.com) When Lady Gaga leaped off a platform during the halftime show of the 2017 Super Bowl, fans were delighted by the radical performance and her vocal talents. Some, however, recoiled upon realizing that yet again, The Simpsons show has predicted another event in history.
It's no secret that the show has an uncanny track record with predicting happenings of the future. From calling Donald Trump's presidency (elevator ride and all) to growing tomacco to predicting a three-eyed fish would be found near a nuclear power plant, it's almost too much to grasp sometimes.
In the episode "Lisa Goes Gaga" which aired in 2012, Gaga is suspended above the audience in a full glittery costume before being lowered down by wires to take the stage. Similar, of course, happened at the Super Bowl last Sunday.
Perhaps Lady Gaga borrowed the idea from the episode which was dreamed up in 2011. Or, perhaps, the writers of The Simpsons are a bunch of Nostradamuses. Regardless, it is now a fact that Gaga lived out another Simpsons prediction.
 What are your thoughts? Please comment below and share this news!