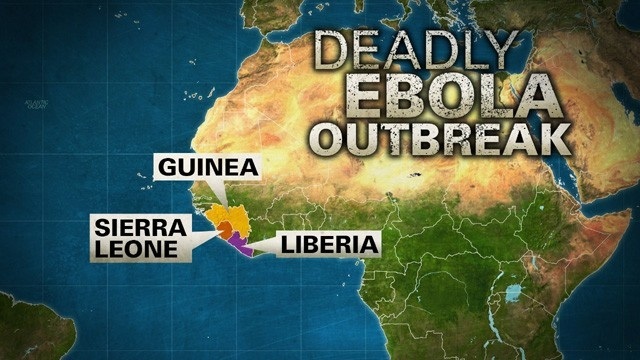 Considering the CDC's conflicting and confusing statements –  I'm not sure which is more dangerous – government incompetence or Ebola.
Aside from being a grave threat to human life, an Ebola epidemic in the US would have serious consequences for our economy, inhibiting Americans from flying, going out to restaurants or to see a movie, or  just going out in public in general.
Just look at the public fear incurred in the past couple of days, with only one infected person (Amber Joy Vinson) travelling on a commercial airline. Schools have closed down, and many are now afraid to fly.  (Reuters) "Nearly half of Americans are so concerned about the Ebola outbreak …that they are avoiding international air travel." Add more Ebola-infected people to the mix, and we will be in a full-blown panic.


Although anathematic to the CDC's recommendation that the US should NOT enact travel restrictions, two countries in Africa have stopped Ebola in its tracks, doing just that very thing.
How Two African Countries Have Succeeded in Stopping Ebola
The Associated Press
(AP)
 out of Kenya states that "Health officials battling the Ebola outbreak that has killed more than 4,500 people in West Africa have managed to limit its spread on the continent to five countries – and two of them appear to have snuffed out the disease. The developments constitute a modest success in an otherwise bleak situation."
"Officials credit tighter border controls… with keeping Ebola confined mostly to Liberia, Sierra Leone and Guinea" 
Senegal and Nigeria are two success stories, which should be used as an example for the rest of the world.
"Senegal did so well in finding and isolating a man with Ebola who had slipped across the border from Guinea in August that the World Health Organization on Friday will declare the end of the disease in Senegal if no new cases surface.
Nigeria is another success story. It had 20 cases and eight deaths after the virus was brought by a Liberian-American who flew from Liberia to Lagos, Nigeria's commercial capital of 21 million people, in July. Nearly 900 people were potentially exposed to the virus by the traveler, who died, and the disease could have wreaked havoc in Africa's most populous nation.
Instead, Ebola appears to have been beaten…with no new cases since Aug. 31.
Ivory Coast, Guinea-Bissau and Senegal, all of which share borders with at least one of the three most affected countries, have closed those borders. The disease continues to ravage Liberia, Guinea and Sierra Leone, overwhelming their health systems.
Authorities in some African countries imposed tight air travel restrictions, tougher than those contemplated by the U.S. or British governments.
South Africa and Zambia slapped travel and entry restrictions on Ebola-stricken countries. Kenya Airways, the country's main airline, stopped flying to the affected lands.
In Zimbabwe, all travelers from West Africa are put under 21-day surveillance. Health officials regularly visit those travelers to check their condition.
Nigeria initially banned flights from countries with Ebola but relaxed the restriction once it felt that airlines were competent to take travelers' temperatures and follow other measures to prevent people with Ebola from flying."
"All it takes is one infected person to slip around guards 
at a border post  or get aboard a plane. 
The fact we stopped doing the West African flights had an impact.
On that part I think we got it right." 
In an article in
Newsmax, 
Travel Bans Enacted by Nearly 30 Countries, but Not US, "
Nearly every African nation has instituted travel bans on West African countries with significant Ebola outbreaks.
Though the Obama administration has insisted travel bans are not necessary, even countries outside of Africa are beginning to start such travel bans, with Colombia and the Caribbean island of St. Lucia on Wednesday adding their names to a growing list of nearly 30 countries that block travelers from virus-stricken Liberia, Sierra Leone, and Guinea."
Gambia

Nigeria

Togo

Gabon

Ivory Coast

Senegal

Rwanda

Chad

Namibia

South Sudan

Zambia

Zimbabwe

Cameroon

Gabon


Angola
Botswana
South Africa
Congo (DRC)
Lesotho
Equatorial Guinea
Kenya
Madagascar
Malawi
Morocco
Mauritius
Mozambique
Swaziland
Tanzani

*Some airlines have already discontinued  flights to the affected countries.  




Delta Air Lines has stopped flying from New York to Monrovia, Liberia. 




British Airways, Air France and Kenya Airways have also cut flights.
St. Lucia Prime Minister Kenny Anthony said all visitors from Guinea, Liberia and Sierra Leone were prohibited from entering his country until the Ebola outbreak is brought under control, saying
the ban will minimize chances for the deadly disease to be introduced by an infected traveler.
Colombia's Foreign Ministry issued a brief statement saying the country was barring entry by any travelers requiring visas who have been in five African nations with Ebola outbreaks — Guinea, Liberia, Sierra Leone, Nigeria and Senegal. It said the step was being taken at the recommendation of Colombia's National Institute of Health."
"Banning air travel until the world gets control of this outbreak, that's got to be policy or the virus will spread around the world," said Kipp Branch, director of the medicines program at MAP International, a Brunswick, Ga., nonprofit that has sent $12 million worth of protective suits and medical supplies to West Africa.
"You have to isolate it. You can't isolate it with people coming in and out," Branch said to the Detroit Free Press.
House Speaker John Boehner on Wednesday urged President Barack Obama to consider a temporary ban after two American nurses contracted the virus from a Liberian man who lied on his travel questionairre and was able to fly into Dallas. He died, but so far, 2 nurses that cared for him have contracted the Ebola virus.
Doubts about the federal government's ability to manage the Ebola threat without some sort of travel restriction increased late Wednesday when it was revealed that Amber Joy Vinson, the 29-year-old nurse who tested positive for the virus on Tuesday, had flown on a Frontier Airlines flight from Cleveland to Dallas on Monday. To make matters worse, that airplane flew 5 more flights loaded with passengers, until they finally benched the plane.
She reportedly called the CDC several times before the flight, reporting that she had a fever of 99.5. At least one CDC representative told her it was fine to fly, however, because according to its guidelines travel should only be avoided when a patient has a temperature of 100.4 or higher."
On its website, the CDC says all people possibly exposed to Ebola should restrict their travels – including avoiding commercial flights – for 21 days. Yet Vinsone, one of the nurses who cared for the Ebola patient that died, supposedly "monitored" by the CDC , was allowed to fly on a commercial airline. 
"The Obama White House is digging in and not listening to the voices of common sense coming from both sides of the aisle."–Sen. Ted Cruz (R., Texas) on the need to stop commercial air travel from West Africa to the United States on Sunday TV, October 19.
Considering that the World Health Organization states that there could soon be 10,000 new Ebola cases a week, an incompetent CDC, an unprepared US hospital system, doctors and nurses with no experience nor protocols in handling Ebola – it only seems logical to institute a travel ban.


Article authored by Carol Serpa. You can find the original story right here.