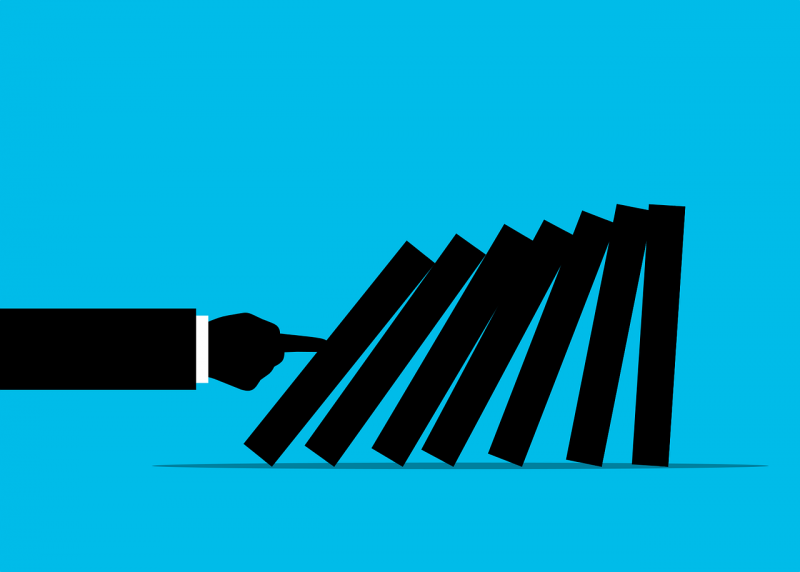 It should have been apparent to everyone that the dark clouds on the horizon would bring a storm, and now rain is furiously falling all around us.  Our entire system is being viciously shaken, and the dominoes are going to continue to fall in the months ahead.  Once Silicon Valley Bank and Signature Bank went down, we all knew that it was just a matter of time before more large banks started to implode.  Now First Republic has failed, and over the weekend U.S. regulators were working very hard to arrange a sale…
U.S. regulators have been trying to clinch a sale of First Republic over the weekend, with roughly half a dozen banks bidding, sources said on Saturday, in what is likely to be the third major U.S. bank to fail in two months. Guggenheim Securities is advising the FDIC, two sources familiar with the matter said on Saturday.
As a I write this article, that still hasn't happened yet.
But it could happen at any moment.
When a sale is finally announced, the FDIC is also expected to tell us that it has seized First Republic…
The Federal Deposit Insurance Corp is expected to announce a deal on Sunday night before Asian markets open, with the regulator likely to say at the same time that it had seized the lender, three sources previously told Reuters.
They are trying to time everything so that as little panic as possible is created.
But I feel really badly for those that owned First Republic stock.
It was going for about 120 dollars a share at the beginning of March, and once the bank is seized by federal regulators it will almost certainly be worthless.
That is how fast these things can happen.
More dominoes will fall throughout the rest of 2023, and you don't want to be caught holding the bag.
So do what you need to do while you still have time.
When the Federal Reserve decided to go nuts with their rate hikes, we all knew that this would put enormous pressure on the banks, and that is precisely what has happened.
We also knew that higher rates would crush the housing market, and last month pending home sales dropped much more than expected…
March is with both feet in the spring selling season, when home sales jump and when prices move higher, and where everything looks rosy for a few months, no matter what, after the dreariness of winter.

So, well then, here we go again. Pending home sales – which are "a forward-looking indicator of home sales based on contract signings" – fell by 5.2% in March from February, according to the National Association of Realtors today, thereby annihilating the little-bitty gain in February that had sent all the headlines abuzz with hype.
If you are looking to sell a home, I would recommend doing it quickly, because prices are likely to go quite a bit lower from here.
Meanwhile, big companies are laying off workers all over the country at a very frightening rate.  In fact, we just learned that Jenny Craig is getting ready to conduct "mass layoffs" as it prepares to wind down operations…
Jenny Craig has alerted employees to potential mass layoffs as it begins "winding down physical operations" and hunts for a buyer, according to communications the weight-loss company sent some staffers this week.

The company said it "has been going through a sales process for the last couple of months," according to a document titled "Jenny Craig Company Transition FAQs" that was dated Tuesday and provided to NBC News.
I don't know why, but I am sad to see Jenny Craig go.
Perhaps it is because of all the Jenny Craig commercials that I watched when I was younger.
Joe Biden keeps telling us that the economy is doing great, but we just keep seeing one large company after another go belly up…
For 2009 there were 118 bankruptcies through April. In Covid-impacted 2020, there were 71 bankruptcies. In 2023 there have been 70.

This is the third worst start to the year since 2000.
This didn't have to happen.
If our leaders had not flooded the system with money, inflation never would have gotten out of control.
And if inflation had never gotten out of control, officials at the Fed never would have had to recklessly hike interest rates.
Sadly, we have a real nightmare on our hands at this point, and there is no turning back now.
Not too long ago, a prankster that was impersonating Ukrainian President Volodymyr Zelensky was able to completely fool Federal Reserve Chairman Jerome Powell during a video chat.
During their discussion, Powell openly admitted that raising rates could push the U.S. economy into a recession…
Federal Reserve Chairman Jerome Powell earlier this year held a video chat about the global economy with someone he thought was Ukrainian President Volodymyr Zelensky. Except it wasn't Zelensky. Powell appears to have been pranked.

In clips posted online of the January conversation, Powell discussed global politics and the economy. He said he supported the Ukrainian people but was limited in ways he could help. And Powell said a recession was likely coming in the not-too-distant future and divulged the Fed's plans to raise rates in 2023.
Powell also admitted that more rate hikes are planned even though he knows that they will cause even more pain.
And actually the Federal Reserve is expected to raise rates another 25 basis points later this week.
It is absolutely suicidal to keep raising rates as the economy plunges into a major downturn, but they are doing it anyway.
Have they gone completely mad?
It is almost as if they are purposely trying to create the sort of economic horror show that I have been relentlessly warning about.
If officials at the Fed had any sense, they would be reducing rates as soon as possible.
Unfortunately, that is simply not going to happen, and so we will soon see many more dominoes start tumbling over.
Michael's new book entitled "End Times" is now available in paperback and for the Kindle on Amazon.com, and you can check out his new Substack newsletter right here.
About the Author: My name is Michael and my brand new book entitled "End Times" is now available on Amazon.com.  In addition to my new book I have written six other books that are available on Amazon.com including "7 Year Apocalypse", "Lost Prophecies Of The Future Of America", "The Beginning Of The End", and "Living A Life That Really Matters". (#CommissionsEarned)  When you purchase any of these books you help to support the work that I am doing, and one way that you can really help is by sending copies as gifts to family and friends.  Time is short, and I need help getting these warnings into the hands of as many people as possible.  I have also started a brand new Substack newsletter, and I encourage you to subscribe so that you won't miss any of the latest updates.  I have published thousands of articles on The Economic Collapse Blog, End Of The American Dream and The Most Important News, and the articles that I publish on those sites are republished on dozens of other prominent websites all over the globe.  I always freely and happily allow others to republish my articles on their own websites, but I also ask that they include this "About the Author" section with each article.  The material contained in this article is for general information purposes only, and readers should consult licensed professionals before making any legal, business, financial or health decisions.  I encourage you to follow me on social media on Facebook and Twitter, and any way that you can share these articles with others is definitely a great help.  These are such troubled times, and people need hope.  John 3:16 tells us about the hope that God has given us through Jesus Christ: "For God so loved the world, that he gave his only begotten Son, that whosoever believeth in him should not perish, but have everlasting life."  If you have not already done so, I strongly urge you to invite Jesus Christ to be your Lord and Savior today.