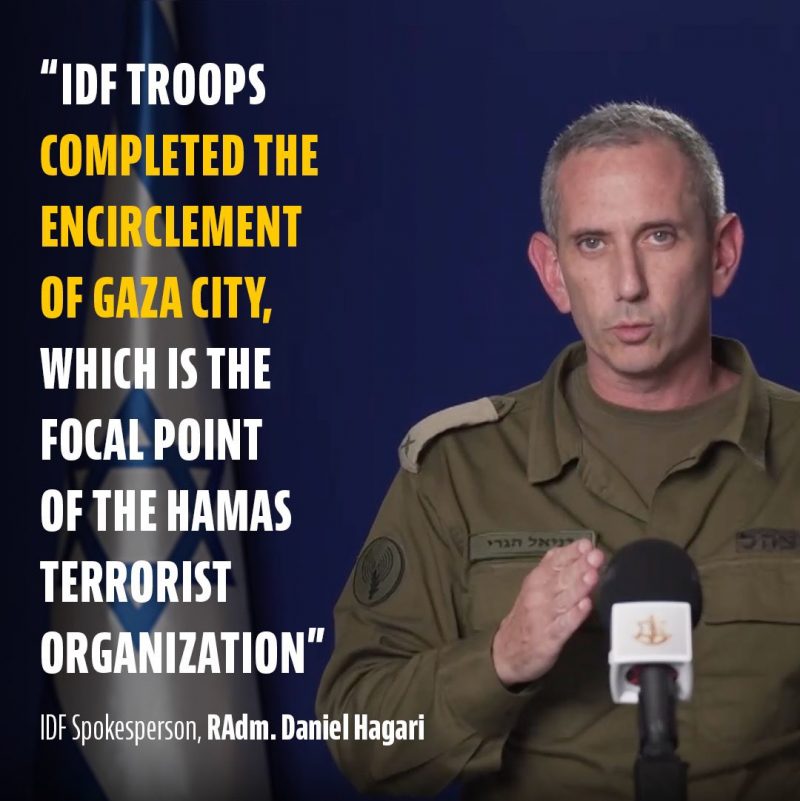 Hamas has always been committed to wiping out the nation of Israel, and now after the terror attacks of October 7th Israel is committed to wiping out Hamas.  So what we are witnessing is truly a "death match" that will produce only one survivor.  Hamas is desperately hoping that all of Israel's enemies in the region will unite and try to destroy the nation of Israel once and for all.  Meanwhile, Israel is attempting to slowly but surely strangle the terror group out of existence.  In fact, it is being reported that the IDF has now "completed the encirclement of Gaza City"…
IDF Spokesman Rear Adm. Daniel Hagari has said ground and tank forces have at this point surrounded Gaza City. "Our troops have completed the encirclement of Gaza City, the center of Hamas activity," he said in a late Thursday (local) press conference. The IDF has further announced the deaths of "130 terrorists" in the latest battles.
There is no way out for the Hamas fighters that are trapped in Gaza City at this stage.
Their goal from this point forward is to stay alive in the tunnels for as long as possible as they hope for Hezbollah and Iran to join the war and save the day.
Sadly, those tunnels will end becoming tombs for many of them.
Instead of sending Israeli troops into the tunnels, the IDF is using robots and explosive devices to deal with them…
Israeli forces have deployed robots and various explosive devices to destroy Hamas tunnels and kill terrorists, according to local media.

The Walla News site in Israel said large-scale operations to clear the tunnels began in areas of the Gaza Strip now under the control of the IDF.

A senior officer in the Southern Command told the outlet: "Maybe at first they were able to harass us, sting us by firing from tunnel exits, but after we established control of the areas, the engineering operation started."

He added: "We are going to collapse the entrances and the tunnels on them. It will become a death zone. They made a mistake, they chose to be in a place they could not escape from. They will die in the tunnels."
Can  you imagine being trapped in an underground tunnel with no way out?
I suppose that they could try digging, but those tunnels are very deep.
Of course Hamas terrorists should not expect any mercy after what they did on October 7th.
One Hamas terrorist has admitted on camera that he shot innocent young children…
In the six-minute interrogation tape, the terrorist calmly describes murdering young children hiding in a safe room.

"We heard sounds of young children," he said. "The cries of young children. A young child, something like that."

"I shot and Abu Kamil shot. We shot at the door," he added. "Until we didn't hear noise anymore."
And one Israeli first responder is telling the world that he personally saw an Israeli baby that had been "baked to death in an oven"…
An Israeli first responder to the October 7 terror attack has claimed that Hamas terrorists roasted a baby in an oven in shocking video testimony.

Asher Moskowitz, of the United Hatzalah first responder group, published a video of himself speaking to a camera, delivering his witness account.

In it, he claims he saw the remains of a baby who had been baked to death in an oven at kibbutz Kfar Aza, where more than 100 civilians were killed.
The atrocities that were committed on October 7th should never be forgotten, and the Israelis have established a brand new website in order to "document the horrors of that day".
But there are still many in the western world that are attempting to deny what happened.
Or they are trying to blame Israel for what happened.
It truly is sickening.
Look, a top Hamas official even went on television recently and publicly admitted what they did and said that they would do it again and again if given the opportunity…
A senior political official in the Palestinian Hamas terror organization told Lebanese television last week that the group intends to repeat its October 7 terror attack until Israel is annihilated.

The Middle East Media Research Institute (MEMRI) translated the interview. In it, Hamas political official Ghazi Hamad says that attacks on Israeli civilians are justified; that the cost in terms of Palestinian "martyrs" is worth the ultimate goal of ending Israel; and that Hamas will continue to mount such attacks.
Israel simply cannot allow Hamas to exist any longer.
And most Americans would almost certainly feel the same way if it was American children that were butchered, American women that were raped and American grandmothers that were kidnapped.
Unfortunately, coverage by the mainstream media is steadily becoming more pro-Hamas by the day.
In fact, even CNN is openly admitting that the mainstream media is becoming more critical of Israel…
News organizations are assuming a more aggressive posture toward Israel Defense Forces as it escalates its military operations in the Gaza Strip.

While civilian deaths mount and the humanitarian crisis grows more severe in the Palestinian territory, spokespersons for Israel's military are being confronted by anchors on live television, pressed to answer for the deaths of innocent families caught in the heavy crossfire.

The more critical stance has been particularly pronounced over the last 24 hours, following two blasts at the densely populated Jabalya refugee camp in northern Gaza, which was established in 1948 when Palestinians fled what is now the current state of Israel.
They are trying to turn the Israelis into the bad guys.
But it is not going to work.
The whole world clearly saw what Hamas did on October 7th.
And now that the IDF has completely encircled Gaza City, the end is near for the vast majority of the Hamas terrorists that are hiding in those tunnels.
Michael's new book entitled "End Times" is now available in paperback and for the Kindle on Amazon.com, and you can check out his new Substack newsletter right here.
About the Author: My name is Michael and my brand new book entitled "End Times" is now available on Amazon.com.  In addition to my new book I have written six other books that are available on Amazon.com including "7 Year Apocalypse", "Lost Prophecies Of The Future Of America", "The Beginning Of The End", and "Living A Life That Really Matters". (#CommissionsEarned)  When you purchase any of these books you help to support the work that I am doing, and one way that you can really help is by sending copies as gifts to family and friends.  Time is short, and I need help getting these warnings into the hands of as many people as possible.  I have also started a brand new Substack newsletter, and I encourage you to subscribe so that you won't miss any of the latest updates.  I have published thousands of articles on The Economic Collapse Blog, End Of The American Dream and The Most Important News, and the articles that I publish on those sites are republished on dozens of other prominent websites all over the globe.  I always freely and happily allow others to republish my articles on their own websites, but I also ask that they include this "About the Author" section with each article.  The material contained in this article is for general information purposes only, and readers should consult licensed professionals before making any legal, business, financial or health decisions.  I encourage you to follow me on social media on Facebook and Twitter, and any way that you can share these articles with others is definitely a great help.  These are such troubled times, and people need hope.  John 3:16 tells us about the hope that God has given us through Jesus Christ: "For God so loved the world, that he gave his only begotten Son, that whosoever believeth in him should not perish, but have everlasting life."  If you have not already done so, I strongly urge you to invite Jesus Christ to be your Lord and Savior today.