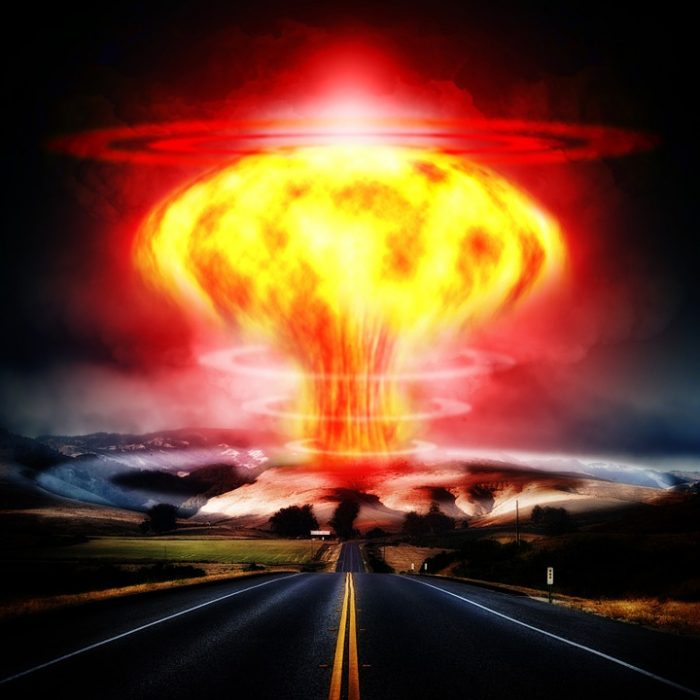 This may be the closest that we have been to war with North Korea since the original Korean War ended in 1953.  The North Koreans are feverishly working to develop intercontinental ballistic missiles that could strike the U.S. mainland, and meanwhile Donald Trump has not moved from his position that North Korea will simply not be allowed to have ICBMs.  If North Korea does not blink, it means that we are literally counting down the days until we go to war.  Unfortunately, North Korean leaders appear to literally be insane and they have shown absolutely no signs of backing off.  In 2016, North Korea tested two nuclear bombs and test-fired 24 missiles, and so far this year they have test-fired five ballistic missiles into the Sea of Japan.
During a joint press conference with the South Korean Foreign Minister on Friday, U.S. Secretary of State Rex Tillerson boldly declared that "all options are on the table" when it comes to North Korea…
US military action against North Korea is an "option on the table," Secretary of State Rex Tillerson has stated, adding that Washington's "strategic patience" with the isolated country has ended.

"Let me be very clear. The policy of strategic patience has ended. We are exploring a new range of diplomatic, security and economic measures. All options are on the table," Tillerson told reporters during a joint news conference with South Korean Foreign Minister Yun Byung-se on Friday.
In addition, Tillerson specifically declined to rule out a preemptive strike against the regime.
Needless to say, the ultra-paranoid leadership in Pyongyang was totally freaked out by what Tillerson had to say.  The following comes from the Washington Post…
Soon after Tillerson's remarks, in a sign of mounting tensions, the North Korean Embassy held an extraordinary news conference in Beijing to blame the potential for nuclear war on the United States while vowing that its homegrown nuclear testing program will continue in self-defense.

North Korea has amassed a sizable nuclear stockpile and appears at the brink of being able to strike the U.S. mainland and American allies in Asia.
What has brought this crisis to a breaking point is the fact that North Korea has continued to work on developing an ICBM that could deliver a nuclear payload to the United States.
Donald Trump has promised to stop North Korea from doing that before it ever happens…
Just before he took office in January, Trump tweeted: "It won't happen!" when Kim said North Korea was close to testing an ICBM.
I believe that Trump means what he says.
So now Trump and North Korean leader Kim Jong Un are locked in a very dangerous game of chicken.  Both of them are known to be extremely strong-willed, tempermental, and unwilling to back down when threatened.
But if neither of them is willing to back down now, it could potentially spark a major war…
Making matters worse, this year we have Kim Jong Un on one side: A young, relatively inexperienced and unpredictable leader prone to aggression who could be facing internal turmoil (one explanation for killing his brother).

On the other, we now have President Trump. In such a high-stakes standoff, if we're not careful, these two leaders could prove to be a volatile — and deadly — mix.

In short, what we have now is a regional tinderbox ready to be lit by a small spark that could lead to an exchange of fire and subsequently another war.
And actually the truth is that the conflict has already started.  It is widely known that the U.S. has already been conducting cyberattacks against North Korea's nuclear program, but if those cyberattacks end up not being enough the Trump administration will order a preemptive military strike.
In recent days, the U.S. military has deployed a 100,000-ton Nimitz-class aircraft carrier to the region.  The USS Carl Vinson is carrying more than 40 F-18s, and it is being escorted by a number of very powerful destroyers and cruisers.
And it is also being reported that SEAL Team 6 is being deployed to South Korea in order "to practice incapacitating North Korean leadership in the case of conflict".  The following comes from Zero Hedge…
On March 1, the WSJ reported that the options contemplated by the White House in response to recent North Korean acts, include "the possibility of both military force and regime change to counter the country's nuclear-weapons threat." The review came es amid recent events have strained regional stability including last month's launch by North Korea of a ballistic missile into the Sea of Japan, and the assassination of the estranged half brother of North Korean leader Kim Jong Un in Malaysia.

And, according to a report in Yonhap, said "regime change" may come far sooner than expected: the South Korean website writes that U.S. special operations forces, including the unit that killed Osama Bin Laden, will take part in joint military drills in South Korea "to practice incapacitating North Korean leadership in the case of conflict", a military official said Monday.

The U.S. Navy's Special Warfare Development Group, better known as the SEAL Team 6, will arrive in South Korea for joint military drills and take part in an exercise simulating a precision North Korean incurion and "the removal of North Korean leader Kim Jong-un", according to the Ministry of National Defense Monday.
But regime change in North Korea would not be easy, and unless the U.S. was willing to use nuclear weapons in a first strike the North Koreans would almost certainly be able to strike back very hard.
North Korea has the fourth largest army in the entire world, and it is being reported that North Korean leader Kim Jong Un has personally ordered his entire military to go into "combat mode" in anticipation of a conflict with the United States…
It's been at least 24 hours since any further sabers were rattled between China, US, South Korea, and North Korea (oh and Japan), but it according to DailyNK.com, Kim Jong Un has ordered the entire North Korean army into "combat mode" to tighten security and consolidate sentiment in response to military drills conducted by South Korea and the US, which began in early March.

A source in South Pyongan Province told Daily NK that following the order from Kim Jong Un, every last soldier– even if away on business, on leave, off-base for training, or even those with a recent death in the family–were ordered back to their units. The authorities have ordered the military police in each region to summon all soldiers back to their bases.
North Korea has overwhelming military superiority over South Korea, and unless the U.S. was willing to use nukes, any U.S. strike would almost certainly provoke a North Korean invasion of South Korea.  The following description of what that might look like comes from the Daily Mail…
North Korea, most rogue of rogue nations, has struck. The nuclear explosion, similar in size to that which levelled Hiroshima, signalled the start of a blitzkrieg-style ground invasion intended to swiftly overwhelm its richer, more advanced neighbour.

A second atomic warhead, inbound on a crude Rodong rocket, has been successfully intercepted by America's THAAD (Terminal High-Altitude Area Defence) anti-ballistic missile system. But Seoul's torment is only beginning as hundreds of North Korean heavy guns rain down shells on the capital, many containing Sarin nerve gas.

The city, bunched up against the North-South border, is hopelessly vulnerable to a mass sneak attack of the kind now taking place, as hundreds of thousands of North Korean troops, and thousands of tanks, pour out of innumerable underground bunkers built within miles of the Demilitarized Zone between the two countries.
Unless the U.S. is willing to nuke North Korea into oblivion (and this would almost certainly not happen), the scenario detailed above is very likely to actually happen someday.
And once North Korea invades, the United States will be forced to come to South Korea's aid and the Second Korean War will have begun.
We are moving into a time when war will become much more common, and at some point World War III will erupt.
If we do go to war with North Korea, Trump will get the blame, but the truth is that Barack Obama, George W. Bush and Bill Clinton also deserve much of the blame for allowing things to get to this point.
It is absolutely unthinkable that we would allow the North Koreans to develop ICBMs that could deliver nuclear payloads to U.S. cities.
But it is almost as unthinkable for us to go to war with North Korea.
Both possibilities are absolutely horrific, and so let us hope that cooler heads will prevail and that Donald Trump and North Korean leader Kim Jong Un will be able to work things out.