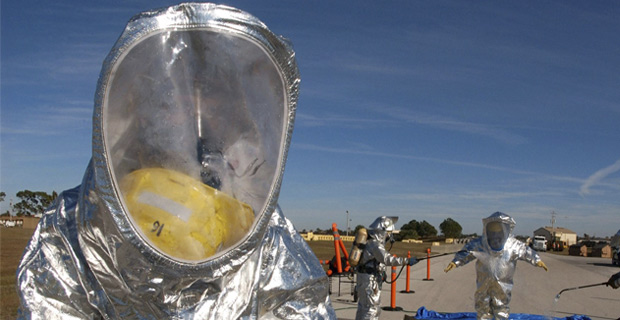 A manager with a major shipping company has exclusively revealed to Infowars that the U.S. government has ordered 250,000 Hazmat suits to be sent to Dallas, the location of the first Ebola outbreak in the United States.
The manager of the shipping company proved his credentials to Infowars by providing a photo ID and sending a verified email from the company account, but wishes to remain anonymous due to understandable fears that he could be fired for revealing the information.
"I just learned we have been asked to ship 250,000 HAZMAT suits to Dallas, TX. for the US Government. Again this is happening today, we are pulling these suits for the US Government to Dallas, TX," states the individual, who manages the drivers who work for the shipping company.
The purchase of a quarter of a million Hazmat suits to be sent to Dallas confirms that health authorities are still very concerned about the spread of Ebola after two nurses in the city who cared for patient zero, Thomas Eric Duncan, contracted the virus earlier this month.
In an interview on the Alex Jones Show last week, Doctor James Lawrenzi revealed that Hospital Corporation of America (HCA), a private operator of health care facilities, had removed protective gear and Hazmat suits from local hospitals without replacing it. Lawrenzi also revealed that potential cases of Ebola were going unreported and that patients were being "disappeared" from hospitals.
(Read the rest of the story here…)