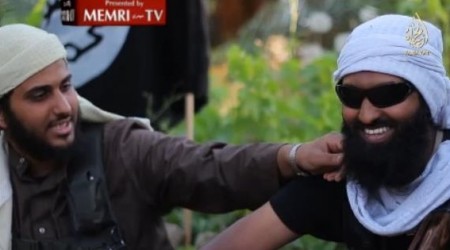 On Monday, the Daily Star in Lebanon quoted a FSA brigade commander saying that his forces were working with the Islamic State and Jabhat al-Nusra, al-Qaeda's official Syrian affiliate — both U.S.-designated terrorist organizations — near the Syrian/Lebanon border.
"We are collaborating with the Islamic State and the Nusra Front by attacking the Syrian Army's gatherings in … Qalamoun," said Bassel Idriss, the commander of an FSA-aligned rebel brigade.

"We have reached a point where we have to collaborate with anyone against unfairness and injustice," confirmed Abu Khaled, another FSA commander who lives in Arsal.

"Let's face it: The Nusra Front is the biggest power present right now in Qalamoun and we as FSA would collaborate on any mission they launch as long as it coincides with our values," he added.
In my report last week I noted that buried in a New York Times article last month was a Syrian "rebel" commander quoted as saying that his forces were working with ISIS and Jabhat al-Nusra in raids along the border with Lebanon, including attacks on Lebanese forces. The Times article quickly tried to dismiss the commander's statements, but the Daily Star article now confirms this alliance.
(Read the rest of the story here…)