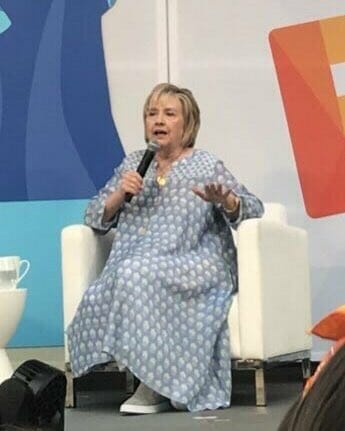 (Gateway Pundit) Twice-failed presidential hopeful, Hillary Clinton spoke at Ozyfest, a two-day festival in Central Park on Saturday and she looked terrible.
Hillary donned a mumu-style top that nearly touched the floor and white pants. Her hair was disheveled and she had very prominent bags under her eyes.
To think this woman almost became the 45th president of the US….
That is the ugliest thing I have ever seen! And that dress is horrendous ! 😱

— Cece 🇺🇸 (@CeceCalabrese) July 22, 2018
Who wore it better? pic.twitter.com/uLCsT4E3NP

— CAN (@BullBearBattle) July 22, 2018
Wtf is she WEARING???? pic.twitter.com/oghsRIwxff

— Heidi (@reshas) July 22, 2018