Take a look at the following photo. It was taken last week in Toledo about an hour after the city announced that their water supply had been contaminated with toxins: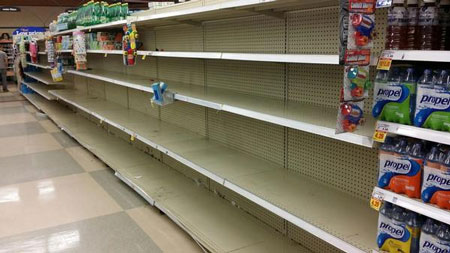 Notice how every drop of pure H2O has been removed from the shelves.
Imagine for a moment what grocery store shelves, pharmacies and hardware supply stores are going to look like within 12 hours of an Ebola infection or outbreak being announced on U.S. soil.
Things will happen fast.
Now, for all we know the CDC's containment efforts are successful, and perhaps Ebola will be stopped in its tracks. But being naturally skeptical of our government's abilities to mitigate such a virus, especially given the lack of any actual information from the CDC or government, we must assume that Ebola will eventually start popping up in the United States.
When it does, the CDC and Homeland Security will likely announce a number of precautions that we need to take. Those precautions are going to include supply lists and strategies.
Guess what 300 million Americans are going to do all at once when those supply lists and recommendation are announced? ( Look no further than the DHS Fukushima radiation announcement and how it affected the supply and price of potassium iodide)
Here's the bottom line: If you don't have your supplies before emergency announcements hit the airwaves, then plan on going without.
(Read the rest of the story here…)