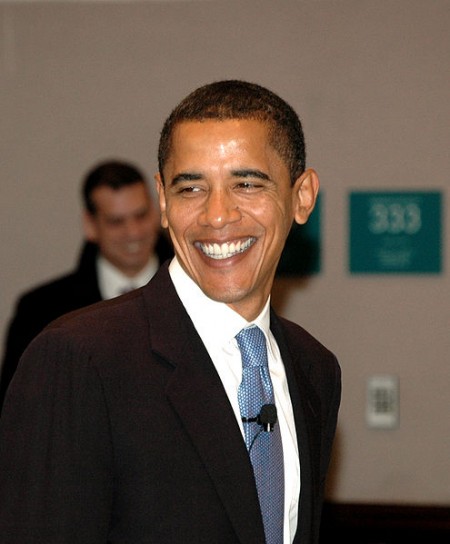 For years, the Obama administration has been making it abundantly clear that it is a friend of illegal immigrants. Border security is a joke, the federal government refuses to go after "sanctuary cities" even though they are breaking federal law, there is a website that instructs immigrants how to sign up for welfare programs once they arrive in the United States, and the Obama administration has distributed flyers that tell illegal immigrants that their immigration status will not be checked when they apply for food stamps. And Obama has even instructed officials to use "prosecutorial discretion" in deportation cases involving non-criminals. In other words, Obama has been flashing a huge green light to illegal immigrants, and so of course our borders were going to be inundated with them.
Apologists for the Obama administration will debate you all day about what Obama "intended" and what he didn't "intend", but there is no doubt about what message immigrants from Central America have been receiving.
For example, one young mother recently told the press that she heard that if you "go to America with your child, you won't be turned away".
And you can view video of a little boy from Central America telling an investigate reporter that he believes that Barack Obama has "given permission" for him to live in the United States right here.
It isn't an accident that our southern border is literally being flooded with illegal immigrants right now. Newspapers in El Salvador and Honduras have been publicizing how easy illegal immigration has become, and even the President of Honduras has said that people are coming to the United States for "Obama's amnesty".
When they arrive, thousands upon thousands of these illegal immigrants are using rehearsed answers that border patrol agents are hearing over and over again. Word has spread that if illegal immigrants claim that they are "fleeing gang violence" that it is more likely that they will be allowed to stay.
What we are witnessing down on the southern border is really unprecedented. It has been estimated that twelve times as many kids are crossing our borders illegally now compared to just a few years ago.
And they just keep on coming.
This is utter madness.
Now, please don't think that I am anti-immigrant. I am all for legal immigration. This is a nation of immigrants and we will always need immigration. But everyone should be required to come in through the front door. Encouraging illegal immigration is simply a recipe for disaster.
If we keep the back door wide open, the truth is that we have absolutely no idea who is coming into our country. Do we really want countless numbers of criminals, welfare parasites, drug dealers and gang members pouring into our cities? According to the FBI, there are now approximately 1.4 million gang members living in the United States, and it has been estimated that illegal immigrants make up approximately 30 percent of the total population in federal, state and local prisons.
And why in the world would we not want to control the diseases coming into this country? Over the past several weeks, it has been documented that some of the illegal immigrants that have been apprehended have scabies and tuberculosis.
But instead of sending them right back out of the country, U.S. officials are setting up camps for this tsunami of illegal immigrants. In other cases, the federal government is simply putting them on buses and planes and shipping them all over the country. The illegal immigrants are released into their new communities and are given papers which order them to eventually appear in court, but of course the vast majority of them never show up. You can see a map that documents areas where the federal government has been shipping illegal immigrants right here.
The rational thing to do would be to secure our borders and to send a very clear message that illegal immigration is not welcome in the United States.
But instead of doing that, the Obama administration is actually bringing in a riot squad to deal with anti-immigration protesters.
During normal times all of this would be crazy enough, but right now we are at a point where we cannot even take care of millions upon millions of our own citizens.
(Read the rest of the story here…)