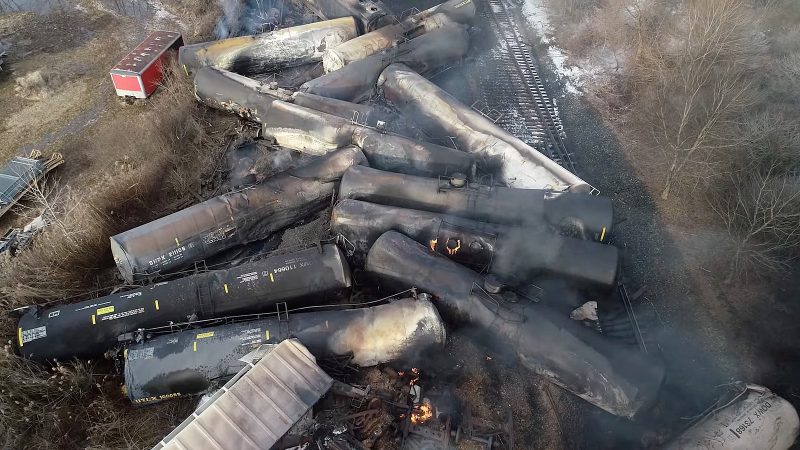 Why are so many train derailments suddenly in the news?  That is a question that a lot of people are asking these days.  Could it be possible that our trains are being targeted on purpose?  Right off the top, I want to acknowledge that train derailments are fairly common.  As the Biden administration has been reminding us, on average we normally see more than 1,000 train derailments each year.  But the vast majority of them are relatively minor incidents that cause no harm.  In fact, prior to this month I can't remember the last time a train derailment made headline news all over the nation.
According to the Federal Railroad Administration, railroads are typically the safest method for transporting hazardous chemicals…
America's railroads move a lot of chemicals. Freight trains moved 2.2 million carloads of chemicals in 2021, according to the Association of American Railroads.

This is in large part because railroads are considered the safest mode of transportation to carry large amounts of hazardous materials, including chemicals, for long distances across the country, according to the Federal Railroad Administration.
If something causes a train that is carrying hazardous materials to slip off the tracks, that is not going to cause a disaster.
In order to cause a disaster, something really unusual needs to happen, and unfortunately we have seen several such incidents in recent days.
The following are five major train derailments that we have witnessed in the United States so far this month…
On February 1st, a leak of limestone slurry was detected after a train derailed in Talladega County, Alabama…
On February 1, a train derailed in Talladega County, Alabama, just off Highway 21 in the Sycamore area, WIAT-TV reported. According to the Talladega County Emergency Management Agency, one of the cars was leaking limestone slurry but there was no hazardous material threat, and no injuries were reported.
On February 3rd, one of the worst environmental catastrophes in U.S. history was caused when a train derailed in East Palestine, Ohio…
The train, which derailed on Feb. 3, was carrying hazardous materials, including at least five tanker cars of vinyl chloride, a colorless but hazardous and carcinogenic gas used to produce PVC plastic and vinyl products.
In addition to vinyl chloride, the train was also carrying "butyl acrylate, ethylene glycol monobutyl ether, ethylhexyl acrylate and isobutylene"…
In a remedial action work plan that the Norfolk Southern Railway Company submitted to the EPA on Feb. 10, the company said that the train cars that derailed contained several other hazardous materials, including butyl acrylate, ethylene glycol monobutyl ether, ethylhexyl acrylate and isobutylene. Two cars also had benzene residue.
On February 13th, "100 gallons of diesel fuel were released" when a train derailed not too far from Houston, Texas…
On February 13, a Union Pacific train collided with an 18-wheeler near Splendora, Texas, killing the driver and derailing 21 rail cars, according to the Splendora Police Department.

Union Pacific spokesperson Robynn Tysver told Houston Public Media that its hazmat crews were on site, as an estimated 100 gallons of diesel fuel were released in the crash.
Also on February 13th, a train derailed in Enoree, South Carolina…
A CSX train derailed Feb. 13 in Spartanburg County, but no one was injured, the railroad company said.

Three cars derailed around 6:15 a.m. on an industrial spur track near U.S. Highway 221 in Enoree, according to a statement from CSX.
On February 16th, a train that had "one car of hazardous materials" derailed near Detroit, Michigan…
A train containing one car of hazardous materials has derailed Thursday in Van Buren Township outside Detroit, Michigan, reports say.

The cause of the derailment was not immediately clear.

Police told Fox2 Detroit that there were no injuries and the area is not a hazmat situation.
Is it possible that these trains are being specifically targeted by someone?
Yes, it is certainly possible.
But it could also be possible that we are taking note of other derailments now because we don't want to see a repeat of what just happened in Ohio.
According to CBS News, authorities are publicly admitting that thousands of animals have already died in East Palestine…
Thousands of animals have died in East Palestine, Ohio, in the aftermath of the train derailment that sent numerous hazardous substances into the surrounding area. Officials said on Tuesday that in the immediate days following the Feb. 3 incident, there were 3,500 dead fish as local waterways, including the Ohio River, became contaminated.

During the incident, 38 train cars derailed, including several cars that were carrying hazardous materials that each pose a set of their own health risks. On the day of the derailment, there was evidence that one of the train cars was releasing vinyl chloride, a known carcinogen that has been linked to a rare and "exceptionally deadly" form of liver cancer.
When authorities made the choice to burn the vinyl chloride, they knew that it would create lots of phosgene gas.
And as a lawsuit that has just been filed notes, phosgene gas is a chemical weapon that was widely used in World War I…
The suit alleges that burning vinyl chloride creates phosgene gas, a chemical warfare agent used in World War One that has been banned by the Geneva Convention.

"I'm not sure Norfolk Southern could have come up with a worse plan to address this disaster," said attorney John Morgan. "Residents exposed to vinyl chloride may already be undergoing DNA mutations that could linger for years or even decades before manifesting as terrible and deadly cancers. The lawsuit alleges that Norfolk Southern made it worse by essentially blasting the town with chemicals as they focused on restoring train service and protecting their shareholders."
So many people that breathed that stuff in are going to get cancer and die.
It is truly a terrible, terrible tragedy.
Of course we have entered a time in history when terrible tragedies will be a common occurrence.
I don't know if you have noticed, but our world has become less safe in a whole host of different ways.
And the current crop of politicians that is running things is the worst that we have ever had in the entire history of our nation.
So things are not going to be getting better any time soon.
I would encourage you to plan accordingly.
***It is finally here! Michael's new book entitled "End Times" is now available in paperback and for the Kindle on Amazon.***
About the Author: My name is Michael and my brand new book entitled "End Times" is now available on Amazon.com.  In addition to my new book I have written six other books that are available on Amazon.com including "7 Year Apocalypse", "Lost Prophecies Of The Future Of America", "The Beginning Of The End", and "Living A Life That Really Matters". (#CommissionsEarned)  When you purchase any of these books you help to support the work that I am doing, and one way that you can really help is by sending copies as gifts to family and friends.  Time is short, and I need help getting these warnings into the hands of as many people as possible.  I have published thousands of articles on The Economic Collapse Blog, End Of The American Dream and The Most Important News, and the articles that I publish on those sites are republished on dozens of other prominent websites all over the globe.  I always freely and happily allow others to republish my articles on their own websites, but I also ask that they include this "About the Author" section with each article.  The material contained in this article is for general information purposes only, and readers should consult licensed professionals before making any legal, business, financial or health decisions.  I encourage you to follow me on social media on Facebook and Twitter, and any way that you can share these articles with others is definitely a great help.  These are such troubled times, and people need hope.  John 3:16 tells us about the hope that God has given us through Jesus Christ: "For God so loved the world, that he gave his only begotten Son, that whosoever believeth in him should not perish, but have everlasting life."  If you have not already done so, I strongly urge you to invite Jesus Christ to be your Lord and Savior today.