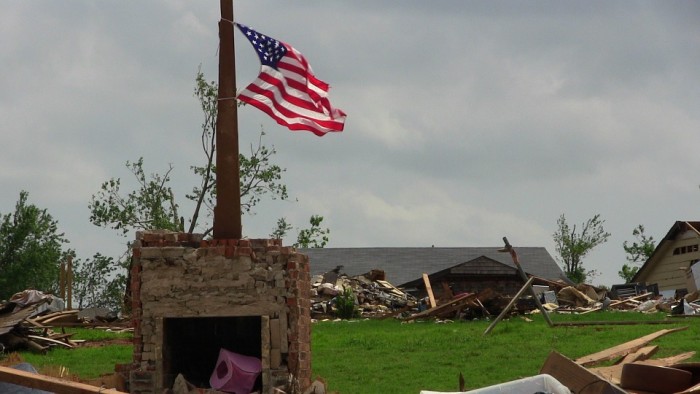 It is not normal for the United States to experience massive wildfires and giant tornadoes right around Christmas.  The huge wildfire that erupted northwest of Los Angeles on Christmas Day and the devastating tornadoes that ripped through the Dallas area on Saturday can be added to a growing list of freakish disasters that have hit the United States since the month of September.  So why in the world is this happening?  Many are blaming the worst El Nino pattern that we have seen in at least 15 years.  Right now we are witnessing very strange weather all over the world, including an unprecedented heat wave in Australia and the worst flooding in South America in 50 years.  And it is true that El Ninos have significantly disrupted weather patterns in the past.  But is the current El Nino really to blame for everything that we have been seeing?  Because without a doubt, the last few months have been truly bizarre.
For example, who has ever heard of a giant wildfire erupting on Christmas Day?
That is precisely what happened this year in southern California.  A mammoth blaze that quickly engulfed more than 1,200 acres erupted near Ventura, California, and it shut down both the Pacific Coast Highway and U.S. 101 for an extended period of time.
This was truly a frightening fire.  You can watch some amazing footage of a family actually driving through the wildfire right here.  Fortunately, firefighters seem to be getting the blaze under control at this point.
I have written repeatedly about how this was shaping up to be the worst year for wildfires in U.S. history, but just like everyone else I had assumed that wildfire season was over by now.  For a fire of this magnitude to erupt in southern California at this time of the year is definitely unusual.
The day after this fire erupted, at least 11 people died as 11 deadly tornadoes ripped through the Dallas, Texas area.
Isn't it funny how "11" just keeps popping up everywhere?  I don't know what it means, but I just thought that I would mention it.
Authorities have estimated that as many as 1,000 homes and buildings were destroyed by these tornadoes.  The tornado that shredded parts of Garland was categorized as an "EF-4", and it had winds "of at least 166 mph"…
The tornado that roared through Garland was rated an EF-4, with winds of at least 166 mph, the National Weather Service said Sunday. This is the USA's first EF-4 tornado to strike in December in 15 years. It is also the farthest west a tornado of that strength has formed in December, according to the tornado research site U.S. Tornadoes.

For Dallas County, it's only the second EF-4 tornado ever recorded since accurate records began in 1950.
Some news outlets are reporting that the tornado actually had peak winds somewhere in the neighborhood of 200 mph.  If it seems strange to you that something like this would happen during the month of December in the state of Texas, that is because it is very strange.  As the article quoted above noted, we haven't seen any EF-4 tornadoes in the entire country in December in 15 years, and it was only the second EF-4 tornado to hit Dallas County since 1950.
Meanwhile, as I mentioned at the outset of this article, other areas of the planet are experiencing very bizarre weather right now as well.  For instance, just check out what is going on in South America.  According to the BBC, quite a few South American nations are currently being hit by the worst flooding that they have seen "in 50 years"…
Vast areas in Paraguay, Argentina, Uruguay and Brazil are being hit by the worst flooding in 50 years, forcing the evacuation of more than 150,000 people.

Days of heavy rains brought on by the El Nino weather phenomenon have caused three major rivers to swell, and officials report at least six deaths.

A state of emergency is in force in Paraguay, the worst hit nation, where 130,000 people have fled their homes.

In northern Argentina, some 20,000 people have left their homes.
If you just look at one of these disasters in isolation, it may not seem like that big of a deal.
After all, there are significant natural disasters every year.
But collectively, all of these strange disasters seem to indicate that something truly unique is happening.  I cannot recall ever seeing the U.S. (and much of the rest of the world) being hit by so many wildfires, floods, historic droughts, earthquakes and major volcanic eruptions in such a short period of time.
Perhaps things will eventually settle down and this stretch will be considered a strange anomaly by this time next year.
Perhaps things will go back to "normal" very soon.
But what if they don't?
What if they just keep getting worse?
Personally, all of this strange weather is something that I am watching very, very closely.  I am convinced that our planet is becoming increasingly unstable, and I expect weather patterns to become even more wild and even more unpredictable as we roll into 2016.
So what do you think?
Please feel free to join the discussion by posting a comment below…