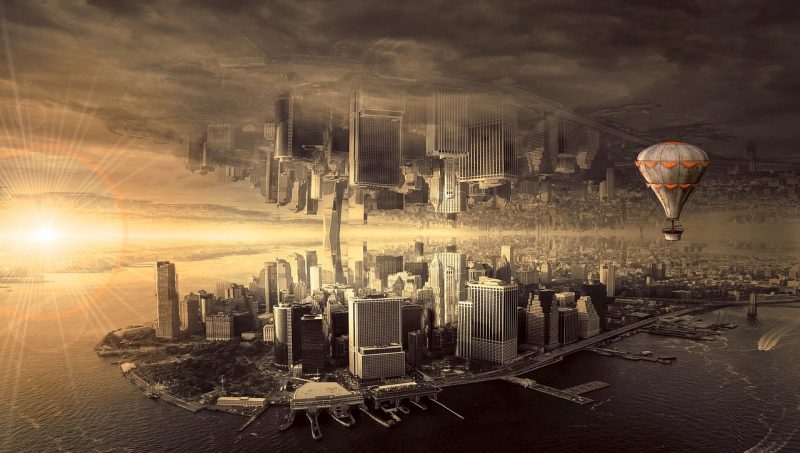 They wanted to fundamentally transform America, and they have succeeded.  So now instead of a "Leave It To Beaver" society, we have a society where literally anything goes.  Our families are disintegrating, traditional moral values have been completely discarded, our young people are running wild in the streets, crime is totally out of control, and our system of government is melting down right in front of our eyes.  So what is going to happen to our once great nation if things just continue to get even worse?
Our politicians like to tell us that "America is great because America is good".
But the truth is that America stopped being good a long time ago.  The following are 10 signs that U.S. culture is being turned completely upside down…
#1 It has finally happened.  The elite have such disdain for the choices of average Americans that some of them are starting to float the idea that elections should be eliminated.  The following comes from an article that the New York Times published just last week that was originally entitled "Elections Are Bad for Democracy"…
On the eve of the first debate of the 2024 presidential race, trust in government is rivaling historic lows. Officials have been working hard to safeguard elections and assure citizens of their integrity. But if we want public office to have integrity, we might be better off eliminating elections altogether.

If you think that sounds anti-democratic, think again. The ancient Greeks invented democracy, and in Athens many government officials were selected through sortition — a random lottery from a pool of candidates. In the United States, we already use a version of a lottery to select jurors. What if we did the same with mayors, governors, legislators, justices and even presidents?
#2 The war on the family continues to escalate, and it is now being projected that 45 percent of all U.S. women in their "prime working years" will be single and childless in 2030…
We're told by our culture that a woman who is unmarried and has no children is empowered and in charge of her own life. She has escaped the unnecessary burden of raising a family and being a slave to her husband. At least, that's what our society has convinced us. Sadly, many women have adopted the modern feminist lifestyle and have chosen to sleep around, abort their baby if they unexpectedly get pregnant, and swear off marriage. But these cultural trends are going to have a tremendous impact on the future of American society. Morgan Stanley estimates that 45% of women in their "prime working years" (ages 25 to 44) will be single and childless by the time 2030 arrives.
#3 Theft is going to cost U.S. retailers more than 100 billion dollars this year, and at this point organized retail crime has become such a crisis that even Dollar Tree is being forced to take drastic measures…
The company, which runs Dollar Tree and Family Dollar, has "several new shrink formats" that it intends to roll out in the final six months of the year, CEO Rick Dreiling said in the morning. "Shrink" typically means theft and other types of inventory losses in the retail industry.

"It goes everything from moving certain SKUs [stock-keeping units] to behind the check stand," he explained to those who tuned into the company's earnings call. "It has to do with some cases being locked up. And even to the point where we have some stores that can't keep a certain SKU on the shelf just discontinuing the item."
#4 When I was young, I actually applied to go to school at Yale.  At that time, it was one of the most prestigious universities in the entire world.  Unfortunately, at this point violent crime in the city of New Haven is off the charts…
Yale University is rushing to reassure freshman students and parents after the school's police union, which in the midst of contract negotiations, distributed flyers with stark warnings about high crime in New Haven, Connecticut — complete with a graphic of a grim reaper. They warned incoming students to avoid walking alone and avoid public transport. Forget night life: Student should stay in their dorms and "off the streets after 8 PM." 

Presented by the Yale Police Benevolent Association as "A Survival Guide for First-Year Students of Yale University," the flyers were distributed on freshman move-in day. "The incidence of crime and violence in New Haven is shockingly high, and it is getting worse," the flyers warned. "During the seven month period ending July 23, 2023, murders have doubled, burglaries are up 33% and motor vehicle thefts are up 56%."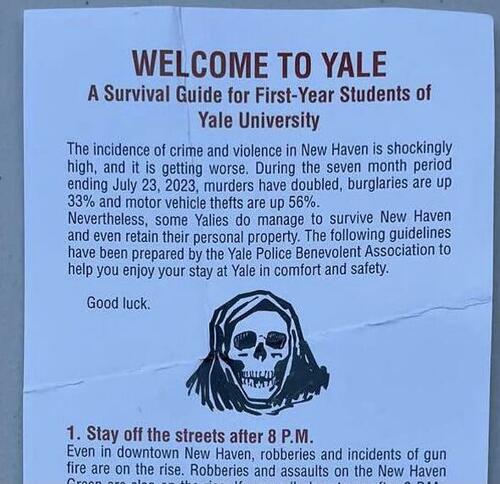 #5 One man in Texas was just "forcibly removed" from a school board meeting for reading a book that had actually been available in the libraries of that school district…
A man was forcibly removed from a Tuesday school board meeting by law enforcement while reading a passage from a sexually explicit LGBT book that was previously available in the district's libraries.

Mike Cee was escorted out of a Fort Worth Independent School District board meeting this week when he began reading vulgar passages from the book "Flamer" by Mike Curato.

Curato's book is described as a "semi-autobiographical graphic novel" set in 1995 that follows the story of a child named Aiden as he "navigates friendships, deals with bullies, and spends time with Elias (a boy he can't stop thinking about), he finds himself on a path of self-discovery and acceptance."
#6 It seems like there is a mass shooting somewhere in America almost every day now.  The latest incident just occurred in the city of Jacksonville, Florida…
Terrifying video shows the moment a crazed, racist gunman enters a Jacksonville Dollar General armed with an AR-15 and then shoots dead three people in a racially-motivated attack.

The gunman was identified as Ryan Palmeter, 21, police confirmed on Sunday. They also detailed a manifesto he left behind, calling it the 'diary of a madman.'

Palmeter used an assault rifle covered in Nazi swastikas in the deadly assault on Saturday before turning the gun on himself, according to the Jacksonville Sheriff's Office.
#7 Chicago Mayor Brandon Johnson is admitting that vehicle theft is completely out of control in his city, but instead of going after the thieves he has filed a lawsuit against Kia and Hyundai…
Democratic Chicago Mayor Brandon Johnson's office announced that the city filed the lawsuit against automakers Kia and Hyundai, alleging that both companies have failed to include "industry-standard engine immobilizers" in several models of vehicles, which resulted in a "steep rise" in crime.

"The impact of car theft on Chicago residents can be deeply destabilizing, particularly for low- to middle-income workers who have fewer options for getting to work and taking care of their families," Johnson said. "The failure of Kia and Hyundai to install basic auto-theft prevention technology in these models is sheer negligence, and as a result, a citywide and nationwide crime spree around automobile theft has been unfolding right before our eyes."
#8 Instead of cracking down on crime, federal law enforcement authorities are using their resources to raid Amish cattle farmers…
"They came with a search warrant," softly spoke Samuel B. Fisher, a mild-mannered cattle farmer operating a 100-acre farm tucked away in Virginia's heartland. Fisher's bread-and-butter, Golden Valley Farms, carves out the scenic countryside that's a hop, skip, and a jump away from historic Farmville, a postcard-perfect small Southern town with classical Main Street charm.

The father of five had graciously invited us down to his idyllic pasture to rehash the whirlwind of unforeseen events that unfolded over the cruel summer. It was a tumultuous time on the Fisher farm, an upheaval that threatened to upend the man's livelihood.

"Then, they tagged the meat, so that we can't touch it; we can't sell it; we can't feed our family with it," Fisher told Townhall.
#9 The number of transgender surgeries in the United States nearly tripled in just a three year period…
Transgender surgeries nearly tripled in the United States between 2016 and 2019, with breast and chest procedures accounting for 56.6 percent of all operations, results of a study published Wednesday in the JAMA Network Open show.

Close behind was genital reconstruction, making up 35.1 percent, followed by facial and cosmetic procedures at 13.9 percent. The greatest number of procedures overall were undergone by women, 19- to 30-year-olds, people with private insurance, and people with higher incomes. Most procedures occurred in the West and were performed in urban teaching hospitals.
#10 Joe Biden is asking Congress for money for a new shot, and he is admitting that it "will likely be recommended everybody get it no matter whether they've gotten it before or not"…
Biden, who is vacationing in the Lake Tahoe area, was asked by a reporter on Friday if he could say anything about the uptick of COVID cases and a new variant.

"Yes, I can," the president said. "I signed off this morning on a proposal we have to present to Congress a request for additional funding for a new vaccine that is necessary, that works."

He added, "Tentatively it is recommended that it will likely be recommended everybody get it no matter whether they've gotten it before or not."
Our society is going to continue to change.
Nothing can stop that.
But the direction of the change can be altered.
Those that have been transforming our culture are just going to keep on doing what they have been doing, and all that it is going to take for them to succeed is for good people to stand by and do nothing.
Michael's new book entitled "End Times" is now available in paperback and for the Kindle on Amazon.com, and you can check out his new Substack newsletter right here.
About the Author: My name is Michael and my brand new book entitled "End Times" is now available on Amazon.com.  In addition to my new book I have written six other books that are available on Amazon.com including "7 Year Apocalypse", "Lost Prophecies Of The Future Of America", "The Beginning Of The End", and "Living A Life That Really Matters". (#CommissionsEarned)  When you purchase any of these books you help to support the work that I am doing, and one way that you can really help is by sending copies as gifts to family and friends.  Time is short, and I need help getting these warnings into the hands of as many people as possible.  I have also started a brand new Substack newsletter, and I encourage you to subscribe so that you won't miss any of the latest updates.  I have published thousands of articles on The Economic Collapse Blog, End Of The American Dream and The Most Important News, and the articles that I publish on those sites are republished on dozens of other prominent websites all over the globe.  I always freely and happily allow others to republish my articles on their own websites, but I also ask that they include this "About the Author" section with each article.  The material contained in this article is for general information purposes only, and readers should consult licensed professionals before making any legal, business, financial or health decisions.  I encourage you to follow me on social media on Facebook and Twitter, and any way that you can share these articles with others is definitely a great help.  These are such troubled times, and people need hope.  John 3:16 tells us about the hope that God has given us through Jesus Christ: "For God so loved the world, that he gave his only begotten Son, that whosoever believeth in him should not perish, but have everlasting life."  If you have not already done so, I strongly urge you to invite Jesus Christ to be your Lord and Savior today.