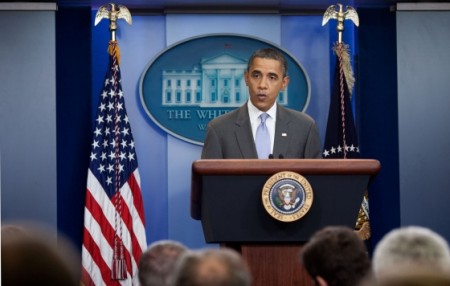 With a straight face, Barack Obama has been repeatedly telling us that the world is "more stable" and "less violent" than ever. In fact, he believes that this is the best time in history to be alive because of how peaceful and stable everything is. And of course Obama is more than happy to take credit for his role in bringing all of this "stability" about. Just this week, his press secretary told the media that this administration has "substantially improved" the "tranquility of the global community". Apparently these guys don't think that we will notice all of the violence, war and terrorism constantly raging all around us. It would be wonderful if the planet actually was becoming a more peaceful place, but instead the exact opposite is happening. The world is becoming increasingly unstable, and if we aren't really careful we could see World War III break out before too long.
But if you listen to Obama, he makes it sound like we are living in an emerging global utopia. The following is an excerpt from remarks that he made during a White House event in June…
[T]he truth of the matter is that for all the challenges we face, all the problems that we have, if you had to be — if you had to choose any moment to be born in human history, not knowing what your position was going to be, who you were going to be, you'd choose this time. The world is less violent than it has ever been. It is healthier than it has ever been. It is more tolerant than it has ever been. It is better fed then it's ever been. It is more educated than it's ever been.
You can watch video of him making those remarks below…
And as I mentioned above, a similar statement was made by White House press secretary Josh Earnest
on Monday
…
"I think that there have been a number of situations in which you've seen this administration intervene in a meaningful way, that has substantially furthered American interests and substantially improved the, uh, you know, the – the tranquility of the global community."
In addition, posted below is video of Obama declaring that the world is "more stable" than it was five years previously during a speech to the United Nations last year…
It would be great if all of this stuff was actually true. But I think that at this point not even Obama believes half the things that are coming out of his mouth.
(Read the rest of the story here…)