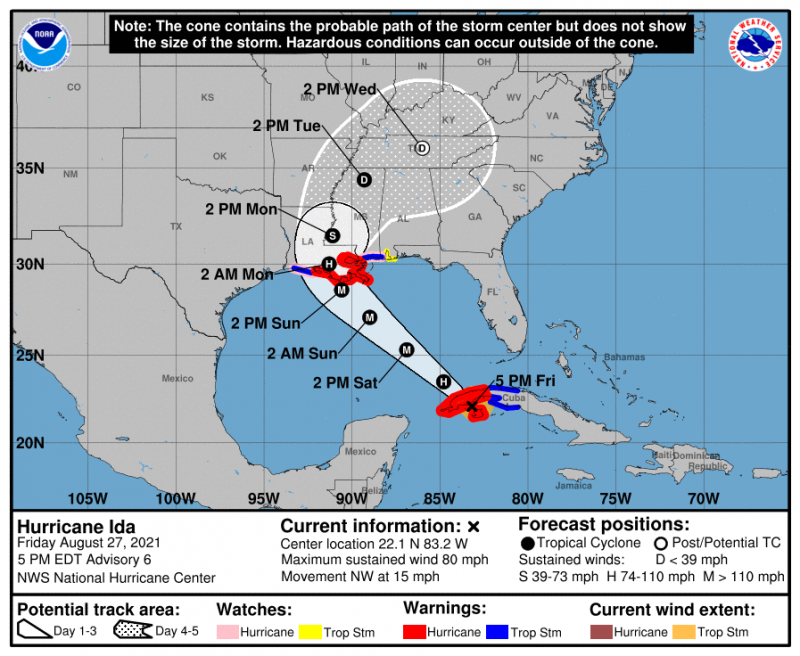 Is history about to repeat itself?  As I write this article, it is being projected that Hurricane Ida could hit New Orleans on Sunday, and that would be exactly 16 years to the day from when Hurricane Katrina absolutely devastated the city in 2005.  The levees that were supposed to protect New Orleans spectacularly failed, and almost 2,000 people were killed.  It has been estimated that 125 billion dollars in damage was caused by Katrina, and to this day it remains one of the most costly natural disasters in U.S. history.  Now Hurricane Ida is coming, and meteorologists are extremely concerned about this storm.
Since 2005, we have not seen a major hurricane make a direct hit on New Orleans.
This is something of great interest to me personally, and I have been carefully watching each year to see if a major hurricane would approach the city.
If Hurricane Ida does slam directly into New Orleans, I believe that it will be a very ominous sign.
And at this moment, one hurricane scientist is warning that the storm is "headed straight towards New Orleans"…
"The forecast track has it headed straight towards New Orleans. Not good," said Jim Kossin, a climate and hurricane scientist with the Climate Service.

The storm is shaping up to be "probably be the strongest storm of the season thus far," AccuWeather senior meteorologist Dan Kottlowski said Thursday.
Over the coming hours, the path of the storm could still change, and so let's keep a close eye on it.
When Hurricane Katrina hit New Orleans in 2005, it did so as a Category 3 storm.  The following comes from Wikipedia…
Katrina originated on August 23, 2005, as a tropical depression from the merger of a tropical wave and the remnants of Tropical Depression Ten. Early the following day, the depression intensified into a tropical storm as it headed generally westward toward Florida, strengthening into a hurricane two hours before making landfall at Hallandale Beach on August 25. After briefly weakening to tropical storm strength over southern Florida, Katrina emerged into the Gulf of Mexico on August 26 and began to rapidly intensify. The storm strengthened into a Category 5 hurricane over the warm waters of the Gulf of Mexico[2] before weakening to Category 3 strength at its second landfall on August 29 over southeast Louisiana and Mississippi.
Right now, Hurricane Ida is just a Category 1 storm, but it is expected to intensify very rapidly once it reaches the middle of the Gulf of Mexico…
In the Caribbean, Ida will move across extremely high ocean heat content, which is hot water that extends to a great depth. Then, when the system reaches the central Gulf of Mexico, it will move over the infamous Loop Current: a curved current of some of the most energy-intensive water in the Gulf. Lastly, as it nears the northern Gulf Coast, it will move over surface waters that are like bath water — 88 to 90 degrees Fahrenheit — some of the hottest surface waters available.
So it is going to become a much more powerful storm.
In fact, the Weather Channel is warning that it could become a Category 4 storm as it approaches the coast…
Ida may undergo a period of rapid intensification as a hurricane when it tracks through the Gulf of Mexico this weekend. That's because Gulf of Mexico water temperatures are plenty warm, upper-level winds should be favorable and there's plenty of moist air available.

Therefore, Ida is currently expected to be at major hurricane strength, possibly even Category 4 intensity, when it approaches the northern Gulf Coast Sunday.
And Accuweather is also warning that Ida could soon become a Category 4 hurricane…
Hurricane Ida, after making landfall in western Cuba on Friday afternoon, was barreling into the southeastern Gulf of Mexico. AccuWeather forecasters warned that Ida, headed over exceptionally warm waters, was likely to rapidly intensify and could even approach the U.S. coast as Category 4 hurricane. Meteorologists warned residents along the central Gulf Coast that time is running out to prepare for the storm or evacuate the storm's projected path.
But projecting the strength of hurricanes is far from an exact science.  As CBS News has acknowledged, such forecasts can often be off "by large margins"…
Forecasters always recommend that residents be prepared for one category above the forecast intensity. In this case, there's very good reason for that. Besides the fact that intensity forecasting is very difficult and often off by large margins, this system is working with an extremely conducive environment for intensification. The only thing working against it is time — it's moving fast enough that it only has about 48 hours to strengthen before it makes landfall.
If Ida were to slow down and linger in the Gulf of Mexico for an extra day or two, could it potentially become a Category 5 storm?
That is a very good question.
Even if it just hits New Orleans as a Category 4 storm, experts are acknowledging that it will be "a test" for the city's levee system…
The incoming storm could provide a test for the city's levee system, which was reconstructed after Hurricane Katrina. The system's failure in the 2005 storm helped flood 80% of the city, with areas under 6 to 20 feet of water.
Let us hope that the levee system holds, because otherwise much of New Orleans could soon be buried by water once again.
At this hour, panic shoppers are flooding the stores as they prepare for the biggest disaster that the city has seen since Katrina…
Traffic snarled at entrances to a New Orleans Costco, where dozens of cars were backed up at the gas pumps and shoppers wheeled out carts stacked with cases of bottled water and other essentials.

Retired police officer Wondell Smith, who worked on the police force 16 years ago when Katrina hit, said he and his family were planning to stay, but were also getting ready to head farther inland if the forecasts worsened. He loaded water, bread and sandwich meat into his SUV.
But if the levees don't hold, a little extra food and water won't mean anything.
This storm is very dangerous, and one local resident is fearing the worst…
Capt. Ross Eichorn, who operates a fishing guide service on the coast about 70 miles southwest of New Orleans, said he fears warm Gulf waters will "make a monster" out of Ida.

"With a direct hit, ain't no telling what's going to be left – if anything," Eichorn said. He added: "Anybody that isn't concerned has got something wrong with them."
The good news is that there is still plenty of time for this storm to change course.
And so let us hope that happens.
Our country has been through so much already over the past couple of years, and many believe that this "perfect storm" that we find ourselves in is just getting started.
Despite all of our advanced technology, we remain highly vulnerable to major disasters such as hurricanes, droughts and pandemics.
Hopefully New Orleans is less vulnerable than the last time around.  We were told that the levee system was greatly improved following Hurricane Katrina, and hopefully that is true.
Because a great test may be just a few hours away, and the fate of the entire city may hang in the balance.
***It is finally here! Michael's new book entitled "7 Year Apocalypse" is now available in paperback and for the Kindle on Amazon.***
About the Author: My name is Michael Snyder and my brand new book entitled "7 Year Apocalypse" is now available on Amazon.com.  In addition to my new book I have written five others that are available on Amazon.com including  "Lost Prophecies Of The Future Of America", "The Beginning Of The End", "Get Prepared Now", and "Living A Life That Really Matters". (#CommissionsEarned)  By purchasing the books you help to support the work that my wife and I are doing, and by giving it to others you help to multiply the impact that we are having on people all over the globe.  I have published thousands of articles on The Economic Collapse Blog, End Of The American Dream and The Most Important News, and the articles that I publish on those sites are republished on dozens of other prominent websites all over the globe.  I always freely and happily allow others to republish my articles on their own websites, but I also ask that they include this "About the Author" section with each article.  The material contained in this article is for general information purposes only, and readers should consult licensed professionals before making any legal, business, financial or health decisions.  I encourage you to follow me on social media on Facebook and Twitter, and any way that you can share these articles with others is a great help.  During these very challenging times, people will need hope more than ever before, and it is our goal to share the gospel of Jesus Christ with as many people as we possibly can.