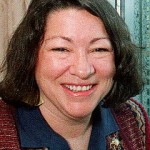 The most important news for Tuesday, May 26th…..
President Barack Obama has chosen pro-abortion appeals court judge Sonia Sotomayor as his nominee for the Supreme Court.  Some analysts are describing her as the most liberal of all the candidates that Obama was considering for the nomination.
Surprisingly, the California Supreme Court has upheld Proposition 8.  Of course this just means that gay activists will make sure this issue gets on the ballot again for the next election. 
North Korea continued to raise tensions today by "test firing" two short-range missiles.  This comes just one day after they stunned the world by testing a nuclear bomb as powerful as the one the U.S. dropped on Hiroshima during World War II.
A suicide bomber rammed his explosive-filled vehicle into a U.S. army convoy in northeast Afghanistan, killing five U.S. troops and injuring a number of others.
A member of Japan's ruling party is suggesting that Japan should consider a pre-emptive strike against North Korea now that they have tested another nuclear weapon.
A number of key Obama administration officials delivered private briefings at this year's secretive Bilderberg group meeting in Greece.
The current economic crisis has created a whole new class of "surburban survivalists".
Is the Department of Homeland Security actually training boy scouts to take on "disgruntled military veterans" and "domestic terrorists"?  What in the world is happening to America?
Is an eruption brewing at the Yellowstone supervolcano?  Let's hope not.
Are you still convinced that you should give your young child tons of vaccines?  If so, you should check out this story of one child who died of an adverse reaction to the hepatitis B vaccine.
Barack Obama is facing mounting pressure to wind back "Buy American" measures passed by Congress earlier this year.
Israeli Defense Minister Ehud Barak said on Tuesday that Iran's nuclear program and outpost activity in the West Bank are two completely unrelated issues.
The World Health Organization has announced that there are now nearly 13,000 confirmed swine flu cases around the world.
Ron Paul's bill to audit the Federal Reserve for the very first time has picked up even more co-sponsors.
The U.S. dollar is experiencing a decline in value as a number of major countries around the world are now dumping their dollars.
According to a secret Israeli government report, Venezuela and Bolivia are supplying Iran with uranium for its nuclear program.
Lastly, Israel's Prime Minister Benjamin Netanyahu is saying that if Israel does not eliminate the Iranian threat, no one will.  Apparently he feels that that United States is not going to do anything about the Iranian threat.