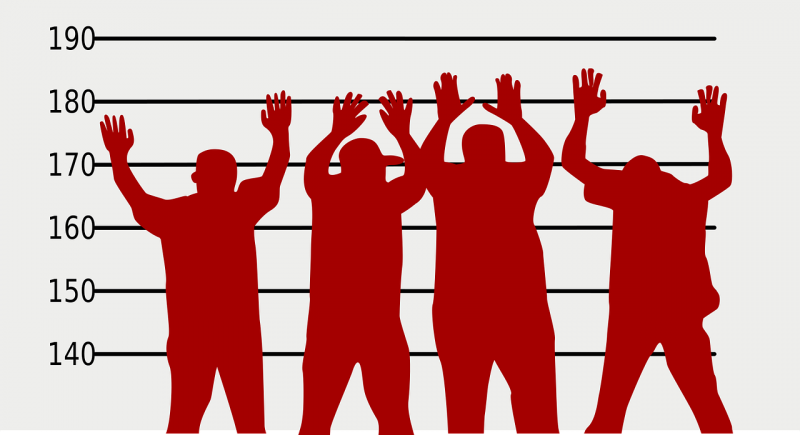 The Biden administration may believe otherwise, but the truth is that the days when the United States could dictate how everyone else in the world is going to behave have come to an end.  Russia is demonstrating how weak the U.S. has become by moving troops into Donetsk and Luhansk.  And China keeps talking about a "permanent solution" in Taiwan.  Now that the western world is fixated on Ukraine, the Chinese may decide that this is a perfect time to make a move.  On top of everything else, a major conflict between Israel and Iran could literally erupt at any time, and the Biden administration is not going to be able to prevent it from happening.
Biden and his minions may be strutting around as if they are "the masters of the universe", but everyone can see that the emperor and his servants don't have any clothes on.
At this point, we couldn't be the police of the world even if we wanted to be.
In fact, we can't even police our own streets.
After spiking during the first two years of the pandemic, murder rates in major U.S. cities continue to surge even higher during the early stages of 2022.  For example, through February 12th the murder rate in Atlanta was up 43 percent…
Atlanta Police Department statistics revealed on Friday, that homicides are up 43 percent for 2022 compared to the same period, from January 1 to February 12, in 2021.
And the number of rapes was up 236 percent during that same timeframe…
Rapes are also up an astounding 236 percent, with 37 reported so far this year, compared to 11 at the same time in 2021.
Of course Atlanta is definitely not alone.
All over the nation, violent crime is really starting to spiral out of control.
Through February 13th, the number of rapes in New York City was up 26 percent compared to last year, and the number of robberies was up 38 percent compared to last year.
Sadly, things are particularly bad on NYC's world famous subway system…
According to the latest data from the New York City Police Department, since the beginning of the year, there have been 276 instances of crime in the subway system, which represent a 65 percent increase compared to the same period in 2021.
Eric Adams was elected to deal with this mess, and he just introduced a new "safety plan" that was supposed to clean up the subway system.
But on the very first weekend this plan was introduced, there were a half-dozen violent attacks…
New York Mayor Eric Adams's initiative to tackle crime and homelessness on the subway got off to a rocky start as straphangers were targeted in a half-dozen attacks, including one involving a hatchet and another in which a woman was bashed in the head with a metal pipe, over the Presidents Day weekend.

Homeless people were also pictured on Monday by Dailymail.com lying across the seats and floors of the cars on the first day of the safety plan.
Like so many others, I have had the privilege to ride the subway system in New York City.
But I wouldn't want to do it today.
Unfortunately, it isn't just our major cities that have a problem with rising crime.
Our entire nation is violent and bloody, and that is because our entire culture is violent and bloody.
Earlier today, I was deeply saddened to read a story about a woman in Florida that was arrested after stabbing the body of her husband 140 times…
A Florida woman stands accused of killing her husband and stabbing his body 140 times, officials said.

The Palm Springs Police Department said the body of Melvin Weller, 62, was found by the woman's son, Ricardo Anthony Green, 41, who reported it to police, CBS 46 reported. The woman, Joan Burke, 61, was subsequently arrested and charged with his death, officials said.
You have really got to hate someone to stab them 140 times.
When the police finally showed up, they found blood splattered all over the home…
Blood was on the walls, cabinets, and kitchen counters of the home, police said, ABC 27 reported.
If you think that it can't get any worse than that, you would be wrong.
In Michigan, a 29-year-old man recently mowed down a 64-year-old woman with his vehicle so that he could have sex with her dead body…
A 29-year-old Michigan man charged in the fatal hit-and-run of a 64-year-old retired nurse allegedly killed her on purpose so he could have sex with her dead body, prosecutors said.
Authorities originally charged Colby Martin with manslaughter in that case, but then they discovered what he had been searching for on his computer…
Prosecutors upgraded his charges to open murder during a hearing at Van Buren County District Court on Wednesday, after investigators revealed that Martin searched necrophilia-related pornography immediately after Rohrer's death, ABC 13 reported.
How sick is that?
Speaking of sick, a father in Utah is being accused of instructing his 4-year-old child to shoot a gun at the police officers that had come to confront him…
That whole incident was sparked because the father received the wrong order at McDonald's.
These days, it seems like our whole country is filling up with crazy, irrational people that will completely flip their lids over any perceived slight.
Of course a lot of Americans are not behaving rationally because they are almost constantly under the influence of either legal or illegal drugs.  Right now, we are facing the biggest drug crisis in the history of our nation, and this is resulting in tragedy after tragedy.
For example, a four-month-old baby girl was recently discovered near the dead bodies of her parents and three others that had all just died as a result of overdosing on fentanyl-laced cocaine…
A four-month-old baby girl has been left orphaned after her parents took her to a drug-fueled party where they ended up dying after taking what cops believe to be fentanyl-laced cocaine.

Aria Marquez was found inside a Commerce City apartment in Denver, Colorado, Sunday, close to the bodies of her parents Sam Marquez, 24, and Karina Rodriguez, 28, alongside the remains of two other women and a man.
So what will become of that little baby girl now?
This world can be such a cold, cruel place and that is especially true for children that have lost their parents.
I could go on and on with more examples of how our society is deteriorating, but I think that you get the point.
Our politicians like to believe that they have the "moral authority" to tell the rest of the world how they should behave, but the truth is that we are a complete and total mess ourselves.
America is literally coming apart at the seams all around us, and this is a time when we should be focusing on fixing our own problems.
***It is finally here! Michael's new book entitled "7 Year Apocalypse" is now available in paperback and for the Kindle on Amazon.***
About the Author: My name is Michael Snyder and my brand new book entitled "7 Year Apocalypse" is now available on Amazon.com.  In addition to my new book I have written five other books that are available on Amazon.com including  "Lost Prophecies Of The Future Of America", "The Beginning Of The End", "Get Prepared Now", and "Living A Life That Really Matters". (#CommissionsEarned)  When you purchase any of these books you help to support the work that I am doing, and one way that you can really help is by sending digital copies as gifts through Amazon to family and friends.  Time is short, and I need help getting these warnings into the hands of as many people as possible.  I have published thousands of articles on The Economic Collapse Blog, End Of The American Dream and The Most Important News, and the articles that I publish on those sites are republished on dozens of other prominent websites all over the globe.  I always freely and happily allow others to republish my articles on their own websites, but I also ask that they include this "About the Author" section with each article.  The material contained in this article is for general information purposes only, and readers should consult licensed professionals before making any legal, business, financial or health decisions.  I encourage you to follow me on social media on Facebook and Twitter, and any way that you can share these articles with others is a great help.  These are such troubled times, and people need hope.  John 3:16 tells us about the hope that God has given us through Jesus Christ: "For God so loved the world, that he gave his only begotten Son, that whosoever believeth in him should not perish, but have everlasting life."  If you have not already done so, I strongly urge you to ask Jesus to be your Lord and Savior today.