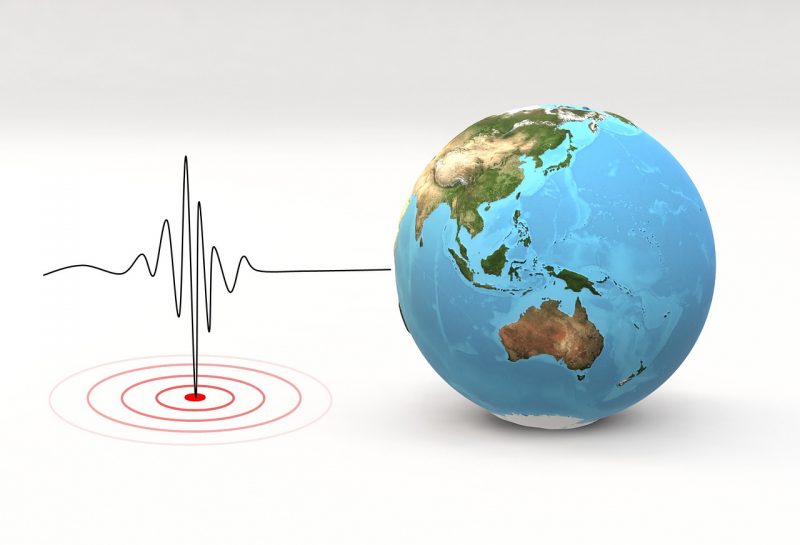 How much shaking is it going to take for most people to wake up?  As I write this article, New Zealand continues to be slammed by large earthquake after large earthquake.  On the other side of the globe, Iceland has been hit by more than 18,000 earthquakes in the past week, and authorities are warning that two volcanoes in a "densely populated" region of the country could erupt at literally any moment.  On Wednesday, I wrote that "we are moving into a time when I believe that the changes that are happening to our planet will accelerate dramatically".  That was before an area off the New Zealand coast was shaken by a magnitude 7.3 earthquake, a magnitude 7.4 earthquake and a magnitude 8.1 earthquake on Thursday.  Following the magnitude 8.1 earthquake, there have been 33 aftershocks of at least magnitude 5.0.  Of course by the time you read this article that number will inevitably be even higher.
As I have warned so many times, the infamous "Ring of Fire" is roaring to life, and the major quakes that just shook the New Zealand coast prompted authorities to warn of the potential for tsunamis…
Several powerful earthquakes hit near the coast of New Zealand on Thursday night and Friday morning, prompting tsunami warnings for New Zealand and tsunami watches for Hawaii.

The most powerful was an 8.1 quake that hit some 620 miles northeast of New Zealand on Friday morning, the U.S. Geological Survey said. Two earlier quakes registered magnitude 7.4 and magnitude 7.3.
Thankfully, no large tsunamis were generated this time.
But next time could be much different.
In New Zealand, there was quite a bit of panic after officials urged residents to get "as far inland as possible"…
"This evacuation advice overrides the current COVID-19 Alert Level requirements. Do not stay at home if you are near the coast and felt the earthquake LONG or STRONG. Evacuate immediately to the nearest high ground, out of all tsunami evacuation zones or as far inland as possible. Stay 2 metres away from others if you can and it is safe to do so."
After watching what happened during the Fukushima disaster, none of us should take the threat of tsunamis lightly ever again.
The good news is that the tsunami threat has now passed and the quakes were far enough away from New Zealand that no serious damage was done.
But experts are warning that it is just a matter of time before a historic disaster strikes.  The entire west coast of the United States sits along the Ring of Fire, and seeing so much unusual activity elsewhere along the Ring of Fire should definitely concern coastal residents.
In fact, on Thursday there was an "explosion" at Mount Veniaminof in Alaska…
A small explosion was recorded Thursday at a remote volcano on the Alaska Peninsula, prompting officials to raise the alert level.

Satellite and webcam views indicated low-level ash emissions from Mount Veniaminof volcano. The ash plume did not rise above 10,000 feet (3048 meters), the Alaska Volcano Observatory said. Minor ash deposits are visible at the volcano, located 480 miles (772 kilometers) southwest of Anchorage.
Meanwhile, things are getting crazy on the other side of the planet as well.
In Iceland, a swarm of more than 18,000 earthquakes has put everyone on edge…
A volcanic eruption in Iceland 'could be imminent' after more than 18,000 earthquakes hit the island in the past week, authorities have warned.

On Wednesday alone, there were about 2,500 earthquake detected and since midnight on Thursday almost 800 earthquakes measured, according to the Icelandic Meteorological Office (IMO).
Most of the quakes are occurring in a "densely populated region in southwest Iceland", and officials are now telling us that they "expect" two volcanoes to erupt shortly…
The sudden burst in seismic activity has been centred around Reykjanes Peninsula, a densely populated region in southwest Iceland just south of capital city Reykjavík.

Icelandic authorities are now expecting two volcanoes on the Reykjanes Peninsula – Mount Keilir and Mount Fagradalsfjall – to erupt in the coming hours.
Two volcanoes erupting at the same time in a "densely populated region"?
That doesn't sound good at all.
In Guatemala, "Pacaya" continued to send hot volcanic ash thousands of feet into the sky on Thursday…
Guatemala's Pacaya volcano continued to spew columns of ash thousands of feet (meters) into the air Thursday, but residents of hamlets on the volcano's slopes have largely ignored a recommendation to evacuate, relying instead on folk traditions and their own knowledge of the peak to judge when it's time to go.
Of course Guatemala sits directly along the Ring of Fire, and many experts are watching developments there very closely.
With so much seismic activity happening elsewhere along the Ring of Fire, it amazes me that so many people on the west coast continue to assume that a major disaster will never hit them.
But even though so many people are ignoring them, the warning signs are definitely there.
As I discussed earlier this week, Mt. Hood was shaken by earthquakes for 45 straight minutes on Monday.
One of these volcanoes on the west coast is likely to erupt sooner rather than later.  Of course a massive earthquake along the San Andreas fault could happen at any time, and scientists assure us that a major rupture of the Cascadia Subduction Zone is inevitable.
I know that authorities are interested in keeping people calm, but the truth is that we have entered a time when the crust of our planet is going to be getting increasingly unstable.
Just in the time that it has taken me to write this article, there have been four more earthquakes off the New Zealand coast of at least magnitude 5.0.
The talking heads on television are going to keep telling you that all of this is "normal" and that there is nothing to be concerned about at all.
You can believe them if you would like.
But we are going to continue to see unusual earthquakes and violent volcanic eruptions shake the globe.
The clock is ticking for our planet, and many believe that all of this shaking is leading up to something really, really big.
***Michael's new book entitled "Lost Prophecies Of The Future Of America" is now available in paperback and for the Kindle on Amazon.***
About the Author: My name is Michael Snyder and my brand new book entitled "Lost Prophecies Of The Future Of America" is now available on Amazon.com.  In addition to my new book, I have written four others that are available on Amazon.com including The Beginning Of The End, Get Prepared Now, and Living A Life That Really Matters. (#CommissionsEarned)  By purchasing the books you help to support the work that my wife and I are doing, and by giving it to others you help to multiply the impact that we are having on people all over the globe.  I have published thousands of articles on The Economic Collapse Blog, End Of The American Dream and The Most Important News, and the articles that I publish on those sites are republished on dozens of other prominent websites all over the globe.  I always freely and happily allow others to republish my articles on their own websites, but I also ask that they include this "About the Author" section with each article.  The material contained in this article is for general information purposes only, and readers should consult licensed professionals before making any legal, business, financial or health decisions.  I encourage you to follow me on social media on Facebook, Twitter and Parler, and any way that you can share these articles with others is a great help.  During these very challenging times, people will need hope more than ever before, and it is our goal to share the gospel of Jesus Christ with as many people as we possibly can.