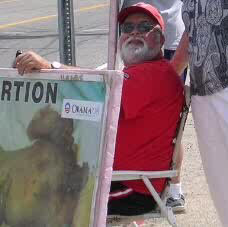 The most important news for Friday, September 11th, 2009…..
Police have charged an Owosso, Michigan man with two counts of first-degree murder after he shot a pro-life activist and one other man to death on Friday.  Reportedly, the murderer was offended by the material that the pro-life activist had been displaying across from a school all week.
Israeli Defense Forces fired retaliatory artillery at southern Lebanon in response to two Katyusha rockets fired from Lebanon into Israel.
The former U.S. envoy to the International Atomic Energy Agency says that Syria may be pushing ahead with their own nuclear program.
The U.S. Coast Guard sparked a security crisis on the Potomac River on Friday during what was supposed to be a routine training exercise in the heart of the U.S. capital on the anniversary of September 11th.
Barack Obama has officially extended the state of emergency put in place by President George W. Bush following the September 11, 2001 terrorist attacks.  Will it ever end?
Pro-life leaders across the U.S. are saying today that Barack Obama's claim that "no federal dollars will be used to fund abortions" is flat out not true.
Dr. Russell Blaylock has written an outstanding article that explains why the swine flu vaccine may be much more dangerous than the actual swine flu is.
Uh oh…..CNN is reporting that corporate insiders are selling their stock like there is no tomorrow.
A new report indicates that the Taliban have a significant presence in almost every corner of Afghanistan.
Will the United States be sucked into the Yemen civil war?
The Pentagon has proposed transferring U.S. military equipment from Iraq to Pakistani security forces in order to help Pakistan step up its offensive against the Taliban.
Nearly 600 people in a major city in China say that they were attacked and stabbed with needles over the last two weeks.
It is being alleged that many of the people working in Obama's administration are Marxists or Socialists with backgrounds in the Communist Party.
Republican South Carolina Rep. Joe Wilson, who yelled out "You Lie" during Obama's health care speech to Congress the other night, says that he "will not be muzzled".
Parents in the U.K. who regularly ferry groups of children on behalf of sports or social clubs such as the Scouts will have to undergo criminal record checks or else face huge fines.