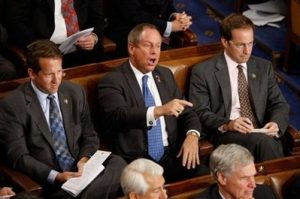 The most important news for Thursday, September 10th, 2009…..
One of the most dramatic moments in recent political history came during Barack Obama's speech last night when Rep. Joe Wilson (R-SC) shouted "You lie!" as Obama claimed his plan would not offer free care to illegal immigrants.
Sarah Palin has written an opinion piece in the Wall Street Journal that breaks down how Obama's proposals would give unelected officials life-and-death rationing powers.
According to an analysis by the California Nurses Association, California HMOs reject one out of every five medical claims.
Would Obamacare lead to the forced unionization of the health care industry?
A government-wide survey released Thursday says that the U.S. federal government needs to hire more than 270,000 workers for "mission-critical" jobs over the next three years.  Since there are so few other jobs, perhaps everyone can work for the bloated government in the new Communist Amerika.
Russia's Kommersant paper is quoting an "informed Israeli" source as saying this: "It can't be ruled out that Israel may be ready to move on to decisive actions with regards to Iran, and Netanyahu decided to inform Kremlin of this".
The U.K. government's chief scientific adviser said today that the H1N1 swine flu could effectively make its last stand in the UK within weeks.
Is the French government getting ready to impose a carbon tax on their citizens?
Chickens refusing to eat the corn that they had been fed ultimately led to the discovery that their feed had been genetically modified to include a well-known weed and insect killer.
Is America cursed?  Wildfires have burned up more than 700,000 acres in Texas this year.
Authorities in Lancaster, Pennsylvania are installing 165 surveillance cameras in a city in the heart of Pennsylvania Amish country.
Lastly, one homosexual man is suing yet another national Bible publisher for causing him "mental anguish".  Why?  He says that he is suing the publisher because they distributed Bibles that contained negative language about homosexuals.